While the Wednesday Want typically revolves around cars, for this week's edition we are mixing it up a bit. Instead of the traditional four (or six) wheel creations, this time around we're going for two. Nonetheless, this motorcycle still has a connection to a prominent British automaker.
Called the Lotus C-01, this bike really is a Lotus in name only. It's actually made by Kodewa (now ByKolles Racing) using mostly KTM parts. This doesn't stop it from being awesome though.
The idea for the Lotus C-01 surfaced in 2013. At that time Lotus, along with Kodewa and the Holzer Group, wanted to create something truly unique. The three parties looked to combine racing technology with a futuristic design that really stood out from the crowd.
To pen the Lotus C-01, the team contacted Daniel Simon for the design work. As a premiere concept vehicle designer for Hollywood, Simon was experienced in unique shapes. However, what caught the teams attention was the design he did for Tron: Legacy – the famous Light Cycle.
With that on his resume, it's little wonder why the C-01 mimics the Light Cycle to a degree. Its long, low body gives it a rather futuristic look.
This design also makes the C-01 rather larger for a sports bike. With a 65-inch wheelbase and steep front rake, it's more in the cruiser category. It's also a tad on the heavy side too, tipping the scales with a 400lb dry weight.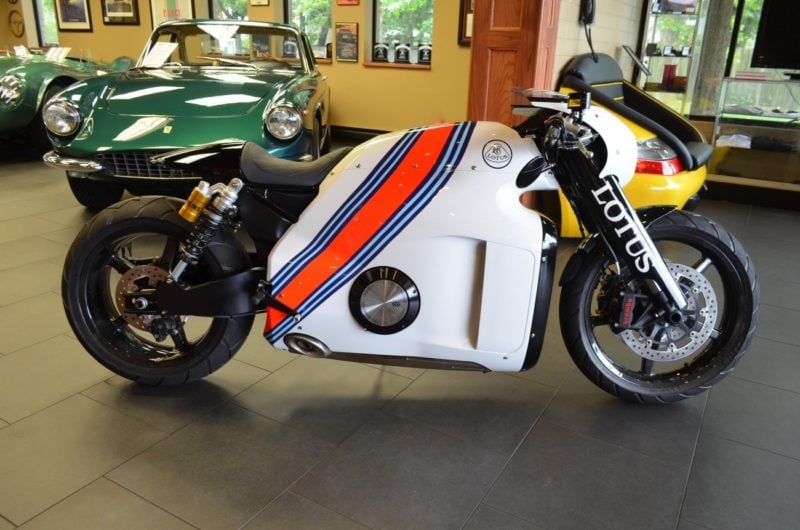 Despite the cruiser look though, the engine is all sports bike. For this Kodewa looked to KTM and its 1190 RC8 bike with its 1,195cc 75-degree V-twin. To give the C-01 a bit more grunt, it increased the power output to an even 200hp, up from the stock 173hp.
To help it carve the corners, the C-01 uses a Sachs fork up front with twin Öhlins in the rear. This pairs up with huge 19-inch carbon fiber wheels and Brembo brakes to round it out.
Past that, it embraces the Lotus design philosophy of simplify and add lightness. While not exactly light, it is fairly simple. It forgoes things like ABS, traction control, or any other gadgetry that might spoil the ride.
The C-01 is also fairly rare with only 100 bikes made, only a handful of which are in the US. That's what makes this example found through Autosport Designs of Huntington Station, NY so special.
On top of that, it's essentially new with zero miles or hours on the clock. How a bike sat dormant for four years is a bit puzzling though. We assume it sat as part of a collection or ended up in a warehouse.
The bike is truly remarkable to look at. Clad in Martini colors its one of the three liveries choices, the other two being bare carbon fiber or Lotus green with a yellow stripe.
Unfortunately, there's no price listed for the bike. However, Mecum's did list one in 2016 for an estimate of $370,000 – $450,000. It didn't sell at that time, but we expect that price is still the in the ballpark for this example.
More Posts On...