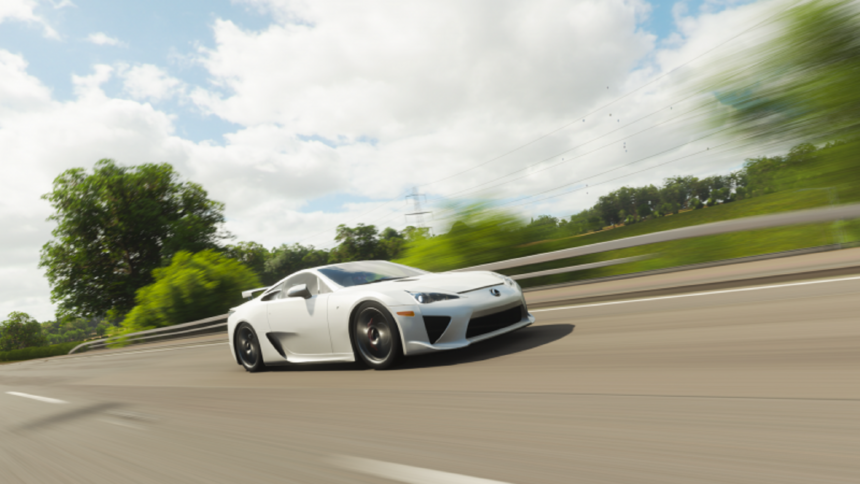 Love is in the air, and so is a new season in Forza Horizon 4. Summer has rolled around once more to kick off Series 19, bringing new content and new events all around the UK.
A new season means an all new Playlist update. There's a mix of new and returning prizes up for grabs at 50% and 80% completion, while this week marks both the return of Lexus, and also brings a classic Rover.
Let's dive in to the first seasonal of Series 19.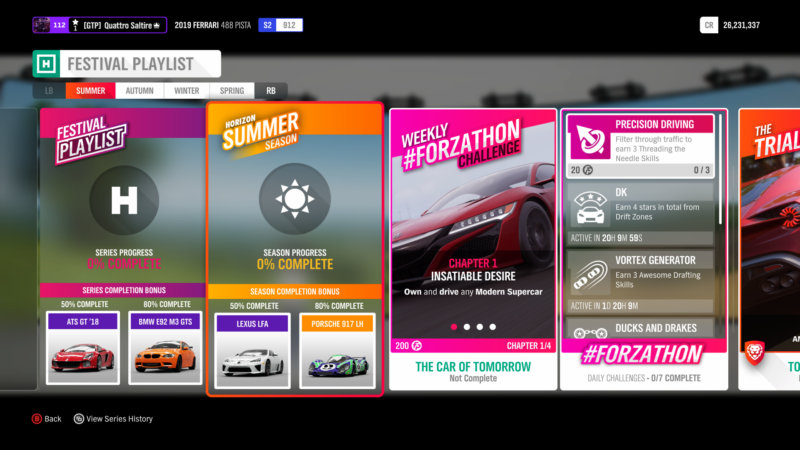 LFA's Song, Rover's Roar
The big talking point for seasonal completion prizes this week is the return of Lexus to Horizon. Following the Supra and AE86, Toyota's luxury division brings its wildest product to the UK: the LFA.
Conceived during a ten-year period, the LFA is a supercar unlike anything that has come out of Japan. Powered by one of the greatest engines ever made, the LFA's 4.8-liter V10 makes 552hp and will redline at a screaming 9,000rpm. An advanced carbon fiber body keeps weight down to 3,260lb to ensure precise handling.
For those after something more old school, there's the Porsche 917 LH. This 1970s racer is one of the most legendary Le Mans cars of all time. The 4.9-liter flat-12 makes over 600hp, and the long tail aerodynamics help this 917 reach speeds close to 240mph.
Prizes for Playlist completion include the return of the BMW M3 GTS and the ATS GT. Championship prizes are populated by the Buick GSX and the Rossion Q1.
A major standout is the debut of Rover in Horizon. The car representing that introduction is the SD1 Vitesse. Depsite being a product of British Leyland, the SD1 featured very forward thinking design. Under the hood is Rover's iconic 3.5-liter V8. For the Vitesse variant, the V8 makes 190hp, but some modifications will help to unlock more power.
You can acquire the Rover by winning the "It's Never Over With a Rover" championship.
A new Monthly Rivals event is also on the cards. Players will get to drive another new car this month: the Lego Bugatti Chiron, around the Moorhead Wind Farm Circuit.
This week's events and Prizes are below.
Muscle Bound
Series: Dirt Racing Series
Cars: Classic Muscle
Restrictions: B Class, 700 PI
Prizes: 15,000 CR, 25,000 CR, Buick GSX
It's Never Over With a Rover
Series: Cross Country Series
Cars: Land Rover
Restrictions: A Class, 800 PI
Prizes: 15,000 CR, 25,000 CR, Rover SD1 Vitesse
So Last Decade
Series: Street Scene
Cars: 2010s
Restrictions: S2 Class, 998 PI
Prizes: 15,000 CR, 25,000 CR, Rossion Q1
The Trial: Top Marques (Co-Op Championship)
Series: Road Racing Series
Cars: Aston Martin vs Chevrolet
Restrictions: S1 Class, 900 PI
Prizes: Aston Martin Vanquish Zagato Coupe
Summer Games – Series 19
Series: Playground Games
Cars: Cult Cars
Restrictions: C Class, 600 PI
Prizes: Sleepy Emote
Bamburgh Castle Danger Sign
Season Objective: 715.2 ft
Coombe Speed Trap
Season Objective: 185 mph
Forest Green Speed Zone
Season Objective: 115 mph
Forzathon Events
Forzathon looks at Modern Supercars for this week. There are plenty of choices available, so grab one to get things rolling.
Next, take your supercar to the streets and speed to victory in 3 Street Scene events. Afterwards, you'll need to earn a total of 15 stars from Speed Zones. Make sure your car is set up well for handling these.
Finally, put your foot down and earn 20 Awesome Speed Skills to wrap up this week's challenges.
Forzathon Shop
This week will be a busy time in the Forzathon Shop, with a big Valentine's Day Sale around the corner. We've got more details on that below.
The standard Shop lineup at the time of writing is headlined by the McLaren 12C. Woking's first supercar — technically ever, as it was a previous guise of McLaren that made the legendary F1 — puts it on a direct collision course with Ferrari. The 12C uses a 3.8-liter twin turbocharged V8, putting out 592hp.
At 600 Forzathon Points, the McLaren will put a big dent in your wallet, but if you missed one during its previous appearances, now is the time to pick one up.
Joining it is the Hot Wheels Rip Rod. This baby hot rod is one of several scaled up Hot Wheels cars available, and one of the most tame. Powering the Rip Rod is a 1.0 liter turbocharged three-cylinder engine making just 205hp. However, with a weight of just over 1,800lb, the Rip Rod is no slouch.
You'll need to fork out 500 FP for one, but it will make an excellent addition to anyone's full sized Hot Wheels collection.
Novelty items available are the Chicken Dance emote and the "Planets – Jupiter" horn.
Beginning at midnight GMT (7pm EST), the Valentine's Day sale will kick off. Four cars will be offered for reduced prices and rotated throughout the day.
Be on the lookout for the Ford Focus RS Pre-Order car, as it will be a new arrival and will be a hot choice. You'll need to save a decent amount as the Focus will cost you 500 FP.
Also up for grabs in the sale are the Hot Wheels Twin Mill (200 FP), Volkswagen Global Rallycross Beetle (150 FP) and the Apollo Intensa Emozione (Free).
Feature image courtesy of TokoTurismo
More Posts On...