Last month we told you about an upcoming performance division from Toyota. Today the company took the wraps off of it and gave us all the details of what that brand will offer.
Sporting the name "GR", short for Gazoo Racing, the brand adds its treatment to seven different Japanese-market models. These models include: Noah, Voxy, Harrier, Mark X, Prius, and two varieties of the Vitz.
We know what you're thinking: how can this be a performance brand with a Prius in the lineup? Don't worry, we thought the exact same thing until we dove into the spec sheet for each vehicle.
Upon further investigation of the performance brand, it seems Toyota forgot about performance. The only true performance add-ons include sport-tuned suspension and exhaust. Pull away the marketing speak on this and all it translates to is a slightly less comfortable car with more highway drone.
Some models also get additional spot welding and more bracing on the car as well. However, it's not exactly clear as to how much effect this has on the overall handling of the car. We imagine it's minimal due to crash regulations and weight concerns.
On the exterior, the GR models come with what Toyota calls a Functional Matrix Grill. As far as we can work out, it's a standard black mesh grill with no real special features. You also get some white paint, brake calipers with a GR logo on them, and special GR badging.
Venturing to the inside of the car, GR models come with special sports seats, silver stitching, and — hold your breath for this — a special GR start switch.
Past that there really isn't anything else of note for the time being. It's a fairly lackluster lineup that relies mainly on a few pieces of flair to jazz them up a bit.
However, in the coming soon section of the GR website site, two vehicles caught our eye.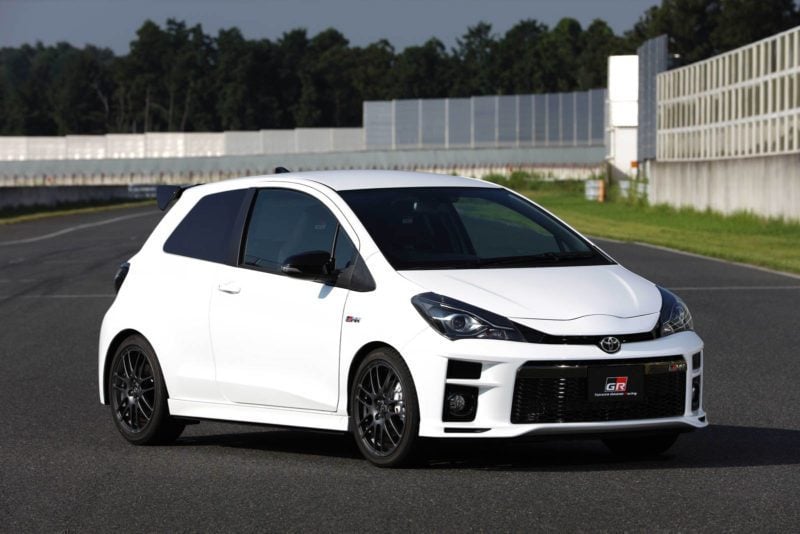 The first one is the Vitz GRMN, which will launch in the spring of 2018. The Vitz, known as the Yaris stateside, will get a supercharged 1.8-liter engine good for at least 207hp. While this doesn't exactly sound like much, you need to remember the standard Vitz typically comes with at most 111hp. That's a pretty good power bump in a car that weight 2,500lb.
In addition to the supercharged engine, the Vitz GRMN will also come with a limited slip diff, BBS wheels, and SACHS suspension.
The second car that got our attention is the 86 GR. While there isn't any horsepower boost, the 86 does get a limited slip differential. This means an already drift-happy car will give owners more of a reason to be smoking and sideways.
In addition to the diff, the 86 GR gets forged RAYS wheels, six-piston calipers, Recaro seats, and a single tailpipe, weirdly enough. We assume this means some sort of exhaust system, but the translation on the page makes it slightly funny to see a tailpipe listed as a feature.
The 86 GR should hit dealers sometime this winter. however, no word on it coming stateside.
So while the GR performance division didn't really make Toyota any more exciting at its debut, better things are coming. Also, let's not forgot the Supra which should fall under this brand as well, so there is hope. In the meantime, citizens of Japan can rest easy knowing that there won't be a monster Prius terrorizing their streets anytime soon.
More Posts On...