Toyota Racing Development (TRD) is wasting no time on getting to work on the new Supra.
If you're not familiar with TRD, it's the in-house tuning division responsible for Toyota and Lexus. It also provides various tuning components available through dealers for streetcars as well. From superchargers to exhausts, it covers the wide gamut of go-fast parts.
In addition to making street Toyotas a bit quicker, it also supports Toyota's racing programs across the globe. With a resume like this, you'd expect TRD to work wonders on the new Supra.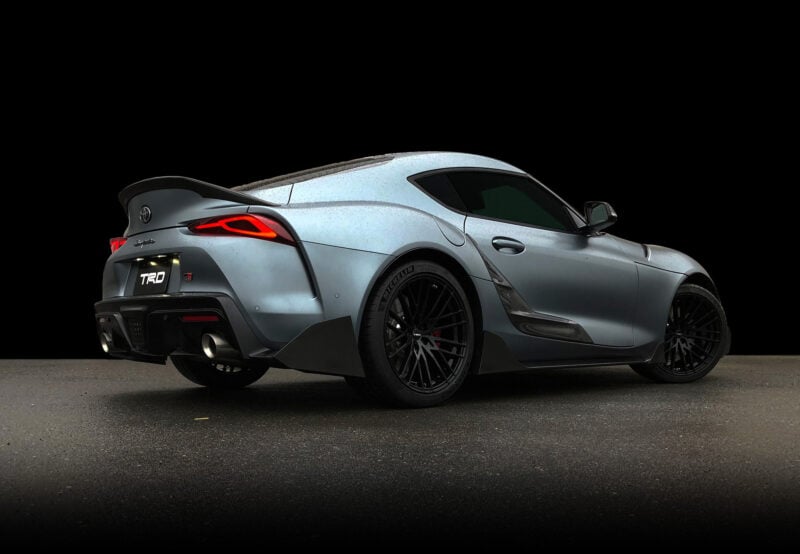 At first glance, things look good. TRD has given the Supra a complete aerodynamic overhaul. This comes courtesy of several new body parts made from lightweight carbon fiber. These include a front splitter, side skirts, trunk spoiler, and rear spats. There's also something called a door garnish as well, which makes it sound like something off a fancy dinner menu.
Thankfully, the body kit is for more than just looks. It also provides more downforce for the Supra as a whole. Just how much more is still a bit of a mystery, but TRD did take the time to develop it in a wind tunnel, so it should provide a bit of a benefit.
In addition to the downforce, the Supra TRD also gets a set of 19-inch forged wheels. We're not totally sold on the looks — in fact they look like they'd be more at home on a NMW M car's Competition package. Made it's just the Supra's inner BMW Z4 coming through?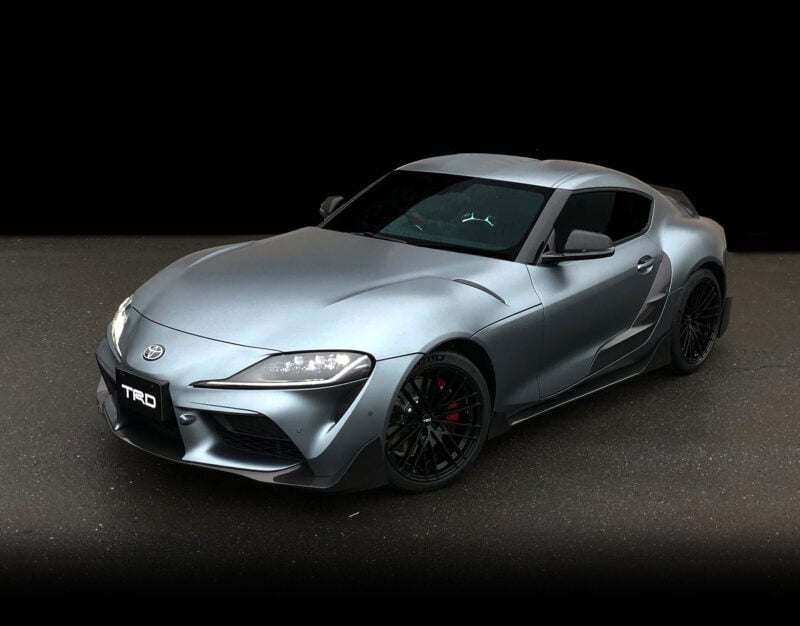 Sadly for hot Supra fans, that's pretty much it.
Unlike many of the previous TRD models, the Supra is completely missing any engine upgrades. This means at its heart is the 3.0-liter inline-six which still turns out 335hp.
Don't get us wrong, the new Supra's engine and power output are by no means bad. It holds its own against some of its main rivals. However, for a factory tuned car to have no power gains is a bit disappointing.
Furthering the disappointment, the Supra TRD is also missing any changes to the suspension or brakes too. It's almost like TRD took a page from its other tuning arm, GR Performance Division.
If you want to get your hands on one of the Supra TRDs, you're probably out of luck. Right now it's only a concept model to show off TRD's cosmetic upgrades. Chances are good that we'll see these parts available soon, but whether that's in full carbon fiber or some other less pricey composite is a different question.
Don't expect this to be the last Supra from TRD either. There's still a few teasers floating around its website to suggest other cars are in the works. Hopefully something with a dose more power under the hood…
See more articles on Toyota and Toyota Supra.