Round 3 of the 2022 Gran Turismo World Series Nations Cup will be broadcast today, November 13, starting at 1300 UTC.
It's the final round of this season's championship before the World Final later in the month, and a last chance for the 12 qualified drivers to pick up vital World Series points to give them a head start in the event.
Each of the three online rounds awards three points to the winner, two to second, and one for third. Combined with the six-point maximum for the World Series Showdown back in August, that means a maximum of 15 points is on the table. There's likely to be many more in the World Final itself, but whichever driver scores the most across the entire season will be crowned the 2022 champion.
Thus far no driver has truly seized the championship in the same way 2020 champion Takuma Miyazono or 2021 winner Valerio Gallo did. In fact in the three races so far, there's been three different winners — and each picked up their first ever GT World Series victory.
The most notable of those was Kylian Drumont, who picked up the win in the Showdown. That was his first ever GT World Series event, having been too young to qualify before this season, despite his excellent online performances.
Lucas Bonelli took his first ever GT World Series win in Round 1, at Watkins Glen, while Angel Inostroza broke his duck at Round 2 at Spa-Francorchamps. In contrast to Drumont, both are series regulars.
However the form this season has been so chaotic that no driver has scored in all three events, leaving 2018 world champion Igor Fraga to head the points table courtesy of two second-place finishes. His leading margin is just one point.
Current Standings (After Three Rounds)
Igor Fraga (Brazil) – 7 points
Kylian Drumont (France) – 6 points
Ryota Kokubun (Japan) – 5 points
Lucas Bonelli (Brazil) – 4 points
Angel Inostroza (Chile) – 3 points
Baptiste Beauvois (France) – 3 points
Valerio Gallo (Italy) – 2 points
Jose Serrano (Spain) – 2 points
Takuma Miyazono (Japan) – 1 point
That means no driver will have a commanding lead after Round 3, which consists of 15 laps of the reworked Deep Forest circuit in the classic Group 5 Nissan Skyline Silhouette.
There's no requirement for drivers to pit during the race, but with a 3x tire wear multiplier — each lap generates three laps' worth of wear — and Racing Soft tires, on a car with a somewhat aggressive turbo, the finalists will need to plan their tire life very carefully. Fuel consumption, also set to 3x, will likely not play a part.
With the form so difficult to read, picking a winner is a tricky task. Nonetheless, up until the broadcast starts, you can enter your guess for who will take victory on a special in-game portal called "Bonus Campaign". Pick the winner and you'll earn 500,000cr for your GT7 bank balance.
The race will broadcast at 1300 UTC on Sunday November 13, and the drivers will want to score well with the World Final — and the best of the online qualifiers coming into the mix — on Sunday November 27.
Alternative Language Streams
Competitors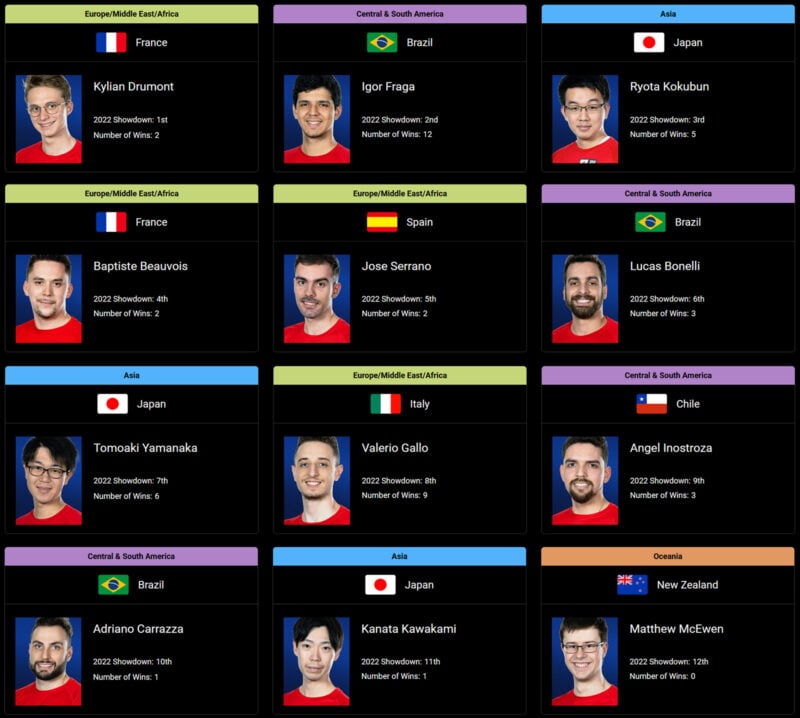 See more articles on Gran Turismo World Series.