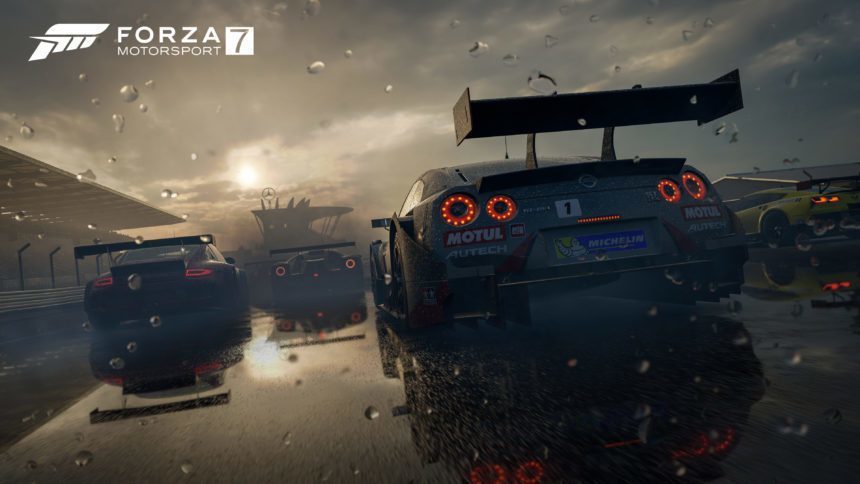 Turn 10 Studio's newest racer, Forza Motorsport 7, blasted onto the stage of E3 yesterday. FM7 marks the American studio's first title for the recently announced Xbox One X platform.
Available now on a far more powerful system, some may wonder if the title and platform make the most of each other. Thanks to The Verge, we can get a glimpse of how different the new game is so far.
One of the first things to catch your eye are is the movement of body panels. Fine attention to detail is on show with vibrating spoilers, panels and wipers all in evidence. While not a game changing feature, it further pushes the envelope on the extent of what the game can simulate. It's the small details like this that stand out the most to some, so it's nice to see.
Further on as the race progresses, the announced dynamic weather makes an appearance. From a damp track to a thundering rainstorm, the game recreates both ends of the spectrum. Varying track conditions is a must-have feature for any serious modern sim racing game, so it's great to see it return in an even grander fashion.
As the GT-R clicks through the gears, you'll find your attention drawn to the new HUDs. Sporting a far more compact look, the new designs look smart and easy to use. Locating the HUD at the corners of the screen, the new designs are smaller while not removing content.
Expectations for the new title's graphic performance are high. While the new console was still in development, it was revealed that Forza Motorsport 6 was able to run flawlessly in 4k at 60 fps with power to spare. This sets a high bar and, as is evident within the footage, the game reaches those standards. Despite a serious stress test from the environment, the game remains locked at 60fps in 4k resolution. The future looks bright for both the console and the game.
With an October 3 release date, there are exciting prospects of further content to be around the corner. Not a lot is known as to what is in the new title, but this small glimpse seems only to be the beginning.
More Posts On...