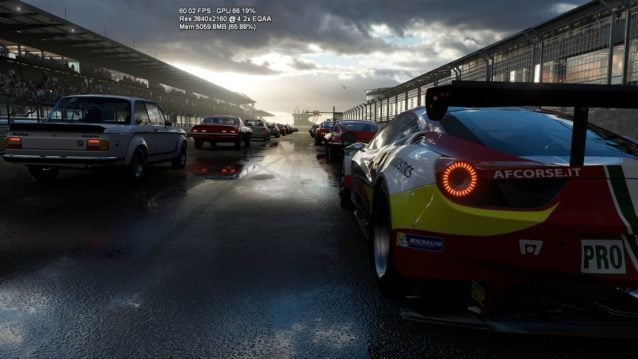 Microsoft has finally lifted the lid on its latest Xbox One model, with Project Scorpio having all sorts of technical specs being revealed to the public eye. Whilst it doesn't have an official name, price or aesthetic look, the type of power the console will be capable of in relation to its fellow hardware seem nothing short of staggering.
In order to showcase its ability, games tech outlet Digital Foundry was given the pleasure of seeing a secret ForzaTech demo that uses Forza Motorsport 6 as it's basis — with impressive results.
The demo itself runs at a smooth 60FPS in a native 4K resolution — a feat not yet achievable by any currently available console. Turn 10 has used the Nürburgring circuit to highlight the performance of Scorpio and they haven't scrimped on the experience in doing so either. Forza 6's full weather effects and maximum car grid size aimed to push Scorpio to its fullest potential, though that doesn't seem to have been the case.
GPU usage during the tech demo with Xbox One visuals sat between the 50-70% mark, leaving a lot of room to play with for the Forza development team. Even pushing these visuals up to PC's Forza Motorsport 6 Apex "Ultra" settings still only hits 88% GPU usage. The Scorpio clearly has the scope to provide some incredible visuals.
Interestingly, getting a version of Forza Motorsport 6 running on the console only took two days for the Turn 10 team. This seems to suggest that even with the performance improvements over the Xbox One, the hardware is familiar enough for teams to really make use of the extra power Scorpio provides.
Turn 10 also further reiterates that where before it was imperative to consider what kind of cutbacks had to be done to maintain a steady frame-rate and resolution, the Scorpio has the scope to focus all efforts in providing a high quality experience from top to bottom. The worry of reaching these technical standards is mitigated due to the power of the Xbox Scorpio.
We're sure Microsoft will be drumming up the Scorpio hype as we approach E3 2017, with some form of Forza Motorsport likely to be at the forefront of highlighting the power of the console. Keep it to GTPlanet to read all the latest developments for Scorpio and Forza.
[Source: Eurogamer 1, 2, 3]
See more articles on Digital Foundry, Project Scorpio, and Xbox One.