This weekend, the FIA is going to crown its world Gran Turismo champions, and it all starts with the Manufacturer Series.
One team of three drivers — each from a different region of the world — will walk away from Saturday not only as world champions, but as representatives of their favorite brands. There's 12 marques in total vying for the title, among them series sponsor Mazda and, also making its first appearance, Lamborghini.
Naturally, the Manufacturer Series is more affected by the forced switch to an online-only event this year. In previous years we've seen the races employ driver swaps, with each of the past finals requiring all three drivers to put in some seat time in the last race of the event. That, of course, won't be possible in 2020.
This year's proceedings will instead take the form of three races in the Gr.3 cars, with one driver from each team racing once only. There's two shorter races at Sardegna Road Track A and Red Bull Ring, then a longer final race at Interlagos worth double points. All three will feature a required pit stop to swap tire grades, with all three types of race tire required in the finale.
That will dramatically shake up the tactics. Whereas in previous years we've seen the teams determine their relative driver strengths and assign drivers to stints accordingly, this year all three must drive a full-length race. That and the absence of their team-mates to shout encouragement from the edge of the stage may see some different names at the front.
With that said however, there's plenty of familiar names taking part. Tomoaki Yamanaka returns from last season's championship-winning Toyota outfit, this year paired with Simon Bishop, who previously won a World Tour for Toyota, and the Nations Cup Americas champion Adriano Carrazza. That's a pretty compelling line-up.
Last season's runners-up Mercedes also sport a potential top-step team. Cody Latkovski returns, with top-ranked European driver Baptiste Beauvois and Lucas Bonelli, who just yesterday finished tied on points with the winner in the GR Supra GT Cup.
Elsewhere, Emily Jones will become the first female driver at a World Final when she drives for Audi, alongside Vinicius Neto and Manuel Rodriguez. Subaru sports a stellar line-up too, with last year's Nations Cup winner Mikail Hizal driving alongside 2020's superstar Takuma Miyazono, and Nations Cup regular Daniel Solis who ran Miyazono close for the podium in the 2019 GR Supra GT Cup.
All the action gets underway at 1300 UTC (convert to your time here) on Saturday, December 19, and you can watch in full below:
The stream is also available in six other languages if you'd prefer:
Competitor Guide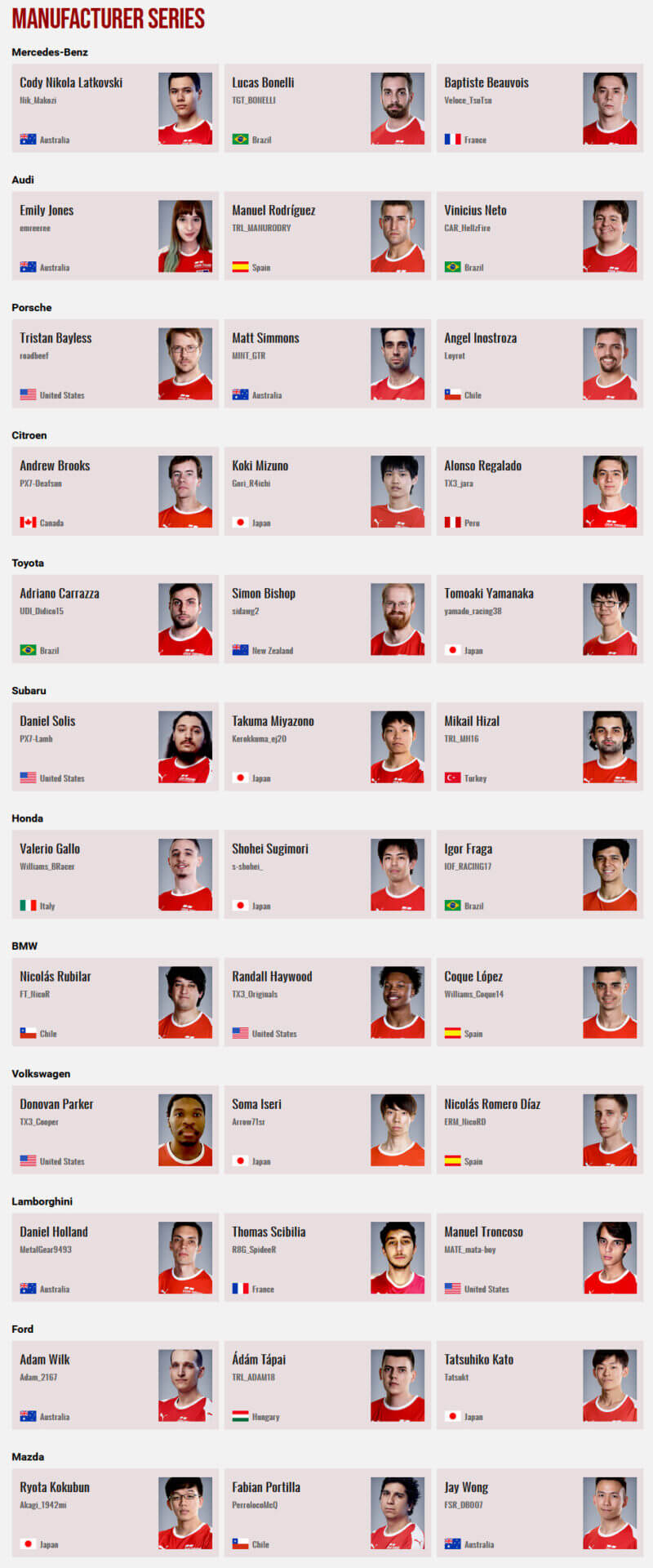 See more articles on 2020 FIA GT Championship World Final.