The 2018 Forza Racing Championship season kicks off early next month. But before that, there's today's special event, featuring the fastest Forza 7 drivers from around the world.
If you missed the breakdown last week, here's a quick refresher: 19 drivers will be taking part in multiple races throughout the day. Some will be driving solo, some will be driving on one of four teams (AMS, F4H, JSR, TX3), and others still will be pulling double duty.
The individual races will start the morning, with drivers taking on a multitude of IMSA-inspired car/track combos. The possible options include:
2014 Mazda #70 SpeedSource Lola B12/80 @ Virginia International Raceway
2016 Ford #66 Ford Racing GT Le Mans @ Road Atlanta
2013 Lamborghini Veneno @ Sebring International Raceway
2016 Cadillac ATS-V @ Daytona International Raceway
2016 Aston Martin Vantage GT12 @ Road America
1989 Audi #4 Audi 90 quattro IMSA GTO @ Mazda Raceway Laguna Seca
Borrowing a viewer-participation aspect of Formula E, ForzaRC will allow those tuning in to vote on which round the players must face. What's more, they'll also be able to decide the weather (track permitting). We predict a lot of rain…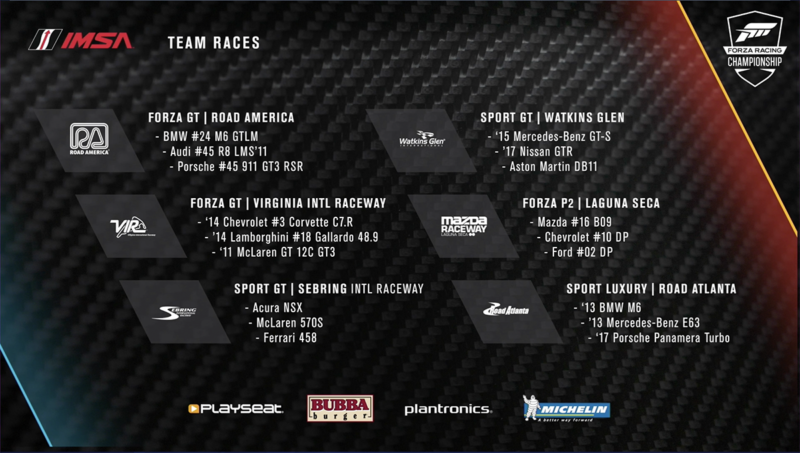 After that, the four teams will do battle. The same basic structure exists here (six races, shown above), with another curveball: each team will field all three cars at each track. That means, for example, the TX3 trio will need to determine who slots into the lightweight 570S at Sebring, who gets the all-paw NSX, and who's best suited to the 458. It's a different sort of team strategy, and we're curious to see how it plays out.
The racing kicks off at 1000 local time in Seattle (click here to convert). You can catch all the action at the official site, and log into Mixer to cast your votes on races. Turn 10 has also announced that exclusive FM7 prizes will be going out to all players that turn up in the chat.
Good luck to all the competitors!
See more articles on Forza Racing Championship.