The first big live GT Sport event of 2018 is about to get underway just outside Toronto. One person will be walking away $8,000 richer (plus other goodies), and GTPlanet will be on the ground as the action takes place.
First announced in January, the WorldGaming GT Sport Canadian Championship Series takes advantage of franchise newcomer Porsche. The sixteen finalists — more on them later — will be driving identically-prepped 911 RSR race cars. It makes sense, as some of them will get a piece of the real car, courtesy of event host Pfaff, to take home with them.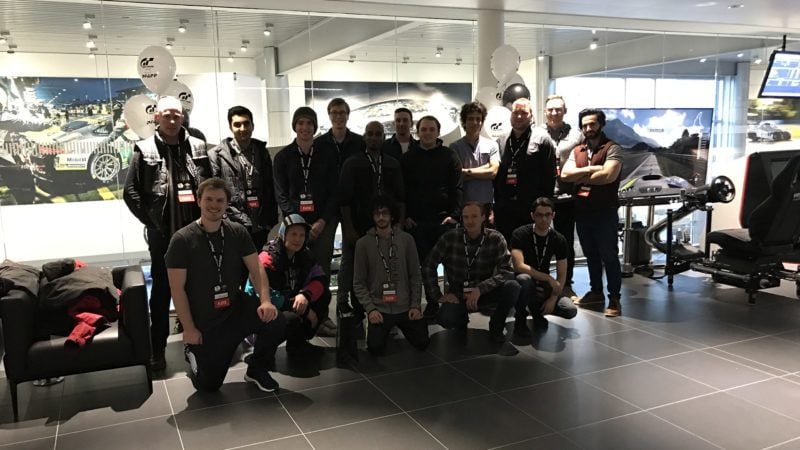 The Finalists
It's a diverse group here. These speedy GT players, ranging in age from 20 to 48, and hail from four different provinces across Canada.
They'll be taking part in two eight-man heats today. Those lineups are as followed:
Heat One
Silvia_Drift (31, Brampton, ON)
Monster-Sport71 (24, Barrie, ON)
Deutschbag416 (41, Toronto, ON)
JGOERTZ5 (20, Langley, BC)
hotsaucer (24, Toronto, ON)
Djow-Al (22, Montreal, QC)
ImEbrahimX7 (22, Montreal, QC)
beatin_the_odds (48, Ft. Saskatchewan, AB)
Heat Two
putput44 (23, Mississauga, ON)
RacingKing89674 (20, Toronto, ON)
TheRaceboy77 (25, Calgary, AB)
Speeding_Kadi (22, Montreal, QC)
Nic-KL (27, Trois-Rivieres, QC)
Micky_MikE88 (29, Sherbrooke, QC)
Turismo-lester (33, Edmonton, AB)
The-EH-team-43 (24, Uxbridge, ON)
Today's Schedule
Doors open at 1100 EST at the massive Cineplex Colossus Theatre in Vaughn. After a driver meeting, the first two-race heat will take place at 1205, followed by the second at 1330. Both will run the Nürburgring GP (eight laps) and Dragontrail Seaside II (eight laps).
After the race organizers sort out the points, the top four players from each heat will get back behind the Thrustmaster T-GTs and fight it out for top honors at Lago Maggiore — GP II (eight laps) and the daunting Nürburgring Nordschleife (three laps). This will take place at 1500 EST, with the final podium presentation happening an hour later.
The whole event will feature the commentating of GTPlanet's own Tom Brooks — a familiar voice for every GT Sport player — and Nick of AR12 Gaming (who was the other half of "Team Canada" at our Porsche experience at Silverstone last year). They'll be on-hand at the Colossus, alongside a selection of tasty Porsche cars courtesy of Pfaff. Last-minute tickets are available here.
Of course, you'll also be able to watch all the action unfold on Twitch up above. Stay tuned to GTPlanet's social media channels (Twitter and Instagram), as we'll have a lot more up-to-date news as the day goes on!
More Posts On...