It's been another crazy year at SEMA in Las Vegas, and the show is going to bring another crazy custom car to the Gran Turismo series: Bruce Levens' 1951 Ford Coupe.
The beautifully detailed Ford beat a strong field of other finalists which included Formula D champion Chris Forsberg's 1975 Datsun Z, a 1000hp '65 Mustang, a carbon-fiber Audi R8, and a Dodge Ram powered by a 775hp Hellcat engine.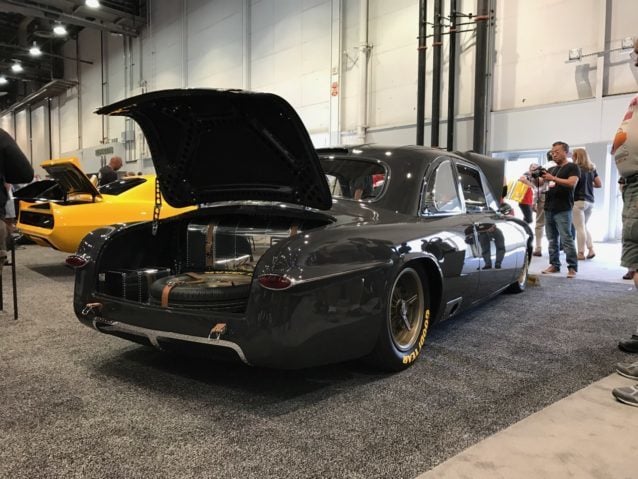 What really made Levens' Ford stand apart was the exquisite attention to detail that builder Chad Wick put into the car, both inside and out. The engine, a 1956 Lincoln V8 built by veteran engineer Ron Shaver, has been powder-coated in gold, with the wires carefully tucked away.
Outside, the car features a dark gray paint and interesting one-off gold wheels, built from the same Halibrand castings used on a 1930s Novi Indycar. The roofline has been cut-down, the framed windows have all been flush-mounted, and the custom hood and fender panels were all hand-formed. The interior is another work of art, featuring a hand-made dashboard and one-off race bucket seats wrapped with Italian leather.
This all sits on a chassis by Art Morrison — the builder who created another car that will be very familiar to Gran Turismo fans — the 1960 Art Morrison Corvette, which won the GT Awards in 2006 and debuted in GT5 Prologue.
As always, we're not sure when the newest GT Awards winner will make it into the game, but it's definitely one to look forward to. Congratulations to Bruce Levens, Chad Wick, and everyone else involved in bringing this Ford Coupe to life!
See more articles on Ford, Gran Turismo Awards, GT Awards, and SEMA.