The Turn 10 team had its third Forza Monthly live stream a few hours ago. With plenty of changes coming to Forza Motorsport 7 this week, the big news is the next free car. Step forward then, 1989 Aston Martin AMR1.
This is only the second Aston to come to FM7 since launch (the first was February's Vantage V12 GT3 race car). It's a rare one too: Aston originally only built five AMR1 chassis.
Like the similarly named AMR-One of 2011, this vehicle only saw competition for a single year. With legendary engine builder Reeves Callaway on board — he of Corvette fame, but also the man behind the cylinder heads of the contemporary Aston Martin Virage — the AMR1 seemed poised for greatness at the start of the 1989 season.
Sadly, that was not to be. The AMR1 suffered from an unenviable combo of lack of power and unreliability. The former would be solved later in the season with a 720hp 6.3-liter V8. But it wasn't enough — Aston finished sixth out of the manufacturers in '89, behind all bar Toyota. Aston pulled the plug at the end of the season.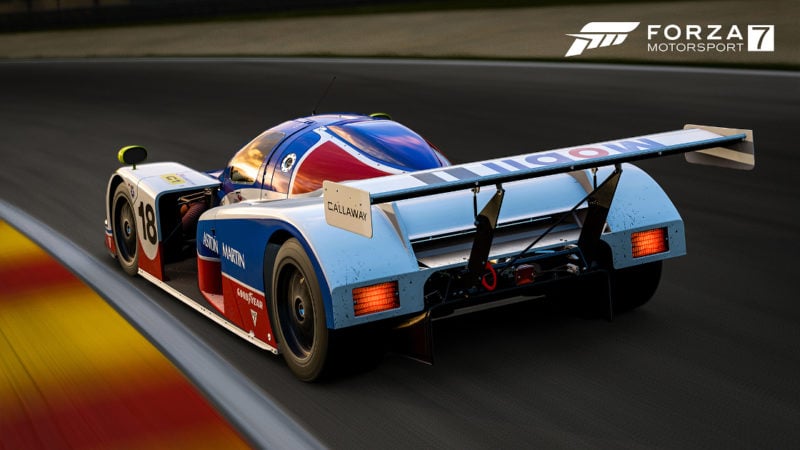 With the end of the program, the AMR1 would be the last race car from the marque until 2005's DBR9 (a car also in-game). Now it'll be time for the AMR1 to get a second chance. Players will be able to pit it against the Porsche 962, Jaguar XJR-9, and Sauber C9 in Forza 7. Not only that, but the slightly newer Nissan R91CP and Mazda 787B are options as well.
The AMR1 will arrive alongside the FM7 August Content Update on Wednesday, August 8. Players will get to experience it in its own dedicated Rivals event for the month as well. Stay tuned — there's a lot more coming to the game with the update, and we'll be detailing that in a separate post.
See more articles on Aston Martin and Forza Motorsport 7 Game Updates.