In a surprise move, Turn 10 has revealed the newest seven-car pack for Forza Motorsport 7 a few days early. Originally due to hit on February 19, the Dell Gaming Car Pack is a mostly modern affair — and SUVs also make a return.
The new pack arrives with the February update (more on that to come), which has also gone live. Full details of the pack were revealed on the official website. We've listed the complete car lineup below:
2017 Aston Martin #7 Aston Martin Racing V12 Vantage GT3
2016 Audi #17 Rotek Racing TT RS
2018 Bugatti Chiron
2018 Dodge Durango SRT
1968 Holden HK Monaro GTS 327
2018 Kia Stinger
2017 RAM 2500 Power Wagon
https://www.youtube.com/watch?v=8857-yQOZ2o
The big headline grabber is without a doubt the Bugatti Chiron. A highly requested car by the community according to Turn 10, the new Bug finally makes its first appearance in not only the Forza franchise, but console racers in general.
Kia's new Stinger sedan also makes its debut following an earlier leak. The car pack treats fans to a classic Holden Monaro too.
For those looking for a race car fix, the Aston Martin Vantage GT3 and a racing-spec Audi TT-RS should prove popular.
American trucks round out the rest of the pack, with a mad SRT-powered Dodge Durango and a hefty RAM pick-up truck.
The Dell Gaming pack is available from today for $6.99 and is also part of the Car Pass. We've gone into further details on the cars below.
2018 Bugatti Chiron
Continuing from where the Veyron left off, the Chiron is one of the fastest and most powerful road cars ever made. Its quad-turbocharged W16 packs 1479hp and the all-wheel drive system ensures more stable handling, providing that power can be kept in check.
2018 Kia Stinger
The new Stinger is not like a normal Kia. This new sports sedan aims to go toe to toe against the best of the Germans. Packing a powerful turbocharged V6 and rear-wheel drive, the Stinger aims to shake up the modern sports sedan category.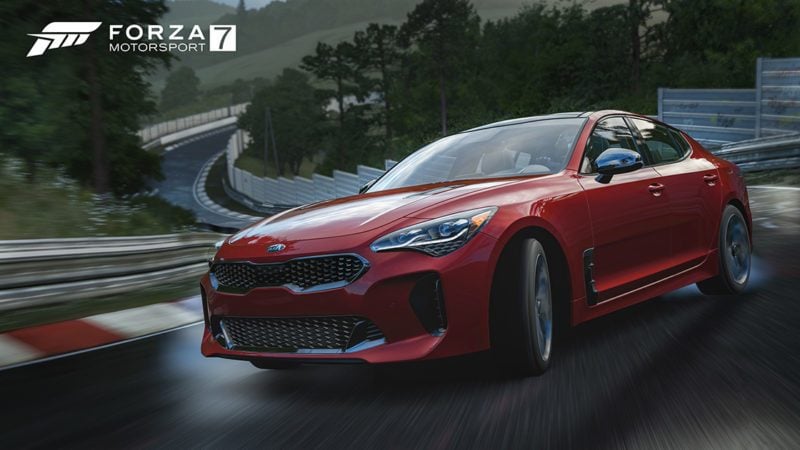 2016 Audi #17 Rotek Racing TT RS
Normally seen racing in VLN at the Nurburgring, this particular TT-RS is also a record breaker at the famous Pikes Peak hillclimb. Despite having just 380hp, driver Robb Holland set a front-wheel drive record at the 2016 event. Those looking for a new touring car will be pleased.
2017 Aston Martin Racing V12 Vantage GT3 #7
When it comes to GT racing, Aston Martin is one of the most established brands. The GT3 Vantage has been a success in global GT3 racing and is the latest modern GT car to join the Forza series. This Vantage has seen regular action in GT races at the Nurburgring and will make a fine addition to the Forza GT class.
1968 Holden HK Monaro GTS 327
This Monaro has a storied history behind it, as it was the first Holden to win the famous Bathurst 500 race. Packing a 327 cubic inch V8, the Monaro should prove popular to those keen on Australian metal.
2017 RAM 2500 Power Wagon
RAM is one of the big names when it comes to pick-up trucks. The latest RAM Power Wagon continues a long-standing tradition of hardcore dependability. Weighing in at over 7,000 pounds, this beast has a 400hp HEMI V8 and should prove to be an interesting heavyweight bruiser.
2018 Dodge Durango SRT
Dodge's SRT division doesn't do things by halves. It blessed the family-oriented Durango SUV with a 6.4 liter HEMI V8 and a raft of performance upgrades. Alongside the Cayenne Turbo and Jeep Trackhawk, the Durango SRT is one of the fastest machines for performing the school run.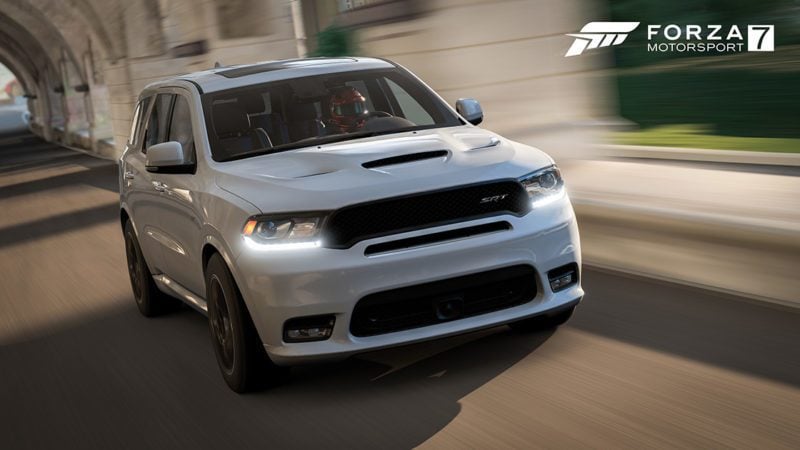 See more articles on Forza Motorsport 7 DLC and Forza Motorsport 7 Game Updates.