We've been able to take a quick peek under GT Sport's hood recently. This comes courtesy of a freak incident that's allowed one GTPlanet user access to the game's Debug Menu.
For those unfamiliar with the term, a "debug menu" is a development tool. It's a way around the usual mechanics and economics of the game for the purpose of testing. A debug menu allows a developer to add content and finances, or access locked areas without having to earn their way into it. The purpose is to test if everything is working, or if it's bugged.
Developers commonly leave debug menus in the finished product, but hidden from view. Some games unlock, or partially unlock, them with certain button presses, or as a reward for finishing the game, but in general a gamer will never see a debug menu.
So we can only imagine GTPlanet user Sven_csm's surprise when he found he had access to GTSport's debug menu.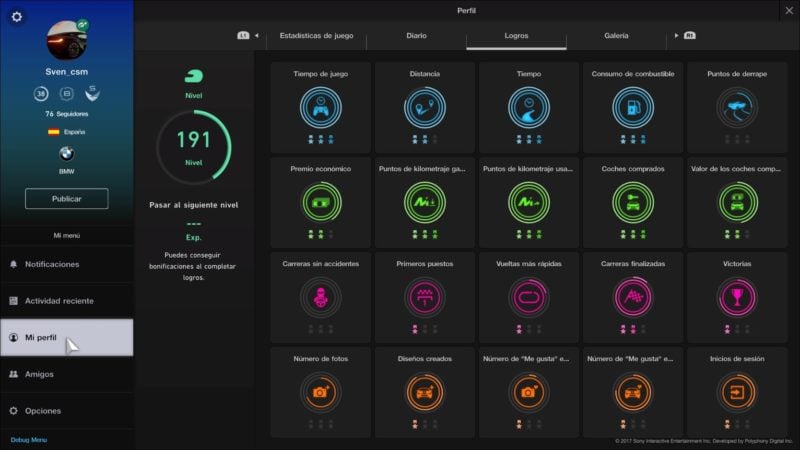 He finished a spot of Sport Mode for the evening and noticed his wallet was bulging with over 390m credits, despite the in-game maximum being 20m. Closer inspection revealed that not only did portions of the game now think he'd reached level 191, but he had an extra option in his My Menu section, labelled Debug Menu.
As expected, the menu provides options to add credits, mileage and XP. The Mileage point peak is 99,999 — the maximum that players can hold at once — while you can also add up to 2,500,000 XP, which is surprisingly close to our estimates for reaching level 50. The add credits value also peaks at the maximum permitted in-game value, of 20m.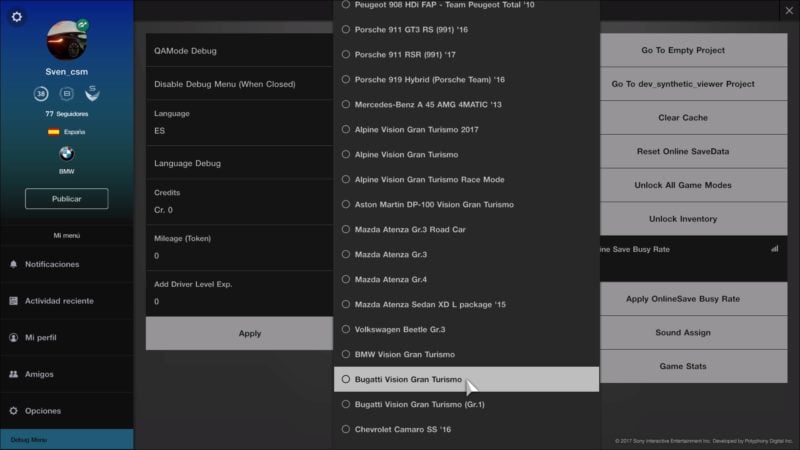 Additional menu items allow the user to add any vehicle, wheel or paint to their profile. This includes all of the wheels and paints usually only available through the Mileage Exchange, whether made available there already or not. By the last count the Mileage Exchange has featured just 104 different paint colors and finishes, while Sven_csm's profile has more than 200.
Unsurprisingly, he's a little reticent to explore too many further menu options, in case it does significant damage to his save. However the "Go To" project options look intriguing, as do the tools relating to the online save.
There's a handful of reports of this issue affecting other users too, however it almost always leads to the game crashing to the PS4 XMB when accessed. Sven_csm's case seems to be unusual in that it's totally stable. It not only persists over repeat reboots of the game, but saves any progress made as normal.
However, it's also reported that Debug Menu access seems to be linked to corrupted save games. If this is the case, we hope that Polyphony Digital can issue a fix to keep users from having to start all over again.
Thanks to Sven_csm for all the supporting images and information!
More Posts On...