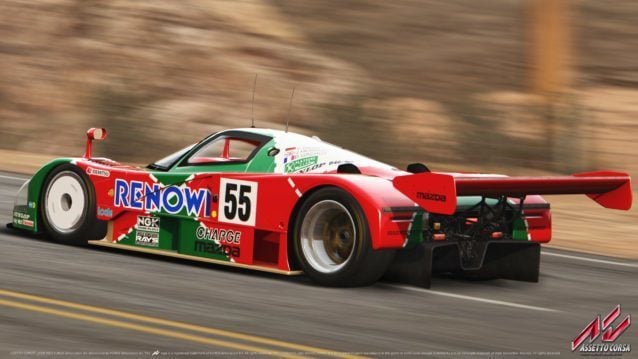 First confirmed just under a year ago in a developer diary discussing the future plans of Assetto Corsa, the Mazda 787B and first-generation MX-5 Miata have finally made their way to the racing sim as free bonus content.
Available to PC players first, both vehicles have been available to the community as third-party mods for quite some time now, but today's 1.13 updates makes the legendary Le Mans winner and first-gen sports car official members of the car roster. While originally slated for introduction last year, in the face of releasing three Porsche packs that would dominate the final months of 2016, those plans were quickly put on hold.
As mentioned in yesterday's article delivering the good news, the Le Mans-winning 787B will have stiff competition from the likes of the Sauber C9 and both the long and short tail variants of the Porsche 962c. Likewise, the original Miata should provide plenty of fun for players and will prove itself worthy of its "Jinba Ittai" design philosophy, a relationship developed over time by a horse and its rider.
The good news doesn't end there. The long-awaited Porsche 911 RSR has finally made its debut in Assetto Corsa as a free update for Porsche Pack 3 owners. Originally expected in the release of the third and final Porsche pack, the new-for-2017 racer would fall foul to a delay, and in its place was the 580 horsepower 911 Turbo S.
The mid-engine 911 was then targeted for release in January, likely to complement its on-track debut at the Rolex 24 at Daytona. Those plans would also be put on hold with the team at Kunos citing more time was needed. Players now have the opportunity to get behind the wheel of the highly-anticipated mid-engine 911 and decide for themselves if it was well worth the wait.
Today's 1.13 update weighs in at 174.5MB for PC users, with no current release schedule outlined for PlayStation 4 and Xbox One racers. The full change log can be found below the gallery.
New Porsche 911 RSR 2017 for Porsche Pack 3
New Mazda MX-5 Miata NA
New Mazda 787B: mod skins made for the original 787B mod will need to be updated using the new template
Added OpenVR/Vive support (beta)
Fixed Mazda MX-5 ND setup ride height false indication
Fixed Alfa Romeo Giulietta QV gearbox damage
Adjusted Lotus 72D and Ferrari 312T tyre compound wear and heat ranges
Fixed Flag rendering for VR
Fixed colour balance for emissive items (lights+digital) when Post Processing is turned off
Added downshift protection alert (can be disabled through the launcher options)
All GT2/GTE cars default to Medium tyres now (also for AI)
Fixed broken rendering when OCULUS mode is selected but no Oculus is actually connected
Added Pitstop arrows to DirectInput Dpad: bind to the wheel dPad: can be overidden by controls.ini [ADVANCED]DPAD_INDEX_OVERRIDE=0
Added Pitstop quickmenu + Setup pitstop strategy: this can be custumized and disabled by system/cfg/pitstop.ini [SETTINGS]USE_MOUSE_PITSTOP=0
Updated Fanatec library to support new wheel bases.
Fixed possible CPU warning when player gets retired.
Added reversed grid races: The race session will be restarted in reversed grid order based on the standings of the previous race. Players disqualified in the first race will start from the back of the grid in the second race, regardless of their position being within the reversed grid range.
Added locked entry list in pickup mode: same as in booking mode, only players already included in the entry list can join the server (password not needed).
Added car Steam ID sharing in entry list: each car in the entry list can feature multiple GUIDs. Players can share that car (one at once). The name inserted in the entry list is used as driver name.
Fixed server result log not displaying invalid laps.
Fixed end-of-race session status for lapped players in lap races.
Added Mandatory Pit: A pit window can be added to the race session. As a design choice, players need to stop at their pit box within the pit window to have a valid pit stop. Players with pit boxes further down the pitlane need to take this into account before deciding on their strategy. Players may make additional pit stops before and after the pit window, but only making a mandatory stop in the indicated pit window will validate their race. Server admins must decide on a pit window that allows all players, regardless of their pit box position, to comfortably make a pit stop under normal racing conditions.
Updated Shared Memory
More Posts On...