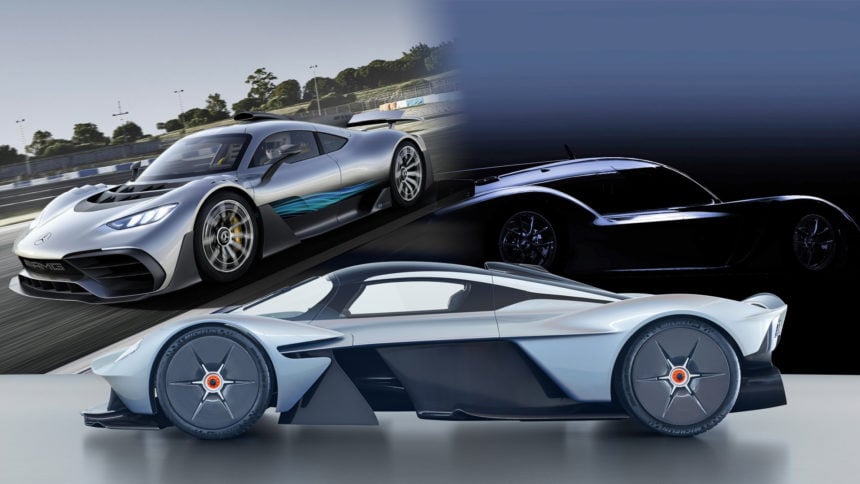 It's been difficult recently to open up a motoring website, or car magazine, without seeing some new hypercar.
We don't mean things like the Bugatti Chiron or record-breaking Koenigsegg Agera RS. They're certainly pushing the outer edges of the performance envelope, but they're still unmistakably road cars.
No, the new breed of hypercars is something completely different: racing cars with indicators.
Take one look at the Mercedes Project ONE, for example. Okay, so there's a kind of road car shape to it, but at its heart it's Lewis Hamilton's weekend ride. Mercedes-AMG has taken an F1 car's 1.6-liter petrol engine and KERS hybrid system and placed it into a two-seat car with a roof. Yes, there's some concessions to daily use — we're not sure anyone would buy a car that needs a new engine every thousand miles — but that's the basic recipe.
It's a short hop from Mercedes-AMG's F1 base in Brackley to Gaydon. There Aston Martin, with Red Bull's F1 team, is making an even stranger car. The Valkyrie looks much more like an F1 car — albeit with a cockpit — but totes a more traditional 6.5-liter V12. Again, this car uses a lot of F1 technology in its construction.
Toyota too is getting in on the act. It may not have an F1 team any longer, but it is the last manufacturer left in LMP1. Its racing team, Gazoo Racing, is reportedly working on a supercar tentatively dubbed the GR Super Sport. There's no detail on this yet aside from a silhouette — which looks remarkably like an LMP1 car — but that alone hints at a peer for the Aston and Mercedes. Toyota has form in suddenly conjuring up a brilliant supercar from nowhere; remember the Lexus LFA or, madder still, the TS020 homologation special?
That's not an end to it either. Both BMW and Audi are reportedly considering their own rivals. This may just be to cover off what Mercedes is up to — after all, the three German brands do tend to lead each other into new sectors — but it's unlikely that five car makers independently decide to build exactly the same type of car at once.
What could it hint at if not a coincidence? Well, it may be one of the arms of the Triple Crown of Motorsport, but the 24 Hours of Le Mans appears to be in a bit of trouble at the moment. The FIA World Endurance Championship, which features the famous race as a flagship event, is suffering from a lack of competition in its top category, LMP1.
This ferociously expensive formula has seen manufacturers dropping like flies. Peugeot quit to focus on rally, Nissan quit because its car was terrible, and Audi and Porsche quit for reasons we're sure are not connected to VW's restructuring after Dieselgate.
That just leaves Toyota, which will compete in its 20th Le Mans next year but is yet to win. For 2018 (and 2019, thanks to the 18-month "superseason") it will be the only full factory LMP1 entry, and practically unopposed. A number of other customer entries, using new Dallara and Ginetta chassis are mooted however.
Indeed things are so on edge in WEC that the championship recently held a fan survey on how it should proceed in the future. But are WEC's woes and the influx of hypercars really connected?
It's certainly true that many fans clamor for the old days of Le Mans, when the race winner could drive away from the circuit afterwards. LMP1 prototypes may bring unprecedented lap speeds, and Group C had phenomenal straight line pace, but there's a certain magic to seeing road cars — even fabulously expensive ones — tearing up the race track.
Hypercars like the Project ONE, Valkyrie and their rumored competition provide an opportunity to return to that format. It may drive the balance of performance calculations crazy trying to even out a 6.5-liter V12 and a hybrid 1.6, but it's not beyond the realms of possibility.
The planned production numbers have a hint of homologation about them too. The last road car to win Le Mans outright was the McLaren F1. The company built 106 of them in total. Aston Martin is planning 125 Valkyries, while Mercedes will make the Project ONE more common at 275.
It's something the brands are clearly considering too. Speaking to Autocar recently, Aston Martin's CEO Andy Palmer commented:
"My personal perspective is very clear: Aston Martin will never compete in a prototype category because it has no relevance to us. But if they allowed racing derivatives of road cars, that would be very interesting to us and, I suspect, the fans.

"Road-derived race cars fighting for the win is in keeping with the history of sportscar and Le Mans racing, and the prospect of the likes of Valkyrie fighting against McLaren P1, LaFerrari and more would be interesting to more than just me, I suspect."
What about McLaren? Well the company just unveiled its newest Ultimate Series road car, the Senna, but has another in the works. This car, codenamed BP23, is a three-seater with a central driving position and a planned production run of 106 cars. Sound familiar?
Speaking to Motorsport.com earlier this year, McLaren's CEO Zak Brown also spoke of sportscar racing's past:
"I believe the WEC has an opportunity to hit the reset button. I'd love them to get back to the Porsche 956 or 962 days, where factory and privateer teams can race together knowing they each have chances of winning."
It may all just be a coincidence though. After all, car makers do try to one-up each other all the time. Whether an indication of a new racing category or not, the upcoming crop of hypercars will set yet another new benchmark for road car performance.
More Posts On...