We've been promised a new-to-series feature will be coming to DIRT 5 when it arrives this October, and today we've finally got a glimpse at it. It's a new mode called "Playgrounds", and it's essentially an arena-based course creator.
Playgrounds will give DIRT 5 players a chance to create and share their own unique challenges, using a suite of obstacles. You can construct courses either with a defined route or not, based around three different game modes from DIRT 5. Once happy with your layout, you can share and publish, for other people to race — and rate — your event.
You'll be able to build your Playground in any one of three arenas, allowing you to create challenges of varying sizes. There's three different race mode options available, with Gate Crasher, Gymkhana, and Smash Attack challenges all possible.
These are all pretty self-explanatory, but Gymkhana probably the most obvious. The challenge here is to score as many points as you can from tricks and combos in the allotted time, with the arena obstacles acting to enhance your scores by enabling drifts and stunts. Gate Crasher sets up a number of checkpoints you need to drive through, though the order is up to the player — so you'll need to find an efficient route.
Finally there's Smash Attack. This will see you driving around the arena trying to hit inflatable objects, but particularly mean Playgrounds creators will also litter the arena with time penalty balloons too.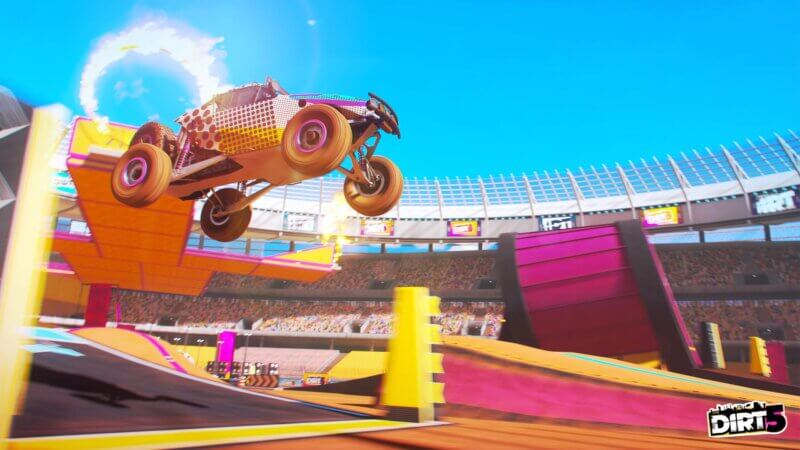 We've been playing a preview build of Playgrounds over the past week and it's been a lot of fun. You've got pretty much free rein for placing not only ramps and jumps but environmental items too. Some you can push around when you hit them, some you can't (take it from us, a school bus is pretty solid). You don't even have to obey gravity — it's possible to place items in the air and just let them float.
It's quite intuitive to use, and you can snap objects to each other to keep everything lined up — like building a settlement in Fallout 4. About the only limitations we've found were that you can't have two objects intersecting each other, and the obvious requirement of a start gate.
You'll also only be able to use a specific car on any given Playground, to keep the leaderboards fair. That does mean you can design a course specifically for Formula Off Road, with vertical climbs, or something more flowing and faster for Trophy Trucks or Rally GT cars.
With a slightly delayed official date of October 16 on PlayStation 4, Xbox One, PC, and Google Stadia, there's still almost two months to go until DIRT 5 launches, so we're likely to hear plenty more in the next few weeks. A PlayStation 5 and Xbox Series version will also be along later, once the consoles have themselves arrived.
In the meantime, you can watch the Playgrounds feature in action below: