Codemasters' hit game based on the 2017 F1 season has been out a few weeks. F1 2017 impressed us so much that we felt both newcomers and seasoned vets could benefit from a few tidbits on getting the most out of the game.
Practice Programmes
If you're playing Career mode then the Practice Programmes are probably the most significant part, especially if you're committing to full weekends. A wise man once said: "Proper preparation prevents poor performance." When and how you run your Programmes depends on a variety of factors.
The first thing to look at is the weather report. Run your programs when the air and track temperatures in practice match those of qualifying and the race. Don't forget to run on two different tire compounds — you'll be using both during the race so you'll want to analyze the data simultaneously.
Expecting rain the race or in qualifying? Look out for rain hitting a practice session and get your programmes in then. By running your car in matching conditions, you can make sure you mimic the tire temperatures and feel of the car.
The data is crucial. Understanding it can mean the difference between a podium and fourth place. How does your tire wear compare to what's expected? How much fuel are using per lap? If you're not on target then it could be worth re-running the programme to try and achieve better numbers.
Drive like you would in the race. The team will build your race plan around how you drive in these programmes. So if you drive super slow in the programmes but then super fast in the actual race, your strategy will fall apart and you'll finish a lot further back than you'd hoped.
Choose when to run what programmes wisely. The Qualifying Pace programme, for example, makes more sense to run during P3 on Saturday morning before Qualifying. The track has already had a full day of running from P1 and P2 and is no longer in "green" status. A green track has had little to no running on it, no rubber has been laid down and the grip is low. P1 and P2 (weather permitting) are best for Track Acclimatization, Fuel Saving and the other programmes.
Reliability vs Performance
While re-running practice programmes can help improve your race strategy, you also have to think about the durability of your car. Parts wear out and there's penalties to face if you use too many too soon. Only run the bare minimum of practice sessions to save parts.
Don't equip fresh parts at the start of the weekend. You're wasting the extra performance from a fresh part on practice sessions when it could be used when it matters — during qualifying and the race. Instead, install your fresh parts in the interim after P2 and before P3. You're replacing the parts between practice sessions so you won't incur a time or grid penalty. P3 is the final session before the real stuff begins so you're not wasting the best of the parts for very long.
Saving parts is also crucial during the race. Fortunate enough to be out in front? Save the components of the power unit by running in a slower engine mode and shifting at lower RPMs. This will also help elongate the life of your gearbox. You need to make it to six races with the same gearbox or you'll incur a grid penalty.
Jeff Says
Your race engineer, "Jeff" may sound like he's only there to interject at inopportune moments but he does have some words of wisdom. While you're out on track, your team is working behind the scenes to make sure you're getting to the finish line as quickly as possible.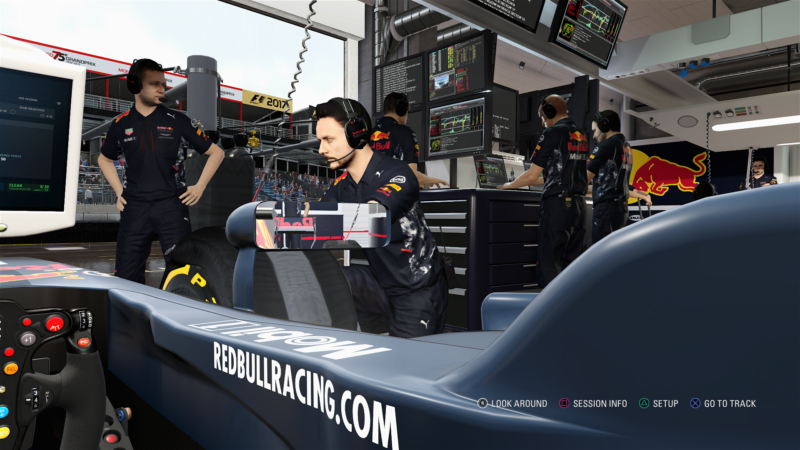 If Jeff suggests an alternate strategy then it's up to you whether you take it. However, most of the time he and the team are right. They've got the data in front of them, you have a steering wheel and your wits. Trust them and take the opportunity.
Don't be afraid to ask for help. If you have a gaming headset, you can use voice recognition to ask Jeff for assistance during the race. You're on your own out there so all knowledge is powerful. Jeff will tell you how far away the rain is, he'll tell you how you're doing on tire and fuel management, he'll let you know how you're doing versus those around you. All you have to do is ask!
Research and Development
While it may be tempting to head straight for power, utilizing the other parts of R&D is the smart road to go down. Wisely spending your Resource Points is a big part of F1 2017's career mode.
It all comes down to your knowledge of the sport. An F1 aficionado would know that Red Bull has lots of downforce but lack power. McLaren also has lots of downforce but lacks in the reliability department. Of course, if you don't know then the recommended upgrade button is a get out of jail free card.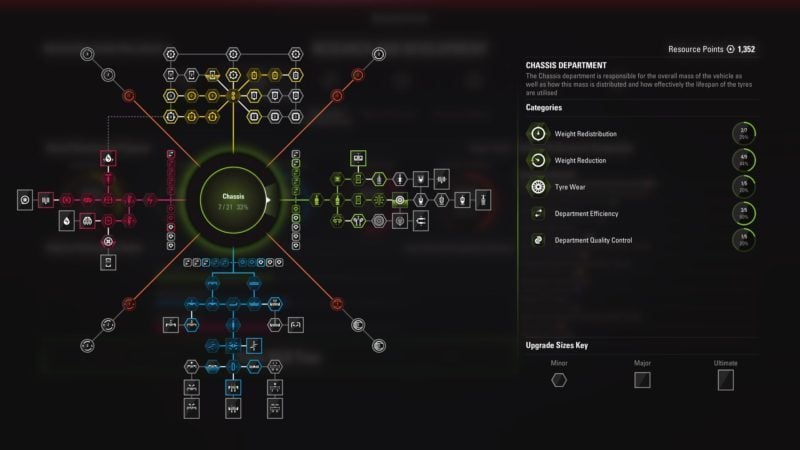 However in our experience, parts wear out very quickly over the course of a season. A big upgrade near the start of the season is worth it. But after that, spending the 500 points on reliability upgrades to the various power unit components is the only way you'll stay competitive. To finish first, first you have to finish.
F1 2017 is as real as it gets when it comes to being an F1 driver. Treat the game with respect and you'll get a lot more out of it. Putting the work in during the practice sessions, researching parts in R&D. When you cross the finish line with a great result, it makes it all worth it!
More Posts On...