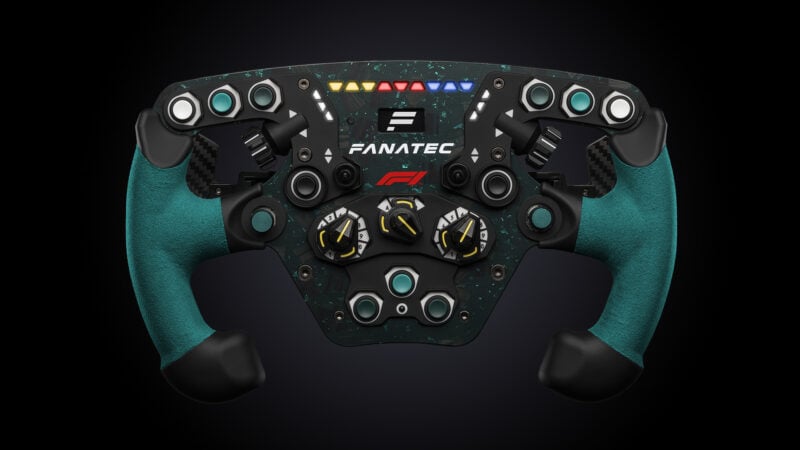 In what's now an annual tradition, sim-racing peripheral manufacturer Fanatec has revealed its limited-edition ClubSport Steering Wheel F1 just in time for the Black Friday sales.
This year's offering, as with previous years, is available in a unique color scheme and is limited globally to a run that equals the current calendar year. That's 2023 units this year, of course.
However Fanatec very much is taking "unique" to its true meaning for the 2023 product, as the main structure of the wheel is manufactured as a single-piece forged carbon plate, featuring green coloring and metallic flakes. That means that no two pieces across the entire production run will look the same.
An offically licensed F1 product, the ClubSport Steering Wheel F1 features 11 different buttons with customizable caps, two 12-way multi-position switches, two thumb encoders, a seven-way FunkySwitch and an analog joystick.
There's also a small, one-inch white OLED screen for telemetry data, nine multicolor rev LEDs and two sets of three flag LEDs. The 2023 version of the wheel also comes with the new QR2 Wheel Side adapter included, making it compatible with QR2 Base Side-equipped wheel bases.
You'll have two options when ordering too, with the standard wheel coming equipped with the ClubSport Magnetic Paddle Module at $/€399.95 and the Podium Advanced Paddle Module available too for $/€499.95.
Both prices represent a discount of around $/€200, with the wheel making its debut in the current Fanatec Black Friday sales. However, with only 2023 units available worldwide it's unlikely they'll last long enough to hit full price at the end of the sale on Tuesday November 28.
You can help suppot GTPlanet by ordering through any of the affiliate links in this article!
See more articles on Black Friday, F1, and Fanatec.