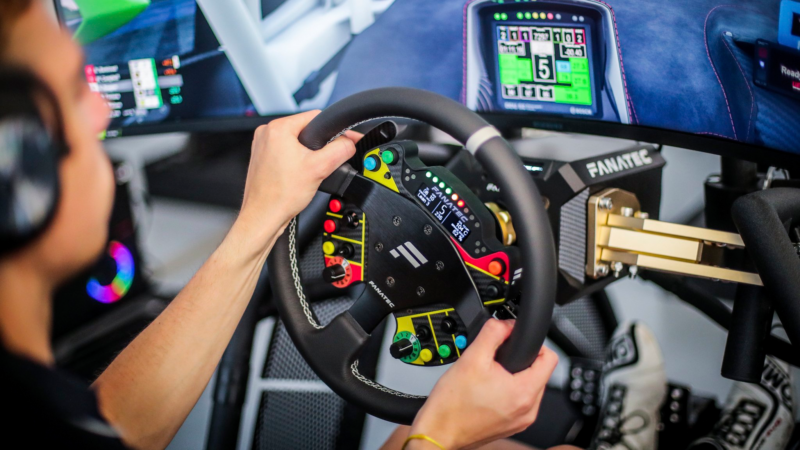 Fanatec has opened the order books on the new Podium Steering Wheel Fanatec GT World Challenge bundle, allowing players to pick up the equipment used in this season's Fanatec Esports GT Pro series.
For those of you who missed out on the Fanatec Esports GT Pro series, it was a pilot program run this season as part of the GT World Challenge Europe series. The series consisted of five, one-hour races run at the Endurance rounds of the championship for the real-world teams involved. More than that, the series offered up actual points towards the overall GT World Challenge Europe title.
In the end, the series had little impact on the championship standings, thanks to the small amount of points available: three for a win, two for second, one for third. However the Silver Cup champions in the Esports series, Madpanda Motorsport, did pick up enough points to take fifth in the overall standings on countback. Emil Frey Racing won the Pro title.
The bundle consists of the ClubSport Wheel Rim 320, Podium Advanced Paddle Module, Podium Button Module Endurance, and Podium Hub. At $629.95 (€629.95/AU$939.90) that represents an almost $80 discount on the items separately.
When paired to a Podium Wheel Base (not included), that gives you the full experience that the pro drivers racing in the Esports series used across the 2021 season, though it's also compatible with the CSL DD and ClubSport Wheel Base V2.5 units, on PlayStation and PC only.
Combined, the various modules give you ten buttons, two 12-position dials (configurable as rotary encoders), two 2-way toggles, a two-axis analog stick and the famous seven-way FunkySwitch. The magnetic paddles also support four different modes, including clutch and brake modes.
There's a configurable OLED display which also includes nine RGB LEDs for signifying engine revs, and a pair of triple LEDs that show circuit flag data.
The Podium Steering Wheel Fanatec GT World Challenge bundle is available to order now.
See more articles on 2021 GT World Challenge and Fanatec.