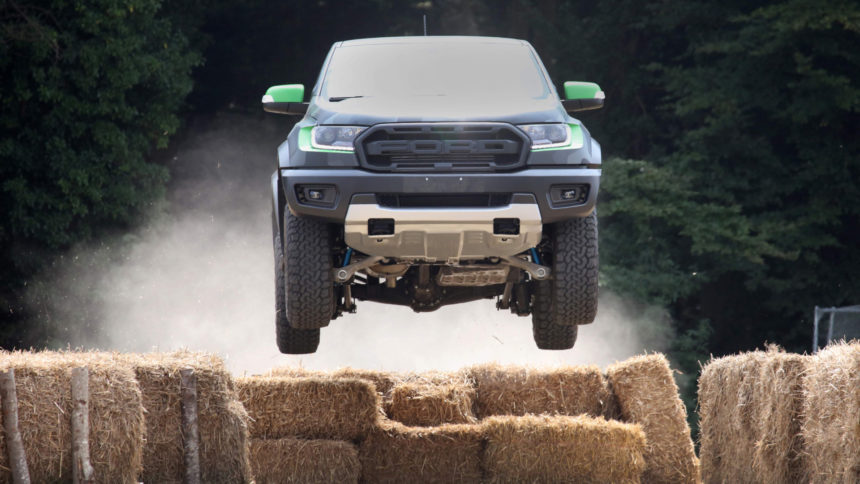 While video games are at the forefront of Gamescom, Ford is looking to give things an automotive flair. At this year's event, it will unveil a brand-new performance vehicle.
Don't worry, Ford hasn't lost its mind or booked the wrong venue. At the same time it reveals the car, it will announce its appearance in a "forthcoming racing video game" too.
For now, Ford is keeping the identity of both under wraps. It describes the car as a vehicle that will "bring the fun back to on- and off-road driving", but didn't name the vehicle. That said, its press release is full of photographs and a video of the Ranger Raptor launching itself off a ramp at the Goodwood Festival of Speed.
This is either this a cunning ploy from Ford to keep its vehicle under wraps, or it's terrible at the whole mystery thing.
If it is the Ranger Raptor, we assume it will show itself in Euro-spec trim. The baby Raptor did already get its first unveiling back in February. However, at that time it was just for the Asia Pacific market.
That Raptor packs a twin-turbo, two-liter diesel engine. This puts out a modest 210hp, but a whopping 369lbft of torque. It's more about the all-terrain ability with the Raptor though. To tackle the best Mother Nature can throw at it, Ford includes things like Fox Racing Shox suspension, BFGoodrich KO2 tires, and traction control with several off-road modes.
As for the game, all signs point to this being Forza Horizon 4. That said, the model name for the Ranger Raptor did not make an appearance in the leaked car list. The only Ranger listed is the T6, which is the Rally Raid truck from the previous games. It could come as a late add-on or come to the game as one of two weekly vehicles via the Car Pass though.
With what we know about FH4 right now, the Raptor should fit right in too. With the weekly changing seasons, it'll eat up the mud in springtime and the snow during the winter.
We will know more on August 21 when the show kicks off.
If you're planning on attending the show, be sure to stop by the Ford booth in Hall 8. It will have eight 4D racing pods for you to experience. As an added bonus, the person with the top time at the end of each show day will also win a trip to the UK to hang out with the M-Sport Ford World Rally Team.
More Posts On...