SPECIFICATIONS
OVERVIEW
• Manufacturer: Aspark
• Country: Japan
• Year: 2017
• Type: Street
• Division: Gr.X
ENGINE
•
Engine: 2x rear-mid-engine electric motors, with trans-axle to front axle for all-wheel-drive
• Power: 429 HP / 4000 rpm
• Torque: 764 Nm
• Engine location: 4 electric motors (two rear, two front)
PERFORMANCE
• 0-100 km/h (0-62 mph) Time: 2.0 seconds
• Top Speed: 280 km/h (174 mph)
• Power-to-weight ratio: 0.50 hp/kg
DRIVETRAIN
• Drive: Four Wheel Drive
RANGE
• Range: 150 km
BATTERY
• Type: Supercapacitors + battery
• Voltage: 300 V
• Max. current: 2000 A
DIMENSIONS
• Lenght: 4830 mm
• Width: 1935 mm
• Height: 990 mm
• Wheelbase: 2757 mm
• Weight: 850 kg
An all-electric supercar from Japan will soon make its global debut at the 2017 Frankfurt Motor Show. Built by the company Aspark, their idea of a fast, lightweight, zero-emissions electric vehicle is called the 'Owl'.
Featuring a sleek and low-slung body, the Aspark Owl comes combines a lightweight chassis and body along with a powerful electric motor.
Exact details about the upcoming EV still remain a mystery but Aspark did say it comes with a full carbon fiber body. Apart from that, the Owl also rolls on lightweight magnesium alloy wheels which frees up several kilograms for quicker acclerations.
As for its design, the Owl has an aerodynamic, almost racing-inspired look. It stands at a low 990mm, and has a wraparound windshield that surrounds the cockpit. L-shaped headlights dominate the front fascia while muscular wheel arches channel air towards the large rear wing at the back. Other features present on the Owl include the gullwing doors, large side vents and the prominent front splitter and rear diffuser.
Details about its electric powertrain have not yet been released though Aspark claimed the Owl can sprint from 0 – 100 km/h in less than 2 seconds. This puts the Aspark Owl in hypercar territory in terms of acceleration.
Links
https://www.autoindustriya.com/auto...spark-owl-ev-supercar-makes-early-reveal.html
More Awesome Cars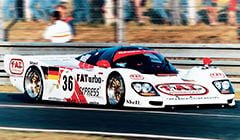 Last edited: