SPECIFICATIONS

OVERVIEW
• Manufacturer: Techrules
• Country: China
• Year: 2017
• Type: Street
• Division: Gr.X
ENGINE
• Engine: One Turbine and six electric motors
• Power: 1287 HP / --- rpm
• Torque: 2340 Nm
• Engine location: Mid
PERFORMANCE
• 0-100 km/h (0-62 mph) Time: 2.5 seconds
• Top Speed: 320 km/h
• Power-to-weight ratio: 0.79 hp/kg
DRIVETRAIN
• Drive: Four Wheel Drive
DIMENSIONS
• Lenght: 4694 mm
• Width: 2048 mm
• Height: 1200 mm
• Weight: 1630 kg
In the race to offer the latest and greatest
hybrid
performance
technology,
Chinese-based startup Techrules is taking a different approach. Rather than matching a piston-driven internal combustion engine with electric power to eke out every last pony possible, Techrules has decided to employ diesel-powered turbines to juice the motors that drive the wheels. The result is something
Techrules
is calling a series-hybrid diesel powertrain, and believe it or not, it's slated for production in 2018. Techrules' will offer this innovative technology in its very first production vehicle – the Ren. The name is an allusion to the Chinese core value of humanity and kindness, which makes sense given the car's surprising efficiency. However, the big draw here (beyond the wild new powertrain tech, that is) is the Ren's futuristic, aerospace styling and four-figure output. If all goes according to plan, the Ren should be one of the quickest production vehicles on the planet.
Of course, all things considered, that's a pretty big "if." The hybrid supercar segment isn't exactly kind to newcomers, and considering the crazy new technology promised by the Ren, you could say the deck is stacked against Techrules' favor. Nevertheless, progress is being made, with the Ren making its debut at the
2017 Geneva Motor Show,
followed by an appearance at the
Concorso d'Eleganza
in May at Lake Como in Italy. Read on for the details of what to expect should this thing hit the market.
Aesthetically speaking, we think the Techrules Ren is pretty darn exciting. It looks like one of those futuristic concepts you'd see introduced at one of the major auto shows, but this time around, it's actually slated to become reality.
Unsurprisingly, Techrules says automotive designers Fabrizio and Giorgetto Giugiaro penned the Ren in Turin, Italy. The looks take inspiration from the world of aerospace, giving it a sort of ground-bound Air Force hardware kind of vibe. And that all makes a whole lotta of sense for a number of reasons. Not only is it the sort of look you need to impress in this segment, but with a turbine-powered powertrain and enough output to break free of the Earth's atmosphere, aerospace just feels right.
According to the car's designer, Fabrizio Giugiaro, "We created a design that reflects Ren's stunning performance and innovation with a dramatic and distinctive fighter jet-style canopy and unique modular three-cockpit design."
If you wanted, you could call it a "one-door" body style, as the entire top canopy section slides back to reveal the cockpit and seats. The wheels are large, plus-sized units that fill the fenders with a turbine-esque swirl. The upper aero components are presented in solid, smooth shapes, set in white and stretched across the body. The lower components are in black, and get a chunkier appearance. Complementing the lower black aero is a black stripe that runs down the center of the vehicle. This element is placed a little lower than the white aero components, giving the top portion a sort of "bolted on" appearance.
In front are triangular intakes, while four-sided sections in the rear get outlined with thin taillights. There are also laser headlights in front, while the rear uses something called "star-burst" reversing LEDs. A long aero fin runs down the spine of the car to increase lateral stability.
Interestingly, the Ren offers a modular layout for the cabin, with a driver's cockpit and optional passenger side pods available. That means the car can come equipped with one, two, or three canopies to accommodate up to three individuals. The canopies are made from a polycarbonate material (basically high-tech plastic).
With the three-passenger canopy option is selected, two of the passengers sit next to the driver in a "semi-prone" position. Touchscreens fold out for entertainment purposes, while an onboard communication system utilizing built-in speakers and microphones are mounted in the headrests. It's not certain how much noise there will be inside the cabin, but with turbine engines providing the juice, it's likely there will be quite a bit of whine that needs to be filtered out, hence the communication system.
While quieter operation might be the goal in this segment (at least when cruising), this set-up is still novel and interesting, and it offers further support for the aerospace theme first seen with the exterior. The driver's central seating position is also reminiscent of the
McLaren F1.
Either way, Techrules is adamant that the car offers a high degree of luxury and high-end materials inside the cabin. In that case , we'd expect leather, Alcantara, brushed metal, and the like, all of which appears to be present and correct. What's more, Techrules points out that the seat cushions are finished in denim fabric from the clothing company Pantaloni Torino, which supposedly grips the passenger and keeps him or her from sliding around during high-performance maneuvers. And while denim is certainly an odd choice, you gotta at least give Techrules credit for being original.
While the aerospace themes seen throughout the exterior and interior are indeed impressive, the most noteworthy features of the
Techrules Ren
is what it's got in terms of power production. Making the go is something
Techrules
calls a Turbine-Recharging Electric Vehicle (TREV) powertrain. This innovative set-up is slated for production status sometime in the future, and is currently in development at Techrules' technical centers in Beijing and Shanghai. The Ren is the first car to get the TREV powertrain, but Techrules says it could be used in new production cars sometime in the future, including both passenger vehicles and commercial vehicles.
"The innovative series-hybrid powertrain technology delivers unprecedented levels of efficiency and performance, and an ultra-low environmental impact," Techrules says.
This is how it works – first, the turbines burn diesel fuel, creating rotational energy. But rather than driving the wheels directly, the turbines are instead used to generate electricity. That electricity is then sent to a battery pack, which stores it until it's used to juice the electric motors that are used to drive the wheels. So basically, think of the turbines as large, powerful "range extenders."
Techrules says there are two-, four-, and six-motor configurations planned for the future. The model on display is the Ren "flagship version," which gets a battery capacity of 25 kWh. Peak output is rated at an astonishing 1,287 horsepower, while the twist figure comes in at 1,725 pound-feet of torque. Fill up the fuel tank with 80 liters (21.1 gallons) of diesel, and you'll get as much as 1,170 km (727 miles) of range. That computes out to 34.5 mpg, but Techrules is a bit more conservative, saying it'll average about 31 mpg. Meanwhile, all-electric range for the top trim is 124 miles.
More importantly, the Ren should be able to accelerate to 60 mph in 2.5 seconds, while top speed is pegged at 200 mph. Not bad for a hybrid.
Further powertrain options include a 430-horsepower iteration with RWD and just two electric motors, and an 858-horsepower iteration with AWD and four electric motors. Techrules also mentions that a track-only iteration will be the first out the gates.
Meanwhile, weight is kept to a minimum thanks to aluminum and carbon fiber construction for the chassis. L.M. Gianetti, Techrules' partner based out of Torino, was responsible for chassis development. L.M. Gianetti is also known for its work with Ford and the
M-Sport Fiesta RS WRC
.
AP Racing provides the carbon ceramic brakes, with six-piston calipers mounted in all four corners. The suspension is a horizontally adjustable coilover set-up, which means this thing should be an impressive handler.
The Techrules Ren is scheduled for delivery sometime in 2018, with the first iterations being some kind of track-only variant. Production is slated to ramp up throughout 2018, and the order books are already open for interested customers.
Each example will be hand built, with around 10 units produced annually.
Pricing is so far unannounced, but should be well into the seven-figure range.
Link:
https://www.topspeed.com/cars/others/2018-techrules-ren-ar176619.html
More Awesome Cars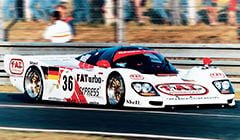 Last edited: