Today, if you don't already know, is Friday. If you're a Forza Motorsport 7 player, you may be wondering why the latest car pack didn't arrive in-game yesterday, April 12. Well, we've got some bad news for you.
Despite the contents leaking on the Microsoft Store this week, Turn 10 has pushed the April Car Pack back again. The reason for this is the associated April title update that's set to launch alongside the pack. The news comes via the official Twitter: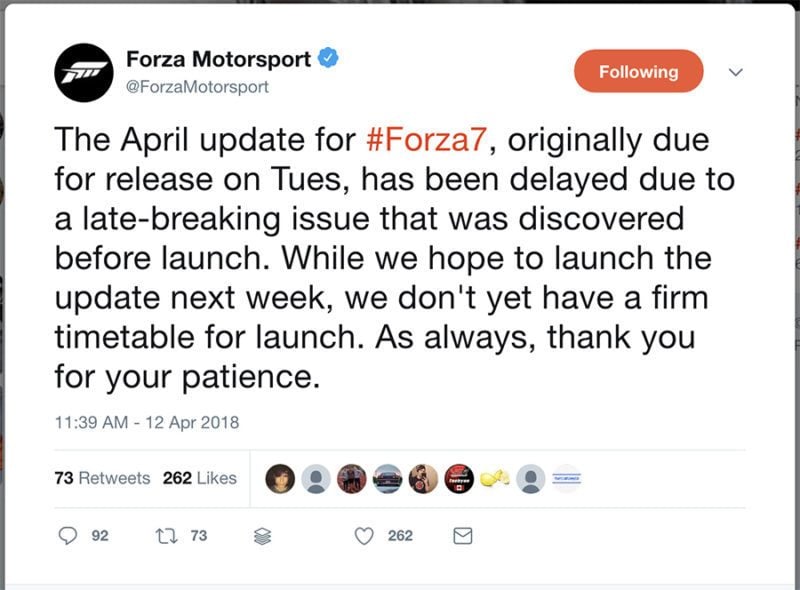 This is the second delay for the troubled update, after an earlier push from Tuesday April 10 to yesterday. As we noted then, it must be a major issue, as delays are a rarity in the world of Forza Motorsport. The series itself has operated on a two-year cadence for over a decade, and DLC releases have largely been like clockwork (at least until 2018).
What makes this wait all the more difficult for fans is the afore-mentioned leak. We already know the name of the sixth car pack (K1 Speed Car Pack), and the contents:
1976 Chevrolet #76 Greenwood Corvette
1948 Ferrari 166 Inter Sport
2018 Honda Odyssey
2017 Maserati Levante S
1966 Porsche 906 Carrera 6
1980 Porsche 924 Carrera GTS
1985 Nissan #83 Electramotive Engineering GTP ZX-Turbo
As of now, players will have to wait at least until next week. When Turn 10 nails down a more concrete date, we'll have it here. Hopefully, as they say, the third time's the charm!
Featured image courtesy of AnimaVesta.
See more articles on Forza Motorsport 7 DLC.