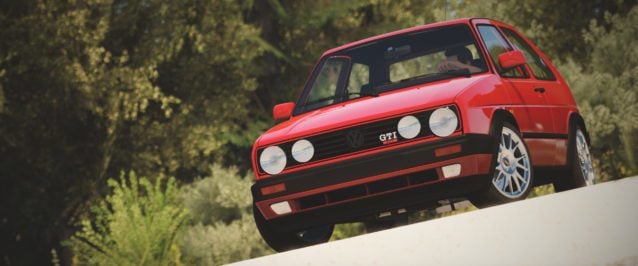 The Forza Garage series of car reveals came to an end this week with a surprise only the craziest of car lovers would appreciate. Week 6 changed things up quite a bit by revealing that the three-wheeled Reliant Supervan III, best known to those in the UK for being featured in the BBC comedy 'Only Fools and Horses', would be featured in the game.
Still, with all 350+ vehicles seemingly spoken for, the question remained "Where's Volkswagen?" Unfortunately, the German automaker won't be included in Forza Horizon 3, as confirmed by Brian Ekberg (Mechberg) in this week's Week in Review.
Undoubtedly a somber confirmation, this will be the first game in the franchise the automaker won't be featured in since the series' inception in 2005.
"With our Forza Garage series wrapping up, I know that a lot of folks in the community have been wondering about a conspicuous manufacturer absence from the game: Volkswagen. With Forza Horizon 3, we're bringing fans more than 350 cars to the game at launch, including manufacturers who have never appeared in a Forza game before.

Our team works hard to license hundreds of brands for every Forza game; from small independent brands to major international automotive companies. Unfortunately, we can't always align our fans' desires with the interests of every licensor, as is the case with Volkswagen in Forza Horizon 3. As a result, we're unable to include VW in the game.

Naturally, there are tons of VW fans here at Turn 10 and Playground Games and we're as disappointed to share this update as our fans are to hear it. We hope to be able to restore VW to Forza games in the future."
It's worth pointing out that this is only limited to Volkswagen Passenger Cars, as wholly-owned subsidiaries – the likes of which include Audi, Bentley, Bugatti, and Lamborghini, are still going to be included when the game releases next month, and have been revealed thusly.
Naturally, this opens up the possibility that a particular marque, another wholly-owned subsidiary of the VW Group, can be introduced to the game as an expansion down the line.
Forza Horizon 3 launches on Xbox One and PC September 27th 2016.
See more articles on Turn 10 and Volkswagen.