The latest Forza Monthly livestream has revealed the latest content heading to Forza Horizon 4's Horizon festival. Though we had some idea of what to expect thanks to some unusual clues last week, the stream has put any doubts over what's coming in Series 27 to rest.
Here's what you have to look forward to over the next four weeks.
New Reward Cars
After a couple of months with the trio of new cars, we've got a quartet this month — and all of Japanese origin. If you weren't able to work out the clues last week, the four cars for Series 27 are two Lexus models, a Toyota, and a Nissan… or at least originally a Nissan.
Headlining the Series is, as you'll see from the big image above, that very racy Nissan. It's actually American drifter Chris Forsberg's Formula D Nissan 370Z — the exact car that Forsberg himself stated would be heading to Gran Turismo Sport three years back.
The sideways 370Z joins the regular 2010 road car in FH4, but as you'd expect it's tuned up quite a bit. In fact the 3.7-liter V6 is bored out to a round four liters, and helped along with a couple of enormous turbochargers to make for some 800hp. No corner of Ambleside will be safe once you win the car in the Summer Nissan Cup event.
Another sibling heading along in Series 27 is the Toyota GT86. This is another example of Toyota's relaxation on where it places its virtual road cars, and it joins its fraternal twin the Subaru BRZ in FH4. In fact Subaru builds both cars (and the Scion FR-S, which you won't find in the UK), along with the car's Boxer four engine, even though the GT86 is the better known and better selling example. You can win the GT86 in a Spring event called Sports Day.
That just leaves the Lexuses (or whatever the plural of Lexus is), and they're no slouches either. It's a pair of V8 models, from the "F" range of performance cars — supposedly standing for "Flagship", but also a reference to the Lexus test track at Fuji Speedway.
The older of the two cars is the IS F saloon. Pitched against the BMW M3, Audi RS4, and Mercedes C63, the IS F sports a five-liter V8, good for some 416hp, mated to an eight-speed gearbox derived from that of the larger LS luxury sedan. You'll be able to pick the IS F up, along with its novel quad-exhaust arrangement, for 50% on the Spring playlist.
Finally there's the Lexus RC F. This is based on the RC coupe, itself a development of the IS sedan, and offers an enhanced version of the same V8. Now producing 471hp, the RC F's V8 is the most powerful V8 in a Lexus model — shared with the GS F. If it catches your eye, you can pick it up in the Fully Loaded event in the Autuman playlist.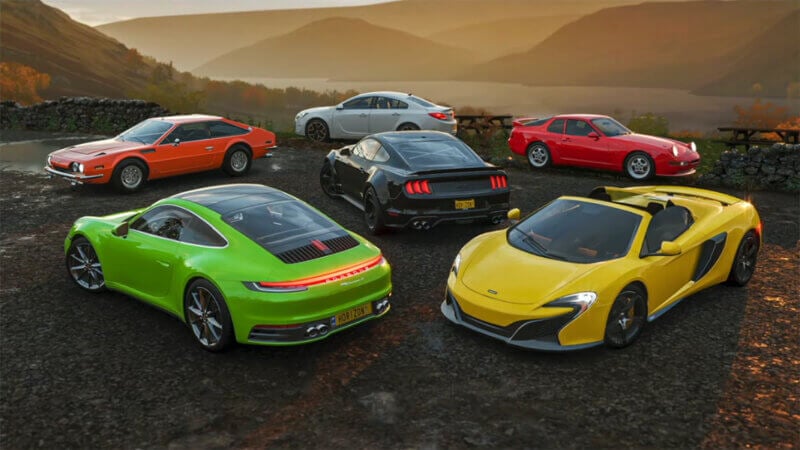 New Car Packs
As with Series 26, there's a new set of car packs, aimed at players who missed out on the Car Pass early in the game's life — some two years back — or just don't fancy splashing out for four dozen new motors.
This month's packs are called the High Performance Pack and the Icons Pack, with the contents as follows:
High Performance Car Pack
Ferrari GTC4Lusso 2017
Ford Mustang GT DeBerti Design 2018
Lamborghini Jarama S 1972
McLaren 650S Spider 2014
Porsche 911 Carrera S 2020
Porsche 968 Turbo S 1993
Vauxhall Insignia VXR 2010
Icons Car Pack
Ford Mustang 2+2 Fastback 1968
Ford Transit 1965
Hillman Imp 1966
Opel Kadett A 1963
Peel Trident 1965
Porsche 356 A 1600 Super 1959
Volkswagen Double Cab Pick-Up 1966
All of these cars were previously only available as part of the Car Pass. Both packs come in at $6.99 (£5.79/€6.99), with a 10% discount for Game Pass members.
General Fixes and Changes
Series 27 will see a brand new feature added to the game. Playground Games noted that a lot of players were getting involved in drag races but that it took more time to load into a race than to actually take part in it. After all, they're only ten seconds or less, according to one Mr. Toretto.
That's lead to the team adding a new mode called The Drag Run. This is available at any drag race start point in the FH4 map, and sets players against each other in a series of races rather than just the one. You'll drop into a matchmaking hopper, and pick your car from within a given PI limit. Then you just race, with three back-to-back drags rather than going back into free roam after each one. If you want to keep going, just pick again and race again.
Everything should get underway in Series 27 this coming Thursday, September 24.
More Posts On...