Right at the end of the Forza Monthly stream, presenter and principal game designer Mike Brown dropped a bombshell: Toyota is back.
It's a massive piece of news as the status of the Japanese brand in automotive games has been pretty confusing recently. Almost no game of any stripe within the genre since the middle of 2017 has featured Toyota's road cars — or, for that matter, sister brand Lexus. The sole exception in that time is GT Sport, which not only has both brands but has been adding further cars via free update.
That lead to speculation that Gran Turismo had an exclusive deal with Toyota, not dissimilar to the widely criticized Porsche exclusive with EA throughout the Noughties.
Further evidence deepened the suspicion of exclusivity. After Toyota had no presence at all in Need for Speed Payback or Forza Motorsport 7, the latter cited as a licensing issue, the brand's representatives showed up at GT Sport's World Tour in Paris at the beginning of 2019. The purpose? To announce a partnership with the game's flagship FIA Online Championship.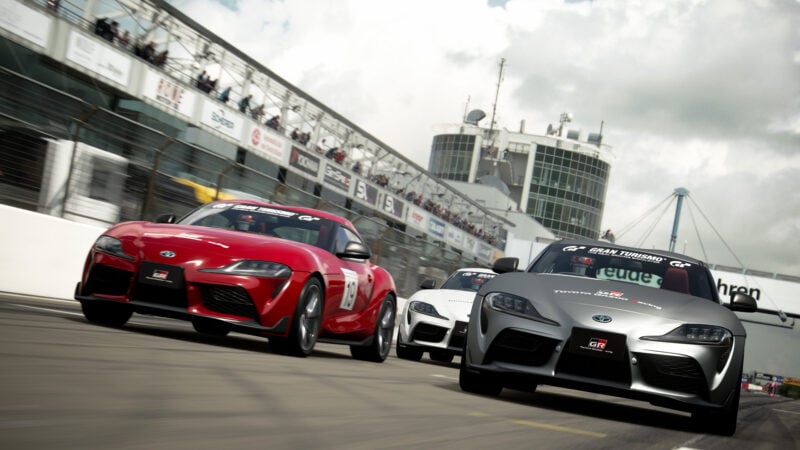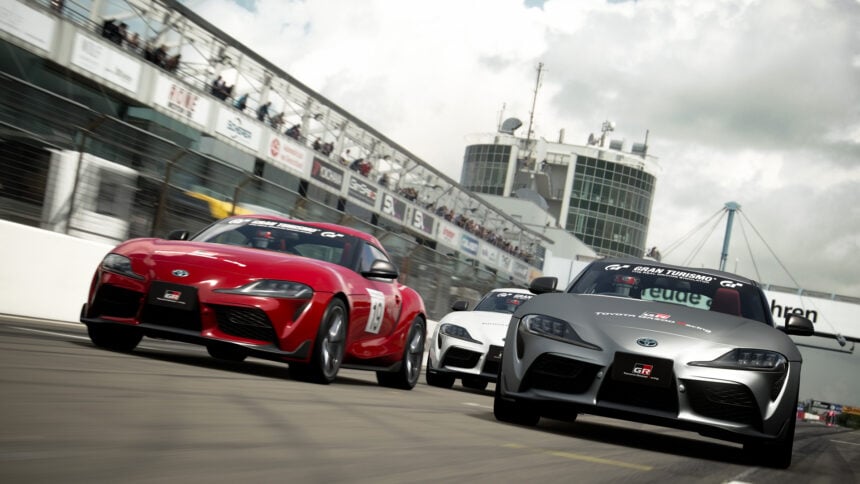 Not only that, Toyota revealed that its brand new, headline-grabbing GR Supra would appear in GT Sport and have an exclusive online championship. The game's players would also get the chance to give feedback on the car and help guide development.
Then came a bizarre Twitter exchange. After Ghost Games announced the car list for Payback's successor, Need for Speed Heat, one fan Tweeted to ask where Toyota's cars were. Toyota UK responded that its cars were in GT Sport, a game that didn't promote illegal street racing. The social media team retracted that message the next day and issued a clarification which included the ominous line:
Officially, Toyota Motor Corporation has no concrete plans to license its model range to any other games besides Gran Turismo Sport at the moment.
Thankfully for Forza Horizon 4 fans, that no longer seems to be the case. As Brown whipped back the covers from a UK-spec Mk4 Supra outside Playground Games' Leamington Spa headquarters, the official Forza social media accounts released this announcement:
Forza and Toyota have joined forces once again! It all starts on December 12th when #ForzaHorizon4 players can get behind the wheel of the 1998 Toyota Supra RZ as a part of the Series 17 update. pic.twitter.com/7WhGjIqsys

— Forza Motorsport (@ForzaMotorsport) November 19, 2019
Although the only Toyota revealed by both versions of the announcement was the A80 Supra, Forza community manager Brian Ekberg later confirmed that more models from Toyota, as well as Lexus and possibly Scion, would return to the Forza series — and not just Horizon 4, but across the Forza brands. The Supra is the pioneer for now though, and other models are merely penciled in, lightly, for an undetermined time in the future — and 'for years to come'.
Prior Forza games, both Motorsport and Horizon, have rich and varied lists of roadgoing Toyota and Lexus models, so it's tempting to look on the bright side, but we'll exercise a note of caution for now.
Either way, we're glad to see more gamers getting access to more cars. The 1998 Supra RZ will arrive with the Series 17 Update on December 12, and we'll bring you more on both the update and Toyota's presence as we get it.
See more articles on Forza Horizon 4 Game Update and Toyota.