A surprise septet of cars is coming to Forza Motorsport 7 next week. Say hello to the Barrett-Jackson car pack.
Following on from recent packs like the Hot Wheels and Formula Drift items, the Barrett-Jackson car pack zeroes in on a specific aspect of car culture. In this case, it introduces seven cars from the eponymous company's history into Turn 10's sim racer. It's a timely link-up too, with the 2019 Scottsdale auction kicking off this weekend.
Whether they've crossed the auction block, or are owned by employees, these are all real vehicles. Yes, even that one up front.
That'd be Aaron Grote's Atomic Punk, a custom roadster with a Chrysler 392 up front. It joins two other customs, one of which is a '32 Ford built by Fuller Hot Rod. Called the Double Down, it hides the unlikely combo of a massive 576ci (9.4-liter) Jon Kaase engine and all-wheel-drive. We're guessing it'll be one of the fastest cars of the pack.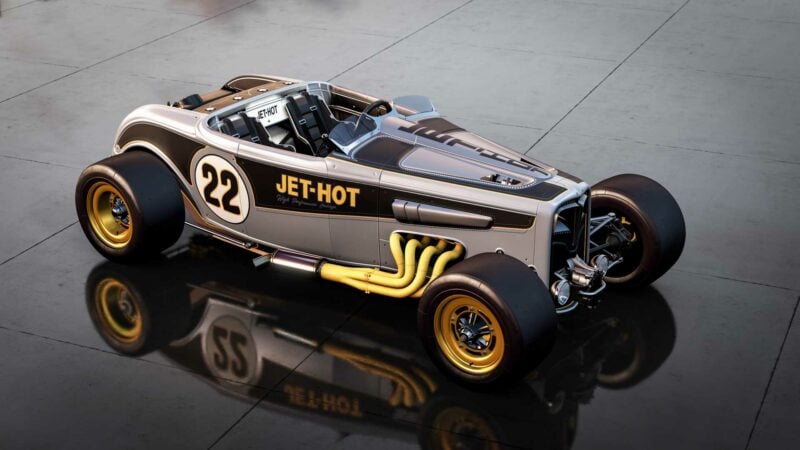 Well, maybe. There's also the incredibly rare Shelby Monaco King Cobra. Like the road-going Cobra, it used a modified British chassis — this time from Cooper — hooked up to a Ford V8. The King Cobra placed its 400hp heart in the middle however, and Shelby took it racing in the series that would go on to birth Can-Am. How rare is it? Try one of one. It sold at Barrett-Jackson's 2014 auction for $1.65 million.
The other vehicles in this pack seem relatively tame after that. There's a Plymouth Hemi Cuda convertible that looks clean and stock, and two modified vehicles in the shape of a Chevy Chevelle and Ford Bronco.
We'll undoubtedly find out more about all of the cars on Monday, when Turn 10 hosts the latest episode of Forza Monthly. We'll also learn if the new 992-gen Porsche 911 will join them in FM7, or appear only in FH4.
One thing we do know is that the Barrett-Jackson Car Pack will be free to Car Pass owners. Turn 10 extended the Pass by two months last summer. The Top Gear Car Pack was one of them, and this is the second. Expect it to ring in at the usual car pack price when it lands on Tuesday.
See more articles on Forza Motorsport 7 DLC.