The latest version of Forza Motorsport 7 is live for players on all platforms. Turn 10's sim racer gets a smaller update this month, but it has bigger implications for the future.
We already got a taste of what to expect last Friday with a breakdown in Forza Monthly. New cars, updates for wheel users, and the much-anticipated launch of Forza Race Regulations (FRR) are the main points for March.
Three RTR Mustangs Drift Into FM7
Vaughn Gittin Jr's RTR brand — literally, "Ready To Rock" — gets the spotlight treatment this month. It isn't a single car, or even two: March gets a trio of Ford's evergreen pony car.
The first and most sedate of the lineup is the road-going Spec 5. It's a comparative sort of sedate, as the Mustang GT it's based off still pumps out 460hp from its 5.0-liter V8. The Spec 5 gets a whole suite of RTR body addenda, with aggressive fender flares, new hood vents, and those signature in-grille lights.
Despite sharing the same basic platform Gitten Jr's own Mustang is a very different proposition. Still naturally-aspirated, the Roush-Yates V8 is a monster, revving to 9,000rpm and producing 1,000hp. His no. 25 drift car is joined by teammate Chelsea DeNofa's mechanically similar, indigo-tinged Mustang.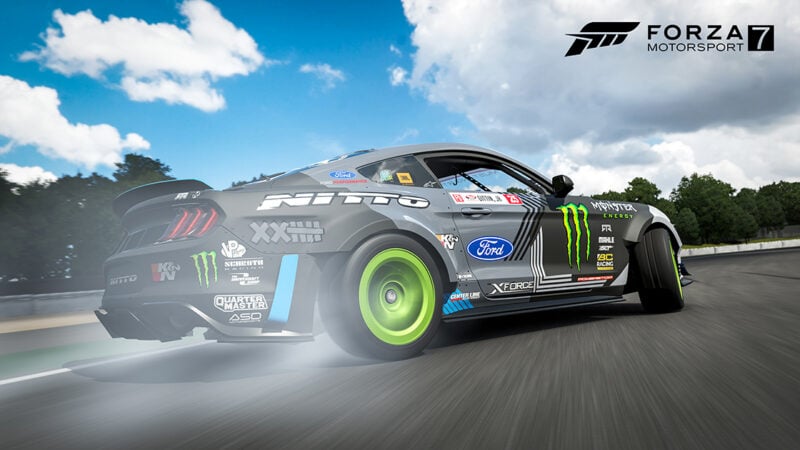 Forza Race Regulations Beta Begins
Finally, FM7 gets an in-race penalty system. This month's initial FRR offering is a soft launch, open to a select number of invited players ahead of next month's public hopper.
The first FRR month will be focused on track cutting and the associated penalties. Players will get a run-down of how the system works when joining the hopper itself. Simplified, an algorithm will add on time to a player's race total if the system has determined the player went off-track for an advantage.
You can get more details on how the system works in our previous FRR breakdown. Turn 10 promises more details on the future of FRR with next month's Forza Monthly.
Per-Car Wheel Settings
Nevermind the drift cars or the closed beta: for wheel users the March Update brings plenty of welcome updates.
At the top of the list is the option of per-car force feedback and steering rotation settings. Players can adjust both on any car in their garage, and the game will then save them for all future use.
There's also now a wheel telemetry page. This allows players to diagnose their wheel settings while in-game, to minimize issues like FFB clipping.
Two other FFB settings have joined the lineup too. They're more technical in nature, so we've provided Turn 10's descriptions for both:
2) Dynamic Damper Behavior – The recently updated force feedback (FFB) introduced a dynamic damper to FFB. Some players prefer a linear damper; as a result, we've introduced a new dynamic damper effect slide which allows players to scale between the current dynamic damper and a fixed linear damper. The existing damper scale still scales the damper as it did before.

3) Load Sensitivity Tuning – The current FFB system in Forza Motorsport 7 is based on actual wheel loads. Some of these loads occur at a higher frequency. The game filters the very high frequency loads and bucket them as "Road Feed." Some medium frequency loads are bucketed as "Align Torque." The new Tire Load tuning setting allows players to filter out the medium frequency load to create a smoother FFB experience.
Additional Changes
Other improvements landing in FM7 this month include an adjustable drift cockpit camera and various bug fixes. For the full patch notes, click here.
See more articles on Forza Motorsport 7 Game Updates.