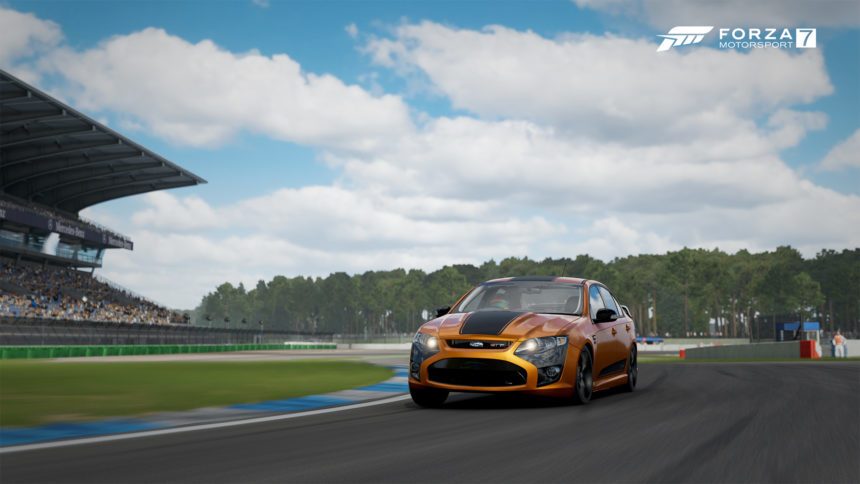 We're back for the weekly refresh to the Specialty Dealer's lineup in Forza 7. Veteran players will no doubt have taken a liking to the revitalized in-game feature. With two weeks of new cars behind us, that trend continues.
While not as insane as the Koenigsegg Regera, there's still plenty of fun to be had this week. Let's take a closer look at what's on offer in this week's combo.
Specialty Dealer Update: June 5
2013 Audi R8 V10 Plus 5.2 FSI Quattro (Super Rare +297; 333,500 cr)
2015 Ford Falcon GT F 351 (Uncommon +143 82,800 cr)
2000 Lotus 340R (Rare +226; 132,250 cr)
First on the list is the Audi R8 V10 Plus. This model takes the R8 and gives it a little bit of a boost. How much you ask? Audi eked out an extra 25hp from the 5.2-liter V10 engine in the back for 550hp total. With it, the R8 sprints to 60mph in 3.2 seconds and will go on to a top speed of 197mph.
The V10 Plus is the last of the original breed of R8 before the second generation. While not as fast as the newer model, it is without a doubt a collector's item.
Next is another new face in the Ford Falcon GT F 351. This Falcon is the most powerful car Ford Performance Vehicles has produced in Australia. The GT F 351 is the swan song for FPV and is an incredible way to go out. Its supercharged 5.0-liter V8 lays down 471hp, all going to the rear wheels. Only 550 models of the car saw the light of day.
0-60mph takes about four seconds and the Falcon will charge forward to a top speed of 186mph. It may not be as light on its feet as the Audi, but the Falcon is all about muscle. We're willing to bet the Falcon will find its way into a few garages if for no other reason than its dare factor. There's no denying it won't take much to upset the car's balance and get a little wild — we wouldn't want it any other way.
Finally, there's the returning Lotus 340R. Making its third appearance in the lineup, the 340R is still an insane machine no matter what its up against. Its 1.8-liter may only produce 178hp — the least of any car featured over the past few weeks — but it puts it to good use. Without any doors or a roof in sight, the sporty Lotus weighs in at 1,488lb.
When it comes to performance it will launch to 60mph in 4.8 seconds and top out at 132mph. When you factor everything into its track performance, you'll soon realize the 340R is no joke. It may not have the straight-line speed of the others, but it will leave both behind when attacking corners.
This week's offerings will only stick around until next week's reset. Cheaper than last week, 548,550 credits takes care of everything, so you'd better act fast.
More Posts On...