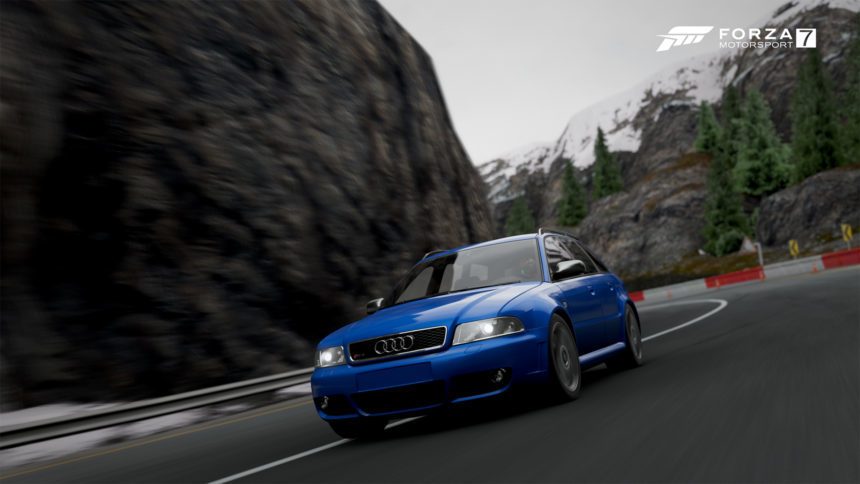 We're back for this week's Specialty Dealer refresh in Forza 7. Like the week before it, this is your second chance at two relatively new cars.
Whether it be a sporty saloon or an insane sports car, this week has plenty to offer. For those not in the know, here's a closer look at everything featured this week.
Specialty Dealer Update: April 24
2001 Audi RS4 Avant (Uncommon +187; 108,100cr)
1974 Lancia Stratos (Uncommon +132; 75,900cr)
2000 Lotus 340R (Rare +226; 132,250cr)
1973 Nissan Skyline H/T 2000GT-R (Common +99; 56,925)
Co-developed by Porsche, the Audi RS4 Avant is up first. Despite its hefty weight of 3,555lb, the Avant has plenty of get-up-and-go. Powered by a 2.7-liter bi-turbo V6, the sprint to 60mph takes less than five seconds. Given enough breathing room to let loose, the RS4 will rocket to 163mph — not bad for a car meant to haul around several people at once.
The Lancia Stratos needs little introduction. Purpose-built for rally racing, it took the crown in 1974, '75, and '76. Moreover, it also dominated the Monte Carlo Rally for three years, 1975-1977. Power comes from a 2.4-liter Ferrari Dino V6. While its performance is modest by comparison — 0-60 mph in eight seconds and a top speed of 144mph — it packs quite the punch. As one of the more respected of this week's bunch, we expect it to be a favorite.
Following that is the unquestionably insane Lotus 340R. With nary a door or roof to speak of, the 340R focuses on unbridled performance — and it does so very well. A 1.8-liter four-cylinder sends 178hp to the rear wheels in a sports car weighing only 1,488lb. The bare Lotus erupts to 60mph in 4.5 seconds and onto to a top speed of 132mph. While it may not sound impressive on paper, in a car this nimble the 340R is a true giant killer.
Last but not least, there's the Nissan Skyline GTR. The C110, while innovative for its time, met its demise only four months into production as a result of stricter emissions. "Ken and Mary" is likely to find its way into any collector's garage and here's your opportunity.
You know what comes next: one week stands between you and this latest offerings. 373,175 credits is the final asking price for a clean sweep. It's a cheaper week than others, so get a move on.
More Posts On...