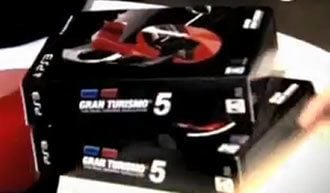 Gran Turismo 5 has been listed on Amazon.com for a long time now, but a very interesting new product was just added to Amazon's French site: Gran Turismo 5 "Edition Spéciale". Although no other information is provided on the site, as you compare the regular version with the "Special Edition", you'll notice prices of €65.99 and €74.95, respectively – a 13% increase.
We first got wind (pun intended) that a "premium" version of the game was in the works when our own insider, Amar212, hinted at it nearly 8 months ago. Pairing the news of Amazon's "Special Edition" listing with the three-disc GT5 box set we noticed in Polyphony Digital's studio, it's rather obvious what is going on here. However, the real question still remains – what's on those two additional discs to justify the price premium? Could it be the fabled track editor? All the video from Gran Turismo TV? Time, as always, will tell…  Thanks to Quency for sending this in!
Before anyone gets excited about the March 31 release date listed on the French Amazon site, let me be first to remind you how wildly inaccurate retailer's release dates are.
More Posts On...
The original comments for this post are no longer available.