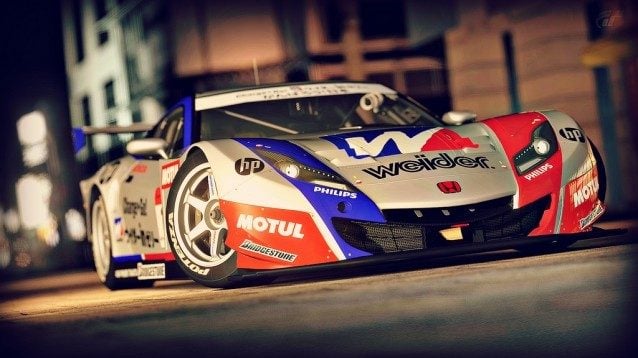 The latest update for Gran Turismo 5 is now available, and offers a few minor tweaks along with a timely change (given one of the questions in my recent interview with Kazunori Yamauchi) to the engine sound of the Honda Weider HSV-010.
Here's the official change log as announced by Polyphony Digital; as always, stop by our GT5 Forum for more analysis and discussion of the undocumented changes by our community members.
The [Tire/Fuel Consumption] settings under [Event Settings] of the Online Lounge can now be set in four levels; "None", "Normal", "Fast", and "Very Fast".
The view during 3D display has been improved.
The speed of tire wear varied too greatly depending on the vehicle in some cases, and this has been balanced.
Improved the scoring method in drift trials to prevent cheating
The maximum RPM of the Honda Weider HSV-010 (SUPER GT) '11 has been changed to 10300rpm. The engine sound has also been improved.
Fixed an issue where enemy cars were hitting the pit entrance wall when pitting in at the Twin Ring Motegi Road Course East.
Fixed an issue where fuel was not being consumed when entering an endurance race with a Prius, or when setting tires and fuel to be consumed in the online lounge. Affected cars: Toyota Prius G '02, Toyota Prius G '09, Toyota Prius G Touring Selection '03, Toyota Prius Touring Car.
Fixed an issue where the online control characteristics differed from the offline characteristics.
GT5 Photomode image by Horde_R35.
See more articles on GT5 Updates and Honda.