The no-holds-barred prototype developed by Polyphony Digital and Red Bull has been revealed in the latest issue of Car magazine in the UK! As you may recall, the X1 is the answer to Kazunori Yamauchi's question: "If you built the fastest racing car on land, one that throws aside all rules and regulations, what would that car look like, how would it perform, and how would it feel to drive?"
It's been developed in conjunction with Formula 1's most renowned aerodynamicist, Adrian Newey, and their star F1 driver, Sebastian Vettel. So far, we've only seen teaser shots, but now we get a much closer look along with some impressive specifications:
Engine: gas turbine, 1483bhp @ 15,000RPM, 527lb ft @ 12,000RPM
Transmission: continuously variable, rear-wheel drive
Top Speed: 249mph
Weight: 545kg
Length/Width/Height: 4750/2180/980mm
Suzuka Lap Time: 1:11.540 (compare with Vettel's 2009 F1 lap time of 1:30.833)
Special Features: enclosed wheels, "fan element" to increase low and medium-speed downforce (much like a vacuum cleaner)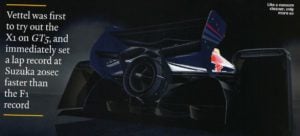 The article also confirms that time frames in Gran Turismo 5's races can be "compressed", so you don't have to stay up all night if you want to see the game's impressive day/night transitions. Pick up the latest issue of Car (issue 580) now for a lot more details and in-depth discussion with Adrian Newey about the project. Big thanks to Rich (Loxstokk) for sending this in!
See more articles on Adrian Newey, Kazunori Yamauchi, Red Bull X1, and Screenshots.