Barely five days after the last Gran Turismo 7 trailer video, we have another "Behind the Scenes" teaser for the title, revealing more about the cars and tracks that will be in the game.
It's the second in what looks set to be a regular and frequent video series featuring Gran Turismo series creator Kazunori Yamauchi. The clips take the format of a documentary-style interview-to-camera, with Yamauchi speaking about aspects of not just GT7 but the ethos behind the game and indeed series.
This new video deals with a part of the Gran Turismo series which has been there since the beginning, but which Gran Turismo Sport somewhat controversially dispensed with: car collection.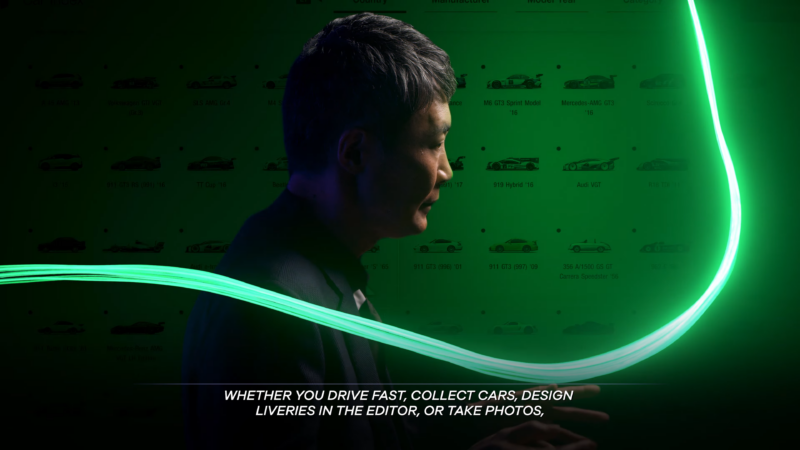 While collecting cars has always been part of Gran Turismo, it looks like it will be a significant feature in GT7. We've seen a specific function in previous trailers, set at the GT Cafe part of the game, where players are directed to obtain certain vehicles to build a collection and for reward.
These smaller collections were themed — Japanese kei cars, for example — and the pre-launch blurb refers to "culturally significant vehicles", so we may see this feature used as an educational tool too.
Gran Turismo 7 is set to launch with around 420 cars, up from the 168 of GT Sport's launch and around a quarter more than Sport's current list. We've seen about a half of that list revealed in videos to date, with another handful appearing in this clip.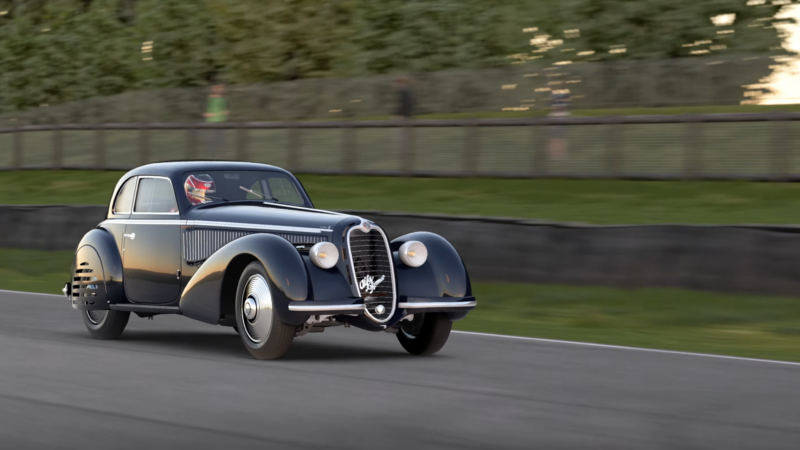 Maybe the most significant in the clip is the Alfa Romeo 8C 2300. We have seen the vehicle previously in trailers, but in all cases it's been static. Here we finally get to see the pre-war classic in motion — appropriately enough at the Goodwood Motor Circuit.
Interestingly, it isn't the Alfa Romeo 8C 2300 which won the Gran Turismo Award at Pebble Beach Concours d'Elegance in 2019, but clearly it's a model that has captured Yamauchi's attention as a result! The Mercedes-Benz 300SL W194 is also shown in motion, after an earlier static appearance.
We also get to see some other returning GT Sport cars, with the Ferrari 250 GT and 250 GTO both appearing, along with the ill-fated Nissan GT-R LM NISMO and the Pontiac Firebird Trans Am.
After the previous video's easter egg of Deep Forest being revealed by light traces across several frames of the video, fans have been on the look-out for more in this clip. While subject to discussion at the moment, it looks quite like some of the traces reveal a slightly reworked version of yet another original GT track: Apricot Hill.
This track is one that fans are particularly fond of, with high speed curves and steep elevation changes making it a major challenge to get right. Unlike the other tracks revealed so far though — Trial Mountain, High Speed Ring, and Deep Forest — it didn't appear in the first game; the Hill debuted in Gran Turismo 2.
There's also further light traces that don't quite fit with Apricot Hill, as there were with Deep Forest in the previous video, so they could hint at other tracks that will be revealed in future clips.
We'll be updating our Ultimate Guide to Gran Turismo 7 with all of the content found in today's trailer, and keep an eye on our forums for all the latest discussion!