In case you missed it earlier on this evening, a new Gran Turismo 7 trailer dropped announcing the game's March 2022 launch date.
However that wasn't all that was in the video, which took us on a bit of a rollercoaster ride through the game's features and content. There's an awful lot to dig through, and we'll be covering various aspects of the trailer in due course, but we're going to make a start with every new car seen in the three-minute clip.
You can watch the new trailer below, and feel free to let us know in the comments if we missed anything!
Of course the first car you'll set eyes on in the trailer is the Porsche 917 Living Legend. This is one of three cars we've previously heard about, and announced in 2019 as coming to GT Sport.
That hasn't actually come to pass, but the car will make its debut in GT7. It'll pair up with what we assume to be the Porsche Vision GT on the game's current cover, though this hasn't been officially revealed.
Two Vision GTs that have been revealed are in the trailer though, with the Lamborghini "Lambo V12" and the racing version of the Jaguar Vision GT. They appear in a show area alongside two established Vision GTs: the original Mercedes, and Aston Martin's DP-100.
While the Vision GTs certainly qualify as the future of Gran Turismo, the trailer is also dripping with references to the series' past — and that includes the car list.
As you can see from the image above, the classic JDM hero cars which were almost made famous by the first Gran Turismo are back, carried over from GT Sport for the most part. Mazda's RX-7, three generations of Nissan Skyline GT-R (and an earlier Hakosuka model), the Mitsubishi Lancer Evo V, the Toyota Supra and the SW20 Toyota MR2 all appear in the clip, with the original Honda NSX also showing up in an accompanying batch of images.
One car that just sneaks in and is not a returning GT Sport car is the S15-generation Nissan Silvia, in what appears to be the 2002 Spec R flavor from GT6.
In addition, we've got the return of three fan favorites from previous games — including one car we'd probably class as a "hero" vehicle. The video showed the Alfa Romeo 155 Touring Car, the 1999 Pennzoil Nissan Skyline GT-R JGTC and, in that nostalgia-laden opening sequence, the famous Toyota Castrol Supra.
Of course it'd barely be a Gran Turismo game if there wasn't something super weird to race, and GT7 looks to have us covered off for that. A short sequence shows a bunch of original Jeeps bounding around the Colorado Springs rally circuit, though at the moment we don't know if it's the genuine Willys or one of the cars built under licence by brands like Mitsubishi and Ssangyong.
Hypercar fans are well taken care of too, with the immensely quick Ferrari FXX-K making its Gran Turismo debut. The car appeared in a clip racing against another FXX-K in a different livery — the only car shown racing on track against only itself — though we can't say if that's significant yet or not.
One car shown racing not on its own though is the Mercedes CLK-LM. Another in-demand machine, the CLK returns from exile having last appeared in GT6 as a Standard Car carryover from GT4. This time round, it's in full next-gen detail.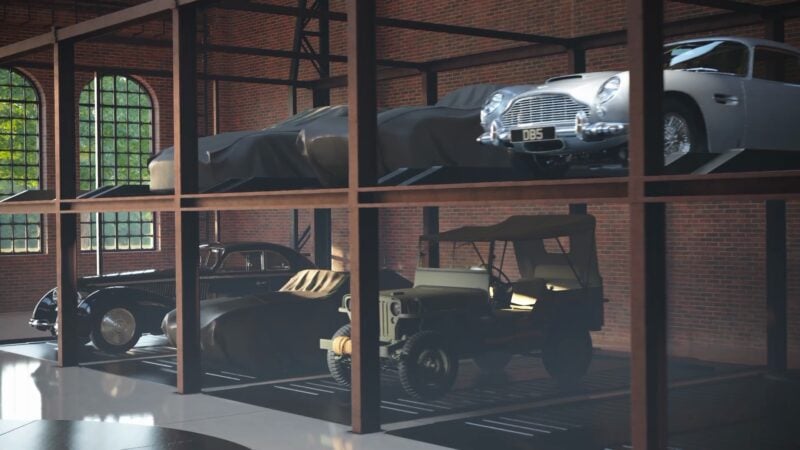 Classics look set to play a major role too, with an area of the home map called "Brighton Antiques" that appears to deal with classic cars. Again we can see the Jeep, along with an Aston Martin DB5, the Alfa Romeo 8C 2900B Lungo Touring Berlinetta seen in a previous clip, and a small selection of cars hidden under covers.
An accompanying image also shows Brighton Auctions stocking other classics, including the Supra JGTC and the De Tomaso Mangusta — implying the return of the Pantera — and returning Shelby GT350, Porsche 356, and Plymouth XNR.
Interestingly there's also a separate used car dealership, with a few familiar faces in stock. The Dodge Viper, Mazda MX-5, Renault Sport Clio V6, and Abarth 500 all show up here. The odd-man out is the Volkswagen Scirocco R, which also returns from GT6 having skipped Sport.
One blink-and-you'll-miss-it sequence shows a number of framed photographs of cars. We've mentioned many of them already, but one photo shows what appears to be a collection of classic 1950s racers. At the moment we've only been able to identify the Mercedes 300SL W194 from that shot.
The clip is also full of returning cars from GT Sport: the Jaguar XJ13, Ford GT40, Toyota's GR 86 and Yaris, and so on. As with the previous trailer we also get to see a lot of the game's Gr.3 cars, however there's a newcomer here too in the shape of the 2018 Ford GT.
We do get to see the car in action very briefly, but it appears more prominently as the current vehicle while browsing the game's menus. The car raced at Le Mans under GTE regulations — as did the Porsche 911 RSR we have in GT Sport — rather than GT3, but it should slot in to Gr.3 nicely and give Ford fans yet another option.
GTPlanet's members have been assembling a list of all cars spotted in official media like today's new trailer, and you'll likely be able to find anything we've not mentioned here in the relevant thread. If you've seen something we've missed, add your comment in the thread — especially if you can identify any of the other cars in that 300SL image!