It's one of the great pre-war classic cars and, thanks to recognition in California, it may be immortalized in a future version of Gran Turismo. This year's Gran Turismo Trophy winner at the Pebble Beach Concours d'Elegance is the 1931 Alfa Romeo 8C 2300 Corto Spider Zagato.
The Gran Turismo Trophy, now in its 12th year, celebrates vehicles that combine great style and performance for their era. If anything fits that brief, it's the Zagato-bodied Alfa Romeo. Famed coachbuilder Zagato is also marking its own centenary this year, so it's a double celebration.
Alongside the looks, this particular 8C has quite some heritage. It's one of the earliest 8Cs — the seventh car built — and one of two that Alfa Romeo entered into the 1931 Targa Florio. In the hands of Tazio Nuvolari, it won the 360-mile race on the famed Grande Circuit with over 2,000 corners on each of the four laps.
8C #2111007 followed that victory up with another at the Coppa Ciano (in the Scuderia Ferrari team) and a second place in the Circuito Tre Province race that year. The driver for that race was none other than Enzo Ferrari himself. Further victories, both in the Alfa Romeo and Scuderia Ferrari teams, came for drivers like Piero Taruffi. This car's list of drivers over its four competitive seasons reads like a Who's Who of pre-war Grand Prix racing.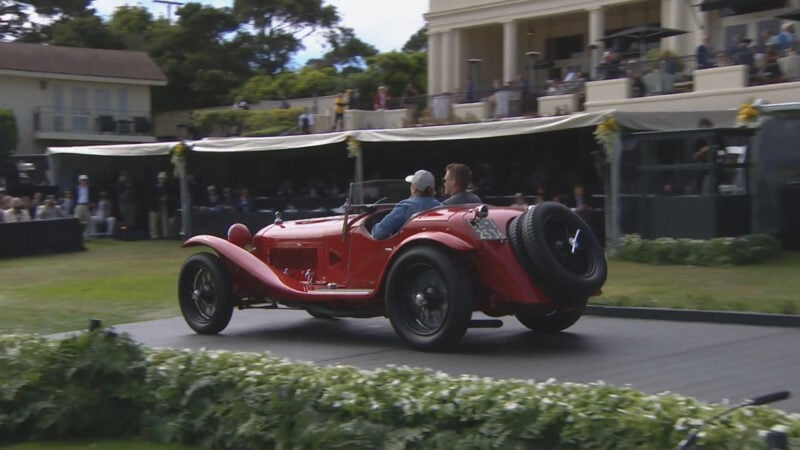 The drivers are one thing, but the car's success was in its engineering. Underneath that Zagato shape was Vittorio Jano's development of his own 6C, itself a highly successful race car. It also featured a supercharged straight-eight (thus the "8" in 8C), with twin overhead cams. The 2.3-liter unit was good for around 180hp, which is plenty in a car weighing close to a short ton.
When Classic and Sports Car magazine tested the sister car, #2111006, in 1987, it posted a 0-60mph time of under six seconds, and a top speed in the region of 120mph. That's still brisk by modern standards, and would run a hot hatch close until aerodynamics got their way.
Following its racing career, the Alfa Romeo passed through the hands of a number collectors in the UK. One particularly famous former owner is Nick Mason, drummer in Pink Floyd and renowned for his love of high performance vehicles across all eras. However it crossed the Atlantic in 2005 into the collection of Jonathan Feiber and Heather Buhr, regulars at Pebble Beach. Feiber has even raced the car, at the Monterey Historic Automobile Races at Laguna Seca.
The 8C becomes the second Alfa Romeo to win this coveted prize, following the TZ2 Giulia in 2009. That's one of five cars to win the award and then feature in a Gran Turismo game. These include the inaugural winner Lamborghini Miura Bertone Prototype, the Alfa Romeo BAT1 from 2010's awards, Plymouth's XNR Ghia Roadster, and the Aston Martin DB3S — a recent addition.
More Posts On...