As of Gran Turismo 7's 1.34 update, which arrived on May 25, the ability to swap out your car's ordinary engine for something a bit more potent has become more widely available – if a little on the expensive side.
With just about 75 different ways to implement engine upgrades there's a lot of potential expense. While most swaps are worthwhile ones, the fact is you can burn a lot of hard-to-obtain cash if you're not building cars you're going to get a lot of use out of.
It's with this in mind that we've put together a shortlist of the five best engine swaps to perform in Gran Turismo 7, as well as one you're probably best avoiding unless you've got a masochistic streak.
Mazda 3 – R26B-787B
One of our very favorites is actually a pretty recent addition to the game, with the new Mazda 3 hatchback getting an absolutely incredible new soundtrack.
While the 3's SkyActiv-X engine is praiseworthy for its unique technology, the 177hp hatchback is brisk at best. That all changes when you fit the screaming quad-rotor engine from Mazda's Le Mans-winning 787B race car.
As standard this swap gifts the car with 690hp and, as it has all-wheel drive, the hatch actually copes pretty well with it. You can also tune it up to almost 1000hp, but you'd best fit carbon brakes and some sticky tires to deal with that.
One downside is that, unless you have a spare engine ticket sitting about, the swap is one of the most expensive of all and will cost you 1.2 million credits.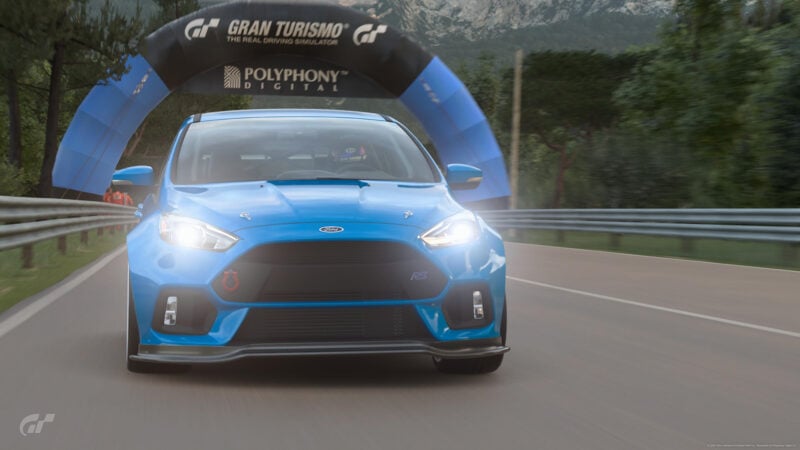 Ford Focus RS – V8-Ford-GT-LM-Test
This one is another combination of an all-wheel drive hatchback and a particularly powerful motor, though it's a little more attainable and even downright sensible.
Of course the Focus RS is no slouch as standard, with 350hp from the 2.3-liter EcoBoost engine making it one of the hottest hatches around. That means the V8-swap from a Gr.3 race car is actually a mild gain by comparison with just under 600hp as standard.
It's plenty to see off the competition in the Tokyo Expressway WTC600 event, and you can give it some other choice upgrades — brakes, gearbox, tires — and still fit under the 600PP event limit. Better still, it only costs 700,000cr to install, so it'll pay for itself in one race…
Suzuki Cappuccino – 13B-REW-RX-7
There's three kei car swaps in the game, each resulting in some good fun cars, but GT7's own "Hot Coffee" mod is our pick of them. It takes the classic Cappuccino and gives it some rotary goodness.
With just 292hp as standard it's one of the lowest-powered engine swaps, but then that does represent almost five times the power of the original car. There's a mild weight penalty, but still the result has 400hp per ton — and far more power is available too.
It also has a surprisingly low Performance Points rating, and at 225,000cr to do the swap (if you don't have a ticket) you'll have cash left over.
After a little tuning — you'll want to lengthen the gearbox for starters — it's another great car for the WTC600 race at Tokyo, and a bargain at that. Also it makes rotary noises, which is always a winner.
DMC DeLorean S2 – LS7-Rampage
Have you ever wished you could go back in time and fix a mistake? Well with GT7's DMC DeLorean S2 — itself an interesting anachronism — you can; not with the car, but with the engine.
Famously the original DeLorean used a rear-mounted V6, developed in a shared initiative between Peugeot, Renault, and Volvo — hence the "PRV" name. However the 2.9-liter lump produced an anemic 130hp; it's unlikely to have hit 88mph in a mall parking lot or a town center street.
GT7 gives you the option of slipping something a lot more capable under the glass engine cover, by way of the Roadster Shop Rampage's modified Chevrolet LS7 unit for 250,000cr. This gives it the 748hp standard output of the GT Award-winning SEMA car, and that can even be wound up further to 1,100hp.
You'll need some softer tires and tweaks to the gearbox and brakes, but it's a surprisingly tractable machine considering that incredible bump in power.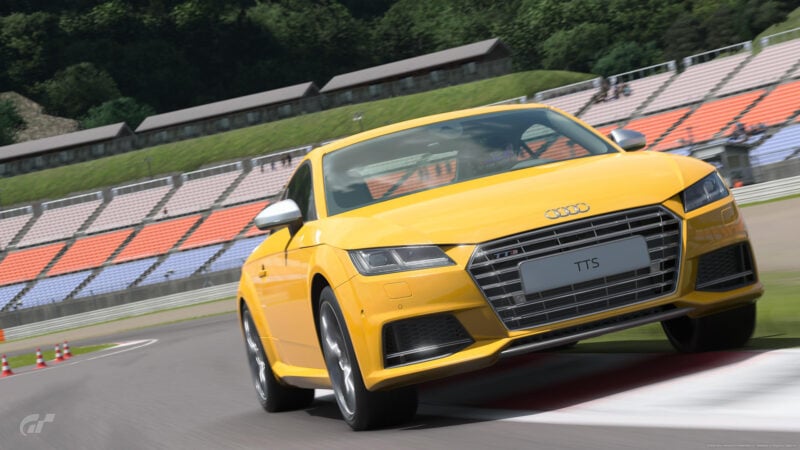 Audi TTS Coupe – BYH-R8
The TTS/R8 option makes our list because, in a sea of madcap, high-powered swaps, it's one of the most sensible — if you ignore all the mechanical challenges that would stymie your attempts in the real-world.
It's not a huge power bump, with the stock engine adding just over 100hp to the TT and bringing it up close to TT-RS power levels. That means you actually need to do relatively little to it after splashing out a little over 180,000cr for the swap.
Of course there's still plenty of scope for getting even more out of it, with around 800hp available if you want to splash some more cash, but if you just want a nicer-sounding, quicker TT you can't go wrong here — especially if you have the engine for free in a Roulette Ticket.
Abarth 595SS – Honda K20C1-Civic-'20
On the face of it, this seems like one of the greatest ideas anyone's ever had. The turbo K20 swap is about as cheap as they get at 127,500cr, and it garnishes the little FIAT 500-based Abarth with ten times its standard power. In fact it's almost a dead match for a fourth-generation Ariel Atom — which uses the same engine — at 315hp and 584kg.
However "dead" is the operative word. The 500 was never designed for a four-cylinder engine representing a full 20% of its weight to hang out back, and combined with its ancient, basic suspension and a wheelbase no longer than a reasonably tall person it is a disaster to drive.
That's not to say it's impossible to tame — and you'll find many people trying in our GT7 Tuning Forum — but the effort is best spent elsewhere, particularly if you're hoping to give it more power (it goes to over 550hp!) and grip to compete in money-spinning races, as it tends to roll over with little provocation.
There's four other options for this engine, and each is a better choice.
This is just a small selection of our favorite engine swaps from those currently available, and that list grows by around five with each new content update.
You'll find a full list of available swaps in our dedicated forum thread, which we keep up-to-date with the latest information, so keep an eye out there for all the latest — and let us know what your favorite engine swaps in GT7 are.