Ten years ago, GTPlanet first made its appearance on the web. Since that time, it's grown to a scale far beyond what I could have ever imagined and, in the process, has made a profound influence on my life's work and interests. Though the site remains a one-man show behind the scenes, I want to take this opportunity to thank each and every one of you who has played a role in the success of this community over the years.
From the earliest users, such as Fangio, Talentless, and Misnblu, whose participation encouraged me to keep working on the site, to insiders like Amar212 who have provided amazing insight into the future of the GT series, to my awesome forum moderation staff and our Premium users, GTPlanet has grown into a passionate community which I am proud to be part of and humbled to lead. Once again, thank you.
Now, let's take a look at where we came from, where we've been, and where we're going:
Before GTPlanet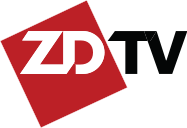 You could say it actually all started with the technology cable channel ZDTV (also known as TechTV). I was completely enamored with their programming, and the knowledge I gained from shows such as Call for Help and The Screen Savers – hosted by charismatic tech guru Leo Laporte – quickly turned me into a computer geek. I was particularly fascinated by the web, and I knew I wanted a site to call my own. I wasn't interested in a generic home page, though – I wanted something that would be useful – something that people would be interested in – but I was stumped on what that topic would be.
It wasn't until January 12, 2000, while staring at the blank "create new site" page of the now-defunct MSN Groups service, when it occurred to me to build a site about my favorite video game, Gran Turismo 2. I put up some car lists, track lists, opened a message board, and – much to my surprise – a few people found it and started posting. One year later, it had grown to the second-largest community in MSN's "Video Game" category, with thousands of messages and hundreds of registered users.
2001: The Beginning
I learned a lot, but was held back by the confines of the hosted MSN service. My family pushed me to expand to a "real site", and helped me settle on the "GTPlanet" name. (Why the .net? GTPlanet.com was already owned at the time by a Singapore-based e-commerce site, "Gifts & Toys Planet", and I loved the name enough to compromise on the less-popular .net domain name extension. It wasn't until 2007 when I was able to finally acquire the expiring .com name and redirect it to this site.)
On January 25, 2001, the name was registered and I quickly got to work. With the kind help of web developer Corey Breitfelder, I launched the GTPlanet Forums on May 14, 2001 with this rather unceremonious post, and began transitioning the original MSN community members over to the new site.
At first, the "main site" and the forums had different looks (I'm not sure why I thought that was a good idea), which you can see below. I was inspired for the "main" design by ticalc.org, which still carries its original look and feel. You'll notice their site's logo is paired with a relevant image in the header – it's a theme I have continued with each iteration of GTPlanet's design since the beginning.
After reaching the milestone of 1,000 registered members in August of 2001, the site received two more visual revisions before the end of the year.
2002
With the launch of the Gran Turismo Concept games in 2002, GTPlanet also began to grow in scale and notoriety. In a feature on the site in the May 2002 issue of Sport Compact Car magazine, the editors said they found GTPlanet's knowledge of the GT series "intimidating in its nerd-like scope and obsession". Grab the full "article" right here.
2003
GTPlanet and I were featured in Huw Evan's book, "The Cars of Gran Turismo", with a discussion regarding the growth of the online community around the Gran Turismo series.
2004-2005
With the launch of Gran Turismo 4, GTPlanet saw another very strong period of growth and expansion. More enthusiasts than ever before searched the web for more information on the game and sought out other fans online. They found them in our forums and joined our online time-trial competitions such as the Weekly Race Series.
I also designed and released the site's current "planet" logo, but, until now, have never explained the meaning behind it. "GTPlanet" is, of course, made up of people around the world – hence the profile of Earth's continents – and each of the dots represents a member of the community. Like the dots, we're close, but still physically separated by the Internet. Ultimately, what brings and keeps us together is the Gran Turismo series, represented by the outer ring.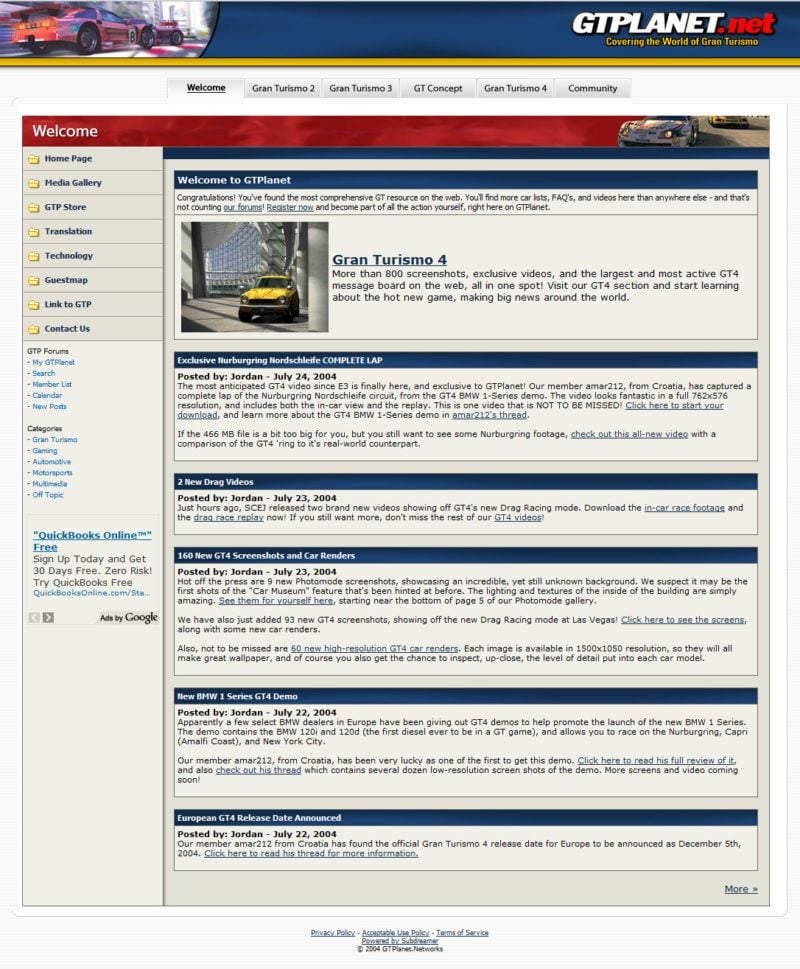 2006-2007
The popularity of Gran Turismo 4 and the release of Gran Turismo HD on the PlayStation 3 helped the GTPlanet Forums soar past 100,000 registered users and 2.5 million posted messages.
2008-2010
With Gran Turismo 5 rumors floating around our forums and the web, I knew I needed to do a better job organizing and digesting GT news with a re-launch of the GTPlanet News blog that you're reading here. I kicked things off with new blogging software and began posting regular updates whenever possible. It has been a very popular addition to the site, now read by hundreds of thousands of people per month. Strong interest in GT5 helped the site continue to grow, as our forums became the rapidly-moving epicenter of news and rumors surrounding the game.
GTPlanet had two particularly awesome opportunities in 2010: at GamesCom, two of our representatives, "Famine" and "Venari", sat down to interview GT series creator Kazunori Yamauchi for the first time. A few months later, GTPlanet was also invited to the international Gran Turismo 5 launch party in Madrid, Spain, where I had the honor of personally meeting Yamauchi-san myself.
I'm also very proud of our community's response to GTPlanet's philanthropic efforts in 2010: thanks to your help, we raised more than $1,000 to fight pancreatic cancer.
2011 and Beyond
2010 was GTPlanet's best year yet, having served over 5.5 million unique visitors and 100 million page views. Our forums are now home to 169,000 registered users who have posted more than 4.3 million messages – amazing numbers that I never would have imagined ten years ago.
The online functionality introduced in GT5 finally ushers in a new era for Gran Turismo, and I am more excited than ever about the future of the series and our site. I'm cooking up new features to ensure GTPlanet is even more useful in 2011, as we help Polyphony Digital work towards building the truly "ultimate" driving simulator. Here's to the next decade!
See more articles on gtplanet.