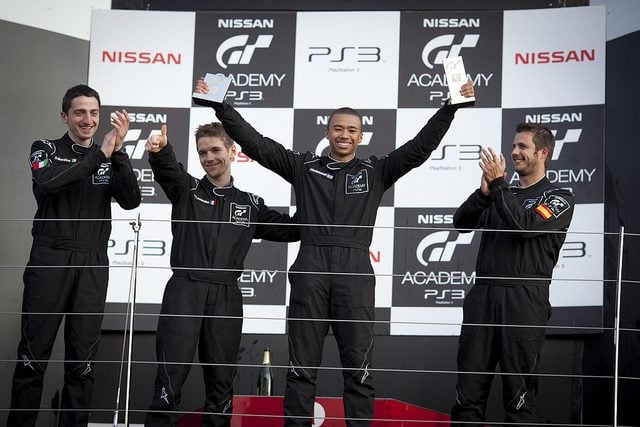 The results are in: 19-year-old Jann Mardenborough from Cardiff, UK, has just been chosen as the European GT Academy 2011 champion! Head judge (and former F1 driver) Eddie Irvine made the announcement on Thursday after Jann finished first in a 20-minute race against the three other finalists (Thibault Lacombe of France, Carlos Murillo of Spain, and Danilo Bordino of Italy).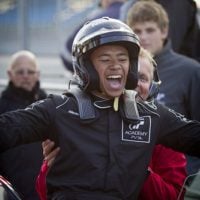 "I am really buzzing, ecstatic," said a jubilant Jann. "This competition is going to change my life massively. I can't imagine, but I'm looking forward to it. I'm not sure about the next Lewis Hamilton, but being the next Lucas Ordoñez would be a pretty good start. This whole experience has been amazing and I would like to thank everyone involved, especially, PlayStation and Nissan. A massive thank you to my mentor this week, Johnny Herbert. He is amazing. Such a great guy and a great teacher."
Eddie Irvine praised Jann's performance: "Jann did a great job throughout and the final decision turned out to be fairly straight forward. He has been given an amazing opportunity by PlayStation and Nissan, but the hard work has only just begun for him. Even with this head start, making a career in racing is tough and he'll have to have talent, determination and luck in pretty much equal measure if he is to make it. I'll keep an eye on him and hope he doesn't let me down."
This year's Race Camp held a variety of challenges that included karting, driving Nissan 370Zs, GT-Rs and single-seaters, high-pressure pursuits, a military-style assault course, driving a full race-spec GT4 car, and aerial dog-fights in stunt planes. Video of the trials and tribulations the finalists were put through can be seen below – check out GT Academy's official Flickr stream and Facebook page for more pictures and videos.
Jann will now begin an intensive driver development program and compete in a number of UK national races to enable him to qualify for an international race license. After that – he's on to the 24 Hours of Dubai in January of next year.
Jann has been a GTPlanet member since 2008 – be sure to stop by his profile and leave a note of congratulations. Excellent work, Jann!
See more articles on GT Academy 2011 and Jann Mardenborough.