The 2020 Formula 3 season finally begins in Austria this weekend, and with it comes a new chapter for Gran Turismo World Champion Igor Fraga.
I thought I knew his story: a promising young kart driver from Brazil dominates the FIA Gran Turismo Championship by winning the Nations Cup in 2018 and the McLaren Shadow Project a few months later. After that, his real-world racing career takes off as he wins the 2020 Toyota Racing Series and secures a drive in Formula 3.
It sounds simple, but there is so much more. I never understood the hardships that he faced, nor did I realize just how much Gran Turismo's World Championship changed his life.
Victory in New Zealand
After the Gran Turismo World Tour event in Sydney, Australia back in February, I headed to New Zealand to meet up with Igor and his father. It was just one day after he won the 2020 Toyota Racing Series championship, and Igor was smiling even more than usual.
"It feels really good," Igor said. "It was an intense competition, and the qualifying came down to the thousandths of a second in the last events. The cars had massive dirty air. If you got in front of someone it was really difficult to overtake, so qualifying and the starts were really important to get right. After all of that, it's a relief to finally be able to relax!"
There hasn't been much time for relaxing. The Toyota Racing Series, or TRS, is an intense, five-week, open-wheel racing series that visits both the North and South Islands of New Zealand.
"It's a good series to heat things up at the start of the year and it offers ten points towards an FIA Super License," Igor explained. "It has been a very competitive series over the last few years. This year the field was very international, with drivers from so many different countries — it was crazy! It is not like racing at a national level."
Despite the tough competition, Igor was always confident of his chances to win the championship because of his team. "This was the first time I had been able to drive for a team that was really experienced. I knew I could prove my value here," he said. That team, M2 Competition, had already produced several TRS champions you might have heard of before. Lando Norris and Lance Stroll, both of whom are now in Formula One, are M2 Competition alumni.
One of Igor's teammates also proved to be his biggest rival. Throughout the season, he traded the championship points lead with Liam Lawson, a local New Zealand driver who won the competition last year.
"He is a nice guy and I was able to learn a lot from him. Not because he was teaching me, but because, as my teammate, the telemetry data was all there and I could watch his onboard videos. I spent a lot of time watching that, trying to see where I could do better and where I was lacking," Igor said. "In the end, I think it was a healthy competition. Both of us were trying to push each other. I think this was a good thing for the team as well because everybody learned from it."
The Next Challenge
Leaving New Zealand with the TRS trophy in hand, Igor must now prepare for the next step of his career, FIA Formula 3.
"We tried contacting some Formula 3 teams at the end of last season, because we were not sure what to do this year. We wanted to get a feeling of some of the teams, because in motorsport — just as in real life — you have to have a great connection with everyone. It is a team sport," said Igor. "If there is not a good synergy between the driver and the team, it's not going to happen."
After taking part in F3 testing at Valencia last year and meeting with some of the teams again at the Macau Grand Prix, Igor finally got the call from Charouz Racing. The Prague-based team has a strong pedigree, with several Formula 2 victories and a partnership with Ferrari's Driver Academy. He should also be able to learn more from his teammates. Charouz's line-up includes experienced F3 racer Niko Kari and David Schumacher, son of F1 veteran Ralf Schumacher.
As he learned in testing, the F3 car is a big step up from the Toyota Racing Series. "It is quite different," Igor said. "They are basically GP3 cars. It has nearly 400 horsepower from a V6 engine, but the weight is the same, it has much more downforce, DRS, and there are only two pedals because the clutch is on the steering wheel. Things are getting pretty serious now!"
A Difficult Road
Things are getting more serious now, but racing has always been serious for Igor and his family. To understand his story, we need to start at the beginning.
A Japanese mining company set up operations near the Brazilian town of Coronel Fabriciano. This brought an influx of Japanese people to the area, including Igor's mother. She met a Brazilian man, Fabrizio, and the two became married.
The pair eventually moved to Japan, and Igor's father worked various odd jobs to support his young family. He found success in the growing robotics industry, and his career began to take off. His young son, Igor, had an interest and talent for driving, and Fabrizio was able to fund his son's karting career.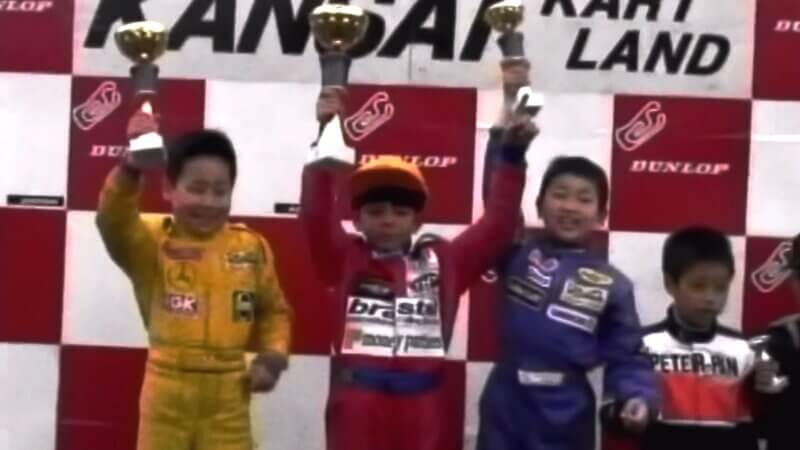 "I had a very good karting career until 2008," Igor explained. "I won seven karting championships in Japan, and in 2008 I won the Asian Karting Championship. I got to experience an international karting career and I was really good.
"But, in 2008, there was the financial crisis. My dad lost his job, and I lost all my sponsors as well. I was very low… I could not keep racing," said Igor.
His family was forced to leave their home in Japan and move back to Brazil. "I spent a long time without motorsport and could only play Gran Turismo." It would be a long time before his family could get back on their feet.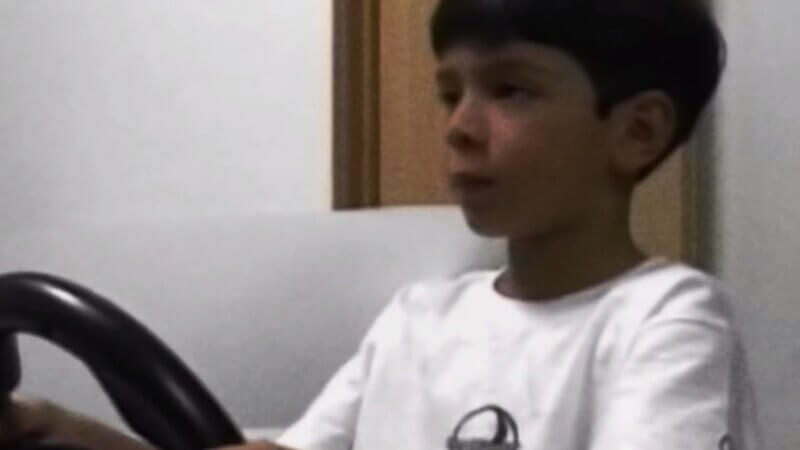 Six years later, in 2014, Igor was finally able to get on track in Brazil's affordable Formula 1600 series. "I was able to get some sponsorship from my home town because the series was not so expensive. My family was able to put together a little bit of money so I could start racing again."
It was around this time Igor also realized Gran Turismo might have the potential to be more than just a hobby.
"I saw GT Academy going global and coming to the USA, and I knew I had to do it!" Igor gave it his best effort using an American PlayStation account, and actually set a time that would have been fast enough to qualify — had he been eligible. "I got the last spot, I think it was 23rd or something! But I wasn't old enough, and I wasn't American," Igor said, laughing.
"I was really struggling to be one of the top guys. I think in the world rankings, I finished in the top 200s or 300s, just barely enough to get into it. I knew I had to improve if I really wanted to make it happen. That's when I started to spend a lot more time to become one of the top drivers."
Outside of Gran Turismo, the Fraga family realized they had to make more sacrifices. "In 2015, we moved to Brazilian F3, and at that time my family had to start selling things to support me. They took out loans and everything. In 2016, we didn't have the money to do a full season, and I could only do two races. In 2017, we found some sponsors who could support me, and I won the championship, but after that — in Brazil — there was nothing else.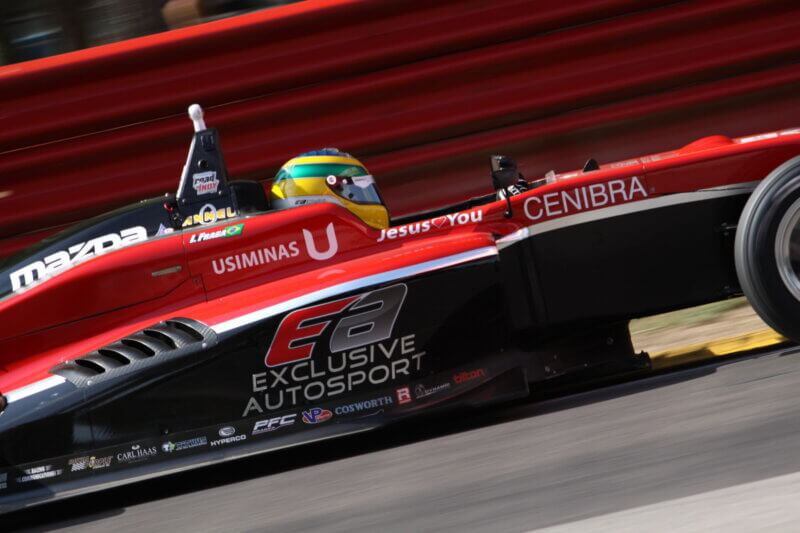 "We decided to go to the USA to try the 'Road to Indy'," Igor said. The "Road to Indy" is IndyCar's sanctioned driver development program, an attractive option for young up-and-coming drivers from around the world. "The people there — if they see talent — they try to help you as much as possible and we thought that, maybe, there was a good chance."
Igor's father quit his job in Brazil, and the pair traveled to America so Igor could race in the 2018 F2000 National Championship. He finished fourth in the standings, but after betting everything on this last chance in racing, they were essentially homeless in the United States.
"We didn't have a place to live," Igor said. "We were sleeping in cars in Walmart parking lots. Sometimes we could stay in my chief mechanic's house, or with my mentor, Roberto Moreno. It was really tough. I always worried about money, and if we would have enough money to eat. We ate fast food almost every day because it was the only thing we could afford."
When Igor and his family were in such dire need, the FIA Gran Turismo Championship in GT Sport was announced. Igor knew he had to give it everything he had. "We bought a Thrustmaster T-150 steering wheel for my mechanic's garage and I started the process to qualify."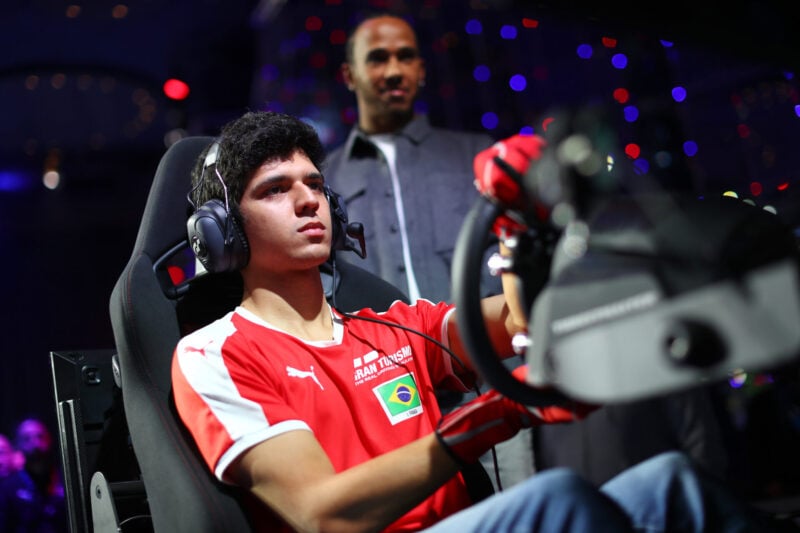 Through Gran Turismo, A New Life
That Thrustmaster T-150 wheel and GT Sport would end up changing Igor's life forever. He dedicated hundreds of hours to the game and quickly became known as one of the best players in South America. When GTPlanet spoke with the Americas regional finalists before the Las Vegas event in 2018, nearly every driver picked Igor as the competitor most likely to win it all.
After dominating the regional finals, he advanced to Monaco and defeated EMEA regional champion Mikail Hizal to become the inaugural FIA Gran Turismo Nations Cup champion. Two months later, he won the McLaren Shadow Project.
With the support of Gran Turismo and McLaren, he was able to re-start his racing career in 2019 with a drive in the Formula Regional European Championship where he scored numerous race victories and finished third in the series.
He returned to the FIA Gran Turismo World Tour in 2019 and brought home another championship trophy with Toyota in the Manufacturer Series. It was an appropriate way to end 2019 before he moved on to the TRS and Formula 3 in 2020.
When I asked Igor if he could have made it without Gran Turismo, his answer was clear. "No, of course not," he said. "Three years ago we were just trying to survive. Now, we are going to race in Formula 3. It is just amazing."
Born and raised in Japan, Igor is fluent in Japanese which has allowed him to develop a strong relationship with Gran Turismo creator Kazunori Yamauchi. "He supports me as much as possible, and I try to give back as much as possible," Igor said.
His desire to give back to Kazunori and Gran Turismo made his TRS championship victory all the more satisfying for him. "When you can deliver, it is a way to show that you appreciate them and the community around Gran Turismo."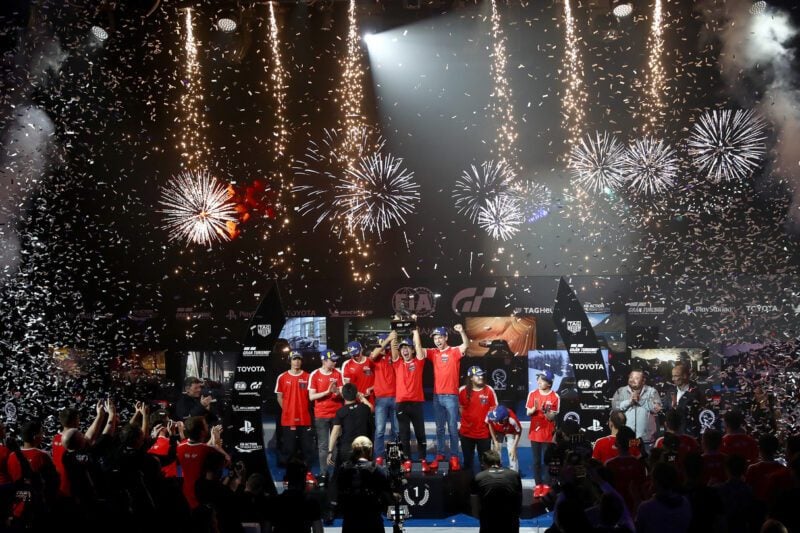 A Bright Future
With a Formula 3 drive, it leads to the question: will Igor Fraga — one of the most formidable competitors in the FIA Gran Turismo Championship — return to World Tour in 2020?
"I will try! It is not concrete yet because obviously I will be quite busy, but I will try to see which events I can do because I really enjoy it," Igor said. "It is not only like a job, it is also my passion. I really want to join!"
Igor has become close friends with many people in the Gran Turismo community. At the World Tour event in Sydney, which was held on the same weekend of Igor's final TRS race, everyone huddled around smartphones streaming the race from New Zealand. Cheers erupted in the venue as he became a champion.
As we wrapped up the interview, Igor wanted to be sure to communicate his gratitude. "I would just like to thank everyone in the community," he said. "They have been cheering me on and have been really supportive, it has been so nice. Thank you so much!"
Igor's first FIA Formula 3 race takes place at the Red Bull Ring in Spielberg, Austria, July 2-4, 2020. Click here for the full race schedule and click here to find out how to watch the races on TV in your area. We will also be covering Igor's results in F3 here on GTPlanet. Good luck, Igor!
See more articles on Igor Fraga and Interviews.