The following is part of GTPlanet's exclusive coverage of the 2018 FIA Gran Turismo Championship, as our editorial team travels around the world to get you special access to the events and competitors. Stay tuned for more, and be sure to follow us on Twitter, Facebook, and Instagram for a closer look behind the scenes.
First it was Asia/Oceania. Then, EMEA (Europe, Middle East, and Africa). The next and final regional FIA GT championship takes place this week, bringing together drivers from all across the Western side of the Atlantic. And it's all happening in the middle of one of the biggest automotive events of the year.
The Gran Turismo franchise has a long history with SEMA. The Polyphony crew is typically on hand to bestow a GT Award on one of the modified cars at the show, lining it up for future inclusion in the series. But this time around, the fastest 30 drivers from Northern, Central, and Southern America will be on hand too.
They'll be duking it out over two days of competition to determine the 10 drivers heading to the inaugural World Final next month. To make the whole event easier to follow, we've rounded up all of the GTPlanet members competing in the Americas Final this week.
Maybe you've already heard of some of these guys before, like GT Academy champ Nick McMillen (GumballCGT). Maybe you've even raced them in some of the many series going on in our GT Sport forums. Whether you have or not, here's some brief insights into the personalities that will be competing.
Good luck to everybody!
Eddie Gomez (Wardez) 🇺🇸
Gomez is a 31-year-old stage technician and driving instructor from right here in Las Vegas, Nevada. He has been playing Gran Turismo for 20 years, and has been involved competitively with the game for the last nine. He currently plays GT Sport, his favorite in the series, with a Thrustmaster T300RS.
Gomez, or "Wardez" as he's known here on GTPlanet, is a long-standing member of our community. He has authored numerous articles, hosted 16 episodes of our "Real Podcasting Simulator" podcast series, he is a retired member of the moderation team, and has made nearly 10,000 posts in the forums.
Needless to say, he is quite well-known among the other drivers and has a large circle of friends and acquaintances in the Gran Turismo community. He maintains a friendly rivalry with Tristan Bayless (Roadbeef), and they both push and encourage each other to get better.
Eddie is a highly experienced competitor, having made it to Silverstone Race Camp in GT Academy USA 2012 and he has been involved with F1 Esports as well.
Off the track, Eddie's other passion is music — especially new music. He attends live shows and presents on a local college radio show playing new hip-hop tracks.
Nick McMillen (GumballCGT) 🇺🇸
McMillen is a 25-year-old professional racing driver and technology entrepreneur from Salem, Oregon, who now lives in Louisville, Kentucky. If he seems familiar, that's for a good reason — he's the 2013 GT Academy US champion.
He's been playing Gran Turismo since the series began and the original game is still his favorite. His favorite car is the Mercedes AMG GT3 and he enjoys driving Suzuka Circuit the most.
Needless to say, with his experience in GT Academy, McMillen has a lot of friends in the competition, like Eddie Gomez (Wardez) and Armen Aghakhan (TRC_Stagger).
McMillen brings a real-racing-driver mindset to the virtual competition, with a consistent and patient driving style. "From my real road racing experience and growing up racing motocross, I've learned to keep calm, run my own race, and let the rest fall into place which usually works out for me. I will make you work for a position, leave you just enough room to stay on track and I'll be sure to keep the pressure on to force mistakes."
His biggest concern is the other competitors. "Some get nervous, excited, and that's where mistakes happen. People don't always race how they might race in the comfort of their own home," McMillen said.
McMillen certainly has experience, though, having raced GT3 cars in Europe and GT4 in the the US. In addition to his GT Academy experience, he is also comfortable in an esports environment, as he participated in the GT Sport Reveal at the Copperbox back in 2016.
When he's not driving, Nick enjoys riding motorcycles, mountain biking, and snowboarding.
Richard Castro (OutlawQuadrant) 🇺🇸
Castro is a 33-year-old income auditor from Olympia, Washington. He is a long-time Gran Turismo fan who's been playing since the first game was released 20 years ago. He still owns his copy of the first game, and even took it with him to one of the World Tour events as a good luck charm!
These days, he plays GT Sport with his Logitech G29 wheel. He has a long history on GTPlanet and has posted over 5,000 messages on the forums. As such an active user, he's developed quite a few friendships, especially with fellow competitor and former GT Academy finalist Eddie Gomez (Wardez).
Castro considers Igor Fraga (IOF_Racing) as the favorite to win it all, though Nicolás Rubilar (FT_NicoR) could challenge him. Castro notes, however, that the pressure of the live events might make it surprisingly difficult for everyone. He does have experience with live events, having made it to GT Academy's US Regional Finals before.
When not playing Gran Turismo, Castro enjoys creative writing and is an avid aviation enthusiast.
Andrew McCabe (TRL_doodle) 🇺🇸

McCabe is a 21-year-old college student from Potomac, Maryland. He has been playing Gran Turismo since 2001 and currently uses at Fanatec CSL Elite with GT Sport.
Andrew is another long-time GTPlanet member with nearly 6,000 posts in our forums and frequently competes in the GTP WRS. He's a popular guy among the finalists and has many friends in the competition, but considers Nicolas Rubilar (FT_NicoR) to be his greatest rival and Igor Fraga (IOF_Racing17) to be the one most likely to win it all.
His driving style is patient, and says he can sometimes get too cautious when driving closely around other cars. Making a "huge mistake" is his biggest concern; so long as he doesn't get into his own head too much he will be in good shape.
McCabe does have some experience at this level of competition, as he attended the Austrian World Tour event. He's fast, too: he qualified for the GT Academy in both 2013 and 2014, but was denied entry into the competition because he was too young.
Even when he's not playing Gran Turismo, McCabe is still racing: he reports playing way too much Mario Kart!
Anthony Felix (FT_Ant) 🇺🇸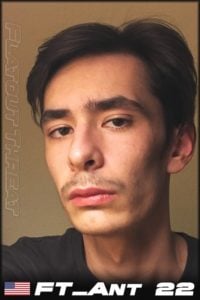 Felix is a graphic designer from Vacaville, California, and turns 22 this Thursday, November 1. He has played all of the Gran Turismo games, but first moved to a wheel when he bought a Logitech Driving Force GT for Gran Turismo 5 — still his favorite in the series.
He has always played the games for fun and leisure, but after just one year of competitive effort, he has secured his place as one of the top drivers with this spot in these Regional Finals. In GT Sport, his favorite car is the Gr.3 Corvette and enjoys driving road cars around the Streets of Willow track.
As for racing, Felix considers his greatest strength to be his consistency and patience. He's careful not to force passes into every corner or out-brake himself and cause an accident. He does not really consider anyone else in the competition a rival, but picks the popular favorites of Nicolás Rubilar (FT_NicoR), Igor Fraga (IOF_Racing), or Nick McMillen (GumballCGT) to win it all.
When not racing, Felix likes to bring his artistic talents to the games he plays: he's been creating car liveries in Photoshop since he first started playing NASCAR '09. He enjoyed the experience so much that it influenced him to pursue a career in graphic design.
Vinicius Neto (FT_hellZfirEJP) 🇧🇷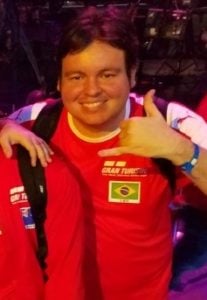 Neto is a 32-year-old civil engineer from João Pessoa-PB, Brazil, and is one of the rare regional finalists who uses the standard PlayStation DS4 controller instead of a wheel. He's been playing Gran Turismo since the first title was released, but skipped GT3: A-Spec and GT4 because he never actually owned a PlayStation 2 console.
As for GT Sport, he claims his favorites are always changing, but his current preference is the Aston Martin Vantage GT3 and enjoys driving the recently-added Fuji Speedway. He considers himself a cerebral driver, who stays patient and tries to race cleanly.
At the competition, Neto is looking at the other DS4 users as his greatest rivals. His goal, he says, is to be the best DS4 player at the regional finals in Las Vegas regardless of whether they are allowed to use them in the competition or not. That last question is his biggest concern about the event — DS4s were not allowed at the Austrian World Tour event he attended last month, and that was his first experience using a wheel.
Off the track, like most Brazilians, Neto describes himself as a "massive football fan" who supports Arsenal and Botafogo. He also loves pop, rock, and punk music from the  '80s – '00s.
Fabian Portilla (FT_Mcqueen91) 🇨🇱
Portilla is a 27-year-old mechanical engineer from Santiago, Chile. He's been playing Gran Turismo since the very first game was released, and currently uses a Thrustmaster T300RS wheel and T3PA Pro pedals.
Portilla knows many others in the competition, including Igor Fraka (IOF_Racing17), Eddie Gomez (Wardez), Andrew Brooks (Deafsun96), Andrew McCabe (TRL_doodle), Adriano Carrazza (Didico), and Facundo Dudulec (JIM_FacuDudu), but considers Igor and FT_NicoR as his biggest rivals and, along with Jeffrey Gallan (FT_LLOYDZELITE), the favorites to win it all.
The Chilean driver considers himself to be consistent and aggressive on the track, with his defensive driving skills a particular strength. He does have some concerns about getting comfortable with the wheels and pedals at the live event, but has competed at something similar before at the Logitech G Challenge in São Paulo earlier this year.
When not racing, Portilla enjoys playing guitar, tennis, skateboarding, football, and studying engineering.
Jamal Khan (RacingKing89674) 🇨🇦
Khan is a 20-year-old computer science student from Toronto, Canada who plays GT Sport with a Thrustmaster T300RS wheel and T3PA pedals.
Compared to some of the other competitors, Khan has been playing GT for a relatively short period of time — only 8 years — starting out with Gran Turismo PSP and GT5.
He began to take things more seriously once GT Sport was released, as racing online in Sport Mode made him realize just how competitive he was with the rest of the world. Khan has fully embraced the Sport Mode races, and considers it a privilege to share the track with the best Gran Turismo drivers. He's also a big fan of the free content updates in GT Sport.
In the competitions, Khan will be looking to race on the Brands Hatch GP circuit — he says he is "strangely faster" on that circuit than anywhere else, but can't explain why!
Khan has many friends in the event, including fellow Canadian, Andrew Brooks (Deafsun96), who is also from Toronto. Khan knows he will not be the fastest guy in Las Vegas, but just wants to be competitive and avoid crashing himself or the game — the dreaded "CE-34878-0" blue-screen-of-death is something that he worries could knock him out of his zone if he were to encounter it.
This is not the first time we've seen Khan here on GTPlanet: he was involved in the Pfaff WorldGaming Canadian GT Sport Championship, a very successful racing esports event in Toronto which we covered earlier this year.
When he is not playing GT Sport, Khan enjoys many other types of sports, including soccer, tennis, hockey, and basketball. Of course, he enjoys cars as well, and credits another one of his favorite games — Rocket League — for combining his passion for both!
Eduardo Sepulveda (sambygtr) 🇲🇽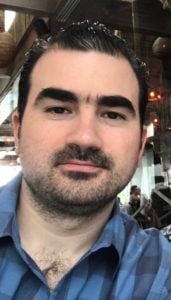 Sepulveda is a 33-year-old materials engineer from Monterrey, Mexico.
He has been playing Gran Turismo since the first game was released, and his all-time favorite is GT3: A-Spec. For GT Sport, he uses a Logitech G29 wheel, and prefers driving the Gr.4 BMW M3 at Monza.
Sepulveda knows several others in the competition, but expects Nicolás Rubilar (FT_NicoR) and Igor Fraga (IOF_Racing17) to emerge victorious from the Americas Region. At the next level, he also considers Mikail Hizal (TRL_LIGHTNING) and Martin Grady (Tidgney) will be among the best to have a shot at the World Championship.
His only concern is coming in last place in Las Vegas and being one of the first drivers eliminated. Sepulveda does have 125cc and shifter karting experience, so he should be well-equipped to handle the pressure of a competitive racing environment.
Outside of racing, he enjoys watching sports like football and soccer.
Thalvaner Henrique Kuntze (Sharkart) 🇧🇷
Kuntze is a 24-year-old psychology student from Curitiba, Brazil. He was first attracted to Gran Turismo 5 because of his desire to compete in GT Academy. That competition, unfortunately, never came to Brazil, but GT Sport has renewed his interest in the game and he has the speed to race with the world's best players. He dreamt of the concept of GT Sport long before the game was announced and enjoys fair, competitive online races.
Kuntze actually credits his interest in psychology as an important factor in his growth as a Gran Turismo player. "A lot of my personal beliefs about what are the determinants of one's behavior/performance were changed, and so I knew that I could have the potential to compete in high level. I've also started using some techniques that I've learned in my own practice sessions. With practice comes perfect, but only with the proper practice, and that's where most will fail," he says.
As for rivals, Kuntze is keeping an eye out for his fellow Brazilian, Guilherme Lima (Gui_Josa), who finished just above him in the final standings. He considers Igor Fraga (IOF_Racing17) to be the favorite to win the American Championship, though, and expects him to be competitive for the overall world championship.
He considers careful tire management to be essential for having a successful race in the Nations Cup races, and his personal goal is to put in a consistent performance throughout. Kuntze does have some concerns about getting accustomed to the Thrustmaster T-GT and pedals which will be used at the event, as the pedals could be quite different to what he is used to at home. This will be his first esports competition of any kind.
Tristan Bayless (roadbeef) 🇺🇸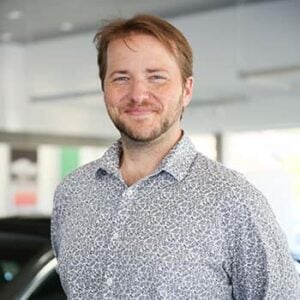 Bayless is a 34-year-old service consultant at his local Porsche Dealership in Santa Rosa, California, USA.
He's a long-time fan of the game, having played it in its earliest of iterations: the original Gran Turismo demo which featured Special Stage Route 5 Short. Like most players, he started out with a controller, but quickly moved to a MadKatz lap-mounted wheel. These days, he uses a Thrustmaster T500RS.
Unsurprisingly, his favorite car in GT Sport is the 2001 Porsche 996 GT3. Why? "It's fastest when driven sideways, an uncommon trait in Gran Turismo Sport!" His choice of track might be a bit more controversial: he prefers Tokyo Expressway's Central Outer Loop for the way it rewards bravery and precision.
Bayless has not met any of the other competitors in person yet, but forged a friendship with Eddie Gomez (Wardez) as both tried to improve their "lowly" A+ driver ratings in order to qualify. He named the usual suspects as likely candidates to win it all, but suspects a few surprises before the dust settles in Vegas.
He describes himself as a "patient tailgater": "I'll sit behind you all day until you make a mistake; I try to drive close enough to capitalize on small errors. If I'm out in front, I won't be looking into my mirrors very much." His biggest concern is unexpected illness at the event — something we hope will not affect any of the competitors!
Considering his affiliation with Porsche, Bayless does have some competitive experience. He raced half a season with USAC Formula Russell racing in 2002 as part of the Jim Russell Mechanics Training Program / One Porsche Classic Car Trophy race, and has frequently participated in auto crossing with local car clubs.
When not behind the wheel, Bayless enjoys succulent photography and existential philosophy.
Bernal Valverde (FT_BernalV) 🇨🇷
Valverde is a 28-year-old professional racing driver from San José, Costa Rica, who also investigates fraud for Amazon. He has been playing Gran Turismo since GT2 was released in early 2000, and plays GT Sport with a Thrustmaster T500 with the GTE F458 wheel add-on and T3PA Pro pedals.
He considers his fellow FT member Nicolas Rubilar (FT_NicoR) as the favorite to win the competition, but his own patience and experience as a racing driver should make Valverde a real contender as well.
And experienced, he certainly is: Valverde is 7-time national Costa Rican karting champion, 5-time Rok Cup International Finalist, and won the only Formula Renault 2.0 race he entered in Costa Rica. He is also the official racing driver for MG in the CTCC (Costa Rican Touring Car Championship).
Valverde has no fears, but is curious to see how the live audience could be a factor, as that's not something he usually has to contend with! This won't be his first time competing in esports, though, as he was the Costa Rican winner of the GT5 Red Bull Challenge in 2012.

Igor Fraga (IOF_Racing17) 🇧🇷
Fraga is a 20-year-old professional racing driver. He is originally from Kanazawa, Japan, and now lives in Brazil and is representing the South American country in the competition.
Fraga has been playing Gran Turismo games for around 15 years now, and currently has two racing wheels: a Logitech G29 and Thrustmaster T150. It was impossible for him to name a favorite car — he likes too many to list them all — but his favorite track is certainly the Nurburgring Nordschleife.
As you have probably noticed from many of the other competitor's comments above, Fraga is a popular favorite to win it all.
There is a good reason for that: in addition to being very fast in Gran Turismo, Fraga is an experienced, real-world racing champion. He has been karting for 16 years (he began when he was age four) and has one eight championships in Japan and Asia. In Brazil, Fraga started racing in F1600, USF2000, and F3, in which he won the championship last year.
He is now getting more comfortable with esports, as he joined the F1 Esports Series in 2017 and competed in another live event at the Brazil Game Show.
When not racing, he likes to play acoustic guitar, but claims he is not as good at the guitar as he is at racing!
See more articles on 2018 FIA GT Championship EMEA Regional Finals and 2018 FIA GT Championship Player Profiles.