Here it is — the most substantial update to Gran Turismo Sport since it launched in October. Version 1.10 is officially here.
As we reported yesterday, Polyphony Digital scheduled a special maintenance period for the early hours of today. When the servers went down, players received the notification for a large 2.7GB update.
In technical terms, we believe this is called a twofer: it actually includes the big batch of upgrades (1.09) and an additional patch which "fixes minor issues and increases stability" (1.10).
There's a lot of ground to cover, so let's look at what's new.
GT League
Arguably the biggest addition is the new GT League. One of the biggest criticisms levelled at GT Sport by series fans — as well as in our own review — is about the paltry amount of offline series.
The GT League is Polyphony's first steps towards remedying that. It introduces 15 series, with 45 new races to complete across them. These range from the classic Sunday Cup through to a pair of 60-minute endurance races.
There are four leagues available, with player level determining eligibility. If you've been wondering what exactly the different-colored tiers were for (Crystal, Amethyst, etc), wonder no more. Want to build some quick levels to access the endurance races? We've got the solution.
There are no championship-style point systems in GT League — players simply run each race separately. The game keeps a tally of how many wins you've racked up on each event, however.
At the time of writing, we've finished Sunday Cup. There's no prize car yet, but there may be when all the events in a specific league are golded.
One of the first things we noticed was the ultra-nostalgic GT2 menu music. Well played, PD.
New Cars
This update adds a not-so-dirty dozen of cars to Brand Central. GT veterans will know some of them, while others they'll be meeting for the first time. The full breakdown, including classes:
Mazda RX-7 Spirit R Type A (FD) (N300)
Nissan Skyline GT-R V・spec II (R32) (N300)
Nissan Skyline GT-R V・spec II Nür (R34) (N300)
Ford F-150 SVT Raptor (N400)
Lamborghini Countach LP400 (N400)
Ferrari F40 (N500)
Ferrari Enzo Ferrari (N700)
KTM X-BOW R (N300)
Suzuki Swift Sport (N100)
Volkswagen Samba Bus Type 2 (T1) (N100)
Chris Holstrom Concepts 1967 Chevy Nova (N700)
Chevrolet Corvette Stingray Convertible (C3) (N300)
Yes, the Raptor is in the same class as the Countach (and existing Vantage S and M4). No, we don't understand it either.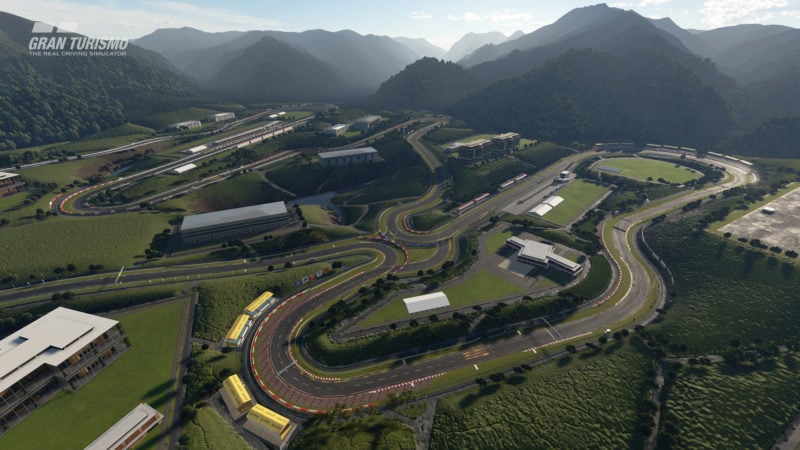 New Kyoto Mega-Track
Two new track layouts join the GT Sport roster. Kyoto's Yamagiwa and Miyabi circuits have been fused together, resulting in, well, the Yamagiwa+Miyabi layout.
It comes in regular and reverse variations. The twist is that if you're driving the original Yamagiwa layout, you'll find yourself on the reverse Miyabi, and vice-versa. The joins happen right near the former's dreaded S-bend.
Are we alone in getting some Cape Ring vibes from this union?
Ho-Ho-Hold On, More Scapes?
1000 was just the start. Polyphony has once again added a handful of Scapes to GT Sport, this time focusing on the holiday season. The official blog makes note of the series' 20th anniversary — tomorrow, December 23 — and calls this the "Holiday Season Update", so the six festive backgrounds are a nice touch.
As per GT tradition, there's some Christmas music at the main menu, too.
Meanwhile, over in the Bugatti dealership, there's some brand-specific locations.
FIA Championship Changes
There's a new challenge for the tail-end of the ongoing weekly FIA pre-season series. Dubbed the "Top 24 Superstars", it will match up the top drivers against one another for even more points. The full description in the update notes:
"In the FIA Championships within Sport mode, a 'Top 24 Superstars' race will be held as the final round of each race season. This will be a single race within the final round, where only one group will be matched among the top drivers. In this race you will earn more points than a standard race."
Other Fixes and Notes
Rounding out the updates are a host of other detail changes. You can read the full list here. As ever with an update like this, keep an eye on our GT Sport forums for all the latest discoveries.
See more articles on GT League and GT Sport Game Updates.