It's official: a new update is coming to Gran Turismo Sport in time for the holiday weekend.
The maintenance notice greeted players this morning. Polyphony has said the servers will be down for two hours, at which point a new version of the game (v1.09, most likely) will be available:
"At the following time, we will perform maintenance on the 'Gran Turismo Sport' servers. A new game update will also be available after the maintenance.
Please note that during this time the online services, including [Sport Mode], will not be available.

[Day & Time]
December 21, 2017: 20:00 – 22:00 PST

* The above time is subject to change."
While not outright confirmed, the new update is expected to contain the much-anticipated "GT League". Polyphony has modelled this offline career mode after the traditional GT experience. It should address one of the more common criticisms of the primarily online-oriented Sport.
Since first announcing the additions last month, Polyphony has put out two updates. The first (v1.07) brought some physics engine fixes, while the second (v1.08) patched a handful of small glitches.
A new career mode calls for new cars. Polyphony has those lined up too, with a dozen new and classic models:
Chevrolet Corvette (C3) Stingray Convertible (C3)
Ferrari Enzo Ferrari
Ferrari F40
Ford F-150 SVT Raptor
Lamborghini Countach LP400
KTM X-BOW R
Mazda RX-7 (FD) Spirit R Type A
Nissan Skyline (R32) GT-R V-spec II
Nissan Skyline (R34) GT-R V-spec II Nür
Suzuki Swift Sport
Volkswagen Samba Bus Type 2 (T1)
Chris Holstrom Concepts 1967 Chevy Nova (2013 SEMA GT Award winner)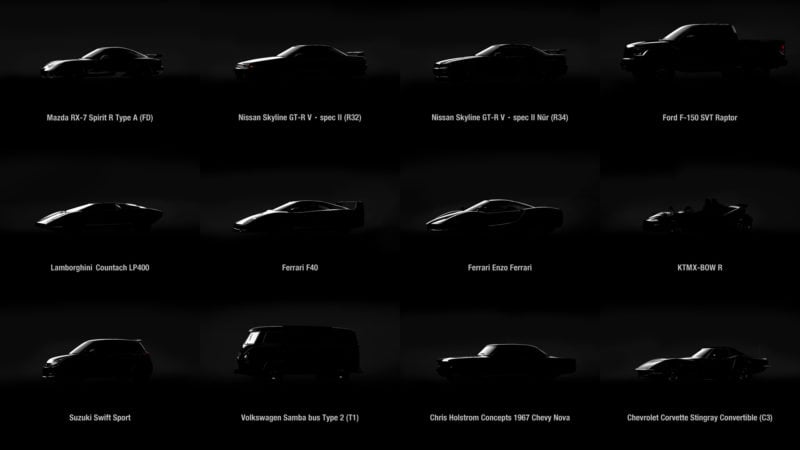 We saw a good chunk of these cars yesterday, when in-game images started making their way across the web. From Samba Bus to Enzo, it should inject a lot of welcome variety into Sport's car list.
The servers go down December 22 at 0400 UTC (click here to convert). Stay tuned for more details as the game comes back online, and be sure to keep an eye on our GT Sport forums for all the latest news.
Featured image courtesy of sebmugi.
See more articles on GT Sport Game Updates.