After weeks of teasing from Polyphony Digital, the latest title update for Gran Turismo Sport is now available. It's a big one too, bringing a variety of new content to the sim racer.
Weighing in at 3.5GB, the update is the biggest change PD has made to the game this summer — so big, it skips right over version 1.22. It also comes a week before the third (and final) FIA Championship season of 2018 gets underway, too.
New Track: Circuit de Sainte-Croix
First up, there's that mysterious new circuit. Polyphony first showed us a giant lake, and that proved to be a sly nod to the track's name. We posited a layout around France's Lac de Sainte-Croix when Polyphony confirmed the country was the setting, and as luck would have it, there it is.
It's a long one — though not 'Ring lengthy — at over 6.7 miles for its "C" layout. There's no race track around the real man-made lake, allowing Polyphony to stretch its creative muscles. Arguably the biggest addition the team has made is the massive suspension bridge that players will encounter as they speed around the circuit.
There are three layouts, with the "A" layout stretching 5.89 miles, the "B" a relative sprint at 4.39 miles, and the aforementioned "C". Players can also run all of these in reverse too, for six total variations.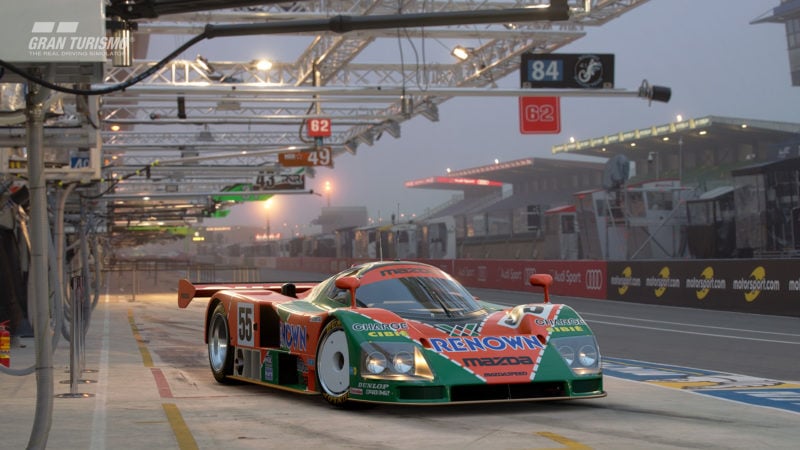 Seven New Cars (Or Eight, Technically)
Alongside a new ribbon of French tarmac to master, players will find seven new vehicles to tame too. They range from some of the slowest cars in the game to the quickest real-world model:
2002 Daihatsu Copen Active Top
1962 Ferrari 250 GTO CN.3729GT
Ford GT LM Spec II Test Car
2015 Honda S660
1991 Honda Beat
1991 Mazda 787B
2017 Mercedes-AMG F1 W08 EQ Power+ (In liveried and coloured variation)
Of the group, two are new to the franchise: the little Honda S660 and the Merc F1 car. The former continues Honda's two-seat S-model tradition in Kei car form, while the latter is no less than Lewis Hamilton's work ride. In the W08, GT Sport's "Maestro" won the 2017 F1 Driver's Championship. We've no doubt players will be itching to better his times around Suzuka and Interlagos.
The remaining five cars should all be very familiar to Gran Turismo players, as they all last appeared in GT6. The Honda Beat is a notable addition, however; like the Toyota Supra and MR2 before it, it last appeared in the franchise as a PS2-era "Standard" model. Polyphony's beaten it into shape now though (sorry not sorry), complete with those oh-so-Nineties zebra seats!
More Driver Customization — And You Can Shoot 'Em, Too!
Relax, this isn't Grand Theft Auto. We mean a camera. Your digital likeness will now be available in the Scapes mode, to bend and pose to your heart's content. Proud of that livery you spent hours perfecting? Have its driver stand next to it — or even paint them up to match.
Yes, Polyphony has expanded the suit editor for GT Sport. We learned about it back in the middle of the month, but you can bet our community will be cooking up all manner of new designs as soon as the maintenance period is over. If you've wanted a classic Castrol set of overalls, they should be possible now.
Rather confusingly, the official site says both that you're now able to add stickers to suits and helmets, as well as "soon". This too should be cleared up post-maintenance.
More GT League Events
As ever with a main title update, Polyphony has added a trio of single-player events to GT League. They are as follows:
Lightweight K Cup (Beginner League): This is a race for compact cars available only in Japan, powered by 660-cc displacement engines.

Nostalgic Car Festival (Amateur League): Bask in the beautiful design and sensuous sounds of famed cars from a bygone era.

Mercedes AMG Grand Prix (Professional League): This one-make event features the F1 W08 EQ Power+, which led Lewis Hamilton to his series victory in 2017.
Experience Circuit de La Sarthe
The Le Mans track showed up in the last major update way back in May. Now, as is customary, Polyphony has added a Circuit Experience option for the famous endurance track. Players will tackle it in the Porsche 919 Hybrid.
In keeping with its other update traditions, Polyphony Digital has stated "There will be various other features, improvements and fixes implemented in this update". Keep an eye on our GT Sport forums for all the latest undocumented changes.
See more articles on GT Sport Game Updates.