PlayStation's promotional push for the upcoming Gran Turismo movie has seen the film's stars, producers, and director attend the glitzy Cannes Film Festival and the Monaco Grand Prix over the weekend.
The film's main cast all attended both events on the tour of the Riviera's most glamorous events in both the world of motorsport and cinema, heading to Cannes before a 25-mile trip to Monaco.
That included director Neill Blomkamp, as well as the head of PlayStation Productions Asad Qizilbash. They were joined by Archie Madekwe, who plays the lead role of gamer-to-racer Jann Mardenborough in the film, as well as Orlando Bloom and David Harbour who play fictional characters inspired by the people behind GT Academy.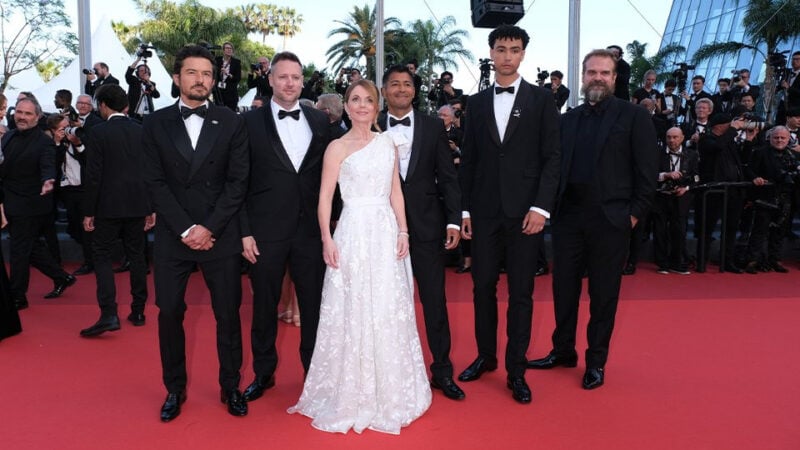 Although Cannes was decked out in advertising for the film, Gran Turismo was neither screened nor up for any awards at the 76th annual event. However the cast did walk the red carpet ahead of the main awards evening.
From there the stars seemed to travel en masse to Monaco for the Grand Prix, with Madekwe, Bloom, and Harbour all seen around the Red Bull garages. That's probably unsurprising as the team's principal, Christian Horner, is the husband of Geri Horner who plays Jann Mardenborough's mother Lesley in the film.
A balcony overlooking the Fairmont Casino Hairpin also featured some Gran Turismo logos, although you'd have to be looking pretty hard at your TV screens to have seen it!
Bloom even managed to sneak a TV appearance, speaking to Martin Brundle live on Sky Sports F1 on the grid and delivering a solid promotional speech about the film. Brundle himself, of course, needs little introduction to GT Academy as he and son Alex drove alongside the first winner, Lucas Ordonez, at Le Mans in 2012.
Gran Turismo will hit cinemas on August 11 2023, the same weekend as the Gran Turismo World Series Showdown in Amsterdam.
See more articles on Gran Turismo Movie.