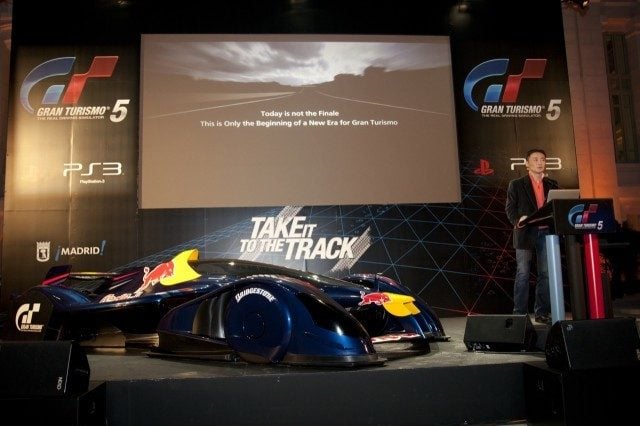 I just got in from the Gran Turismo 5 launch party here in Madrid – packed with media representatives from around the world, it was a fitting way to celebrate the end of GT5's long and dramatic development. Here's what I learned:
Yamauchi announced that the launch of Gran Turismo 5 marks the beginning of a "new era" for the GT series. GT5 will be regularly updated and expanded in the coming weeks and months, and there are apparently many exciting things in store for us.
The first United States GT Academy was just announced last week, and now there will be yet another GT Academy for SCEE regions! Stay tuned for the official announcement.
I had the privilege of personally meeting Kazunori Yamauchi. Having followed his work so closely for more than a decade, this was an amazing honor. I found him to be kind, friendly, and humble as he thanked me for my support of the franchise throughout the delays.
I was also fortunate to meet and talk with Kazunori's infamous translator, popularly known as "Translator-san". He was also kind and pleasant to talk with, and if you're playing the US version of the game, he's the one responsible for most of the English translations throughout the menus.
Why does Ferrari have the only F1 car in the game? While talking to a marketing representative for one of the manufacturers in GT5, I finally received an answer to this perplexing question. It all comes down to licensing and Formula 1 boss Bernie Ecclestone. He commands control of the licensing for all of the cars in the series, with the exception of Ferrari. For reasons known only to Bernie and Ferrari, they have a special provision in their F1 contract which allows them to license their cars to whomever they please.
I chatted with Sony Computer Entertainment Europe executive James Armstrong, who laughed when I reminded him of his accurate prediction that Gran Turismo 5 would launch this fall (I picked up his comments to a newspaper in the Canary Islands thanks to a local tipster). He mused, "Really, I just got lucky that time!"
Take a look at this first batch of pictures from the event – I'll upload more (along with video) shortly. Tomorrow, I'll be participating in Kazunori Yamauchi's first post-GT5 question & answer session. I have a lengthy list of things to ask, but as always I expect our time to be limited and I will prioritize them as best I can. Stay tuned!
See more articles on F1, Ferrari, GT5 Madrid Launch Party, Kazunori Yamauchi, Madrid, and SCEE.