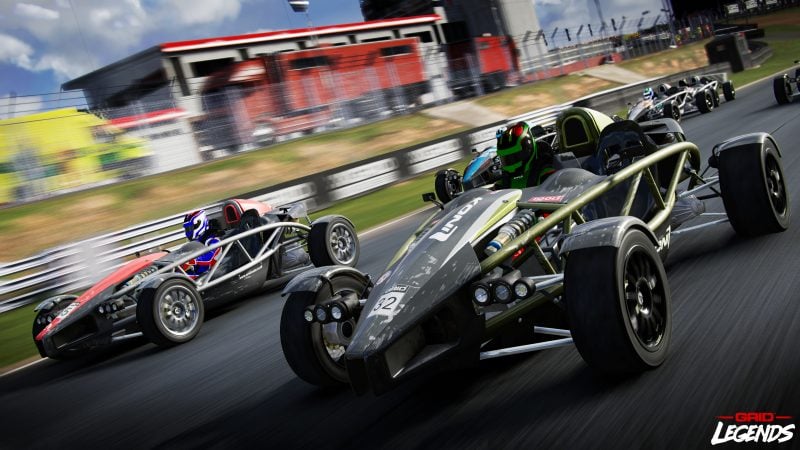 Following its reveal back in July, Codemasters has now announced that GRID Legends will launch across Xbox, PlayStation, and PC platforms on February 25, 2022.
Legends is the newest entry in the GRID series, and features a story mode that includes live-action cinematics. "Driven to Glory" follows the un-named (and unvoiced) player as they head through the GRID World Series. Featuring real actors, including Ncuti Gatwa from Netflix's Sex Education, the story merges on-track racing challenges with high quality cutscenes.
Codemasters claims that GRID Legends contains more gameplay choices than any previous title in the series. At launch there'll be over 100 vehicles in the game, including the first electric vehicles in the series, and a range of circuits that include some GRID fan favorites.
Game modes include Drift Mode and Elimination, which sees the players in last place drop out each lap until there's a single survivor. There's also a new Race Creator, which allows players to mix and match vehicle types, circuits, weather, time of day, and even obstacles and power-ups.
A new multiplayer system supports full cross-platform play, allowing PC, PlayStation, and Xbox players to race together as one community. There's also a new "hop-in" gameplay mechanic which gives players the ability to jump into their friends' races, replacing the AI mid-race.
Chris Smith, GRID game director at Codemasters commented: "GRID Legends is an all-action accessible racer focused on variety and choice; deep career, a new innovative story mode and a Race Creator that allows players to create dream racing match-ups with deep personalization."
You can pre-order GRID Legends now, and players who do so will receive the Seneca & Ravenwest Double Pack. This unlocks four extra cars for use in Career events, with the Aston Martin Vantage GT4, Ginetta G55 GT4, Koenigsegg Jesko, and Porsche 962C all available. The packs also include exclusive events, icons, liveries and banners for personalization, and will be available separately.
The title will be available on eighth-gen PlayStation 4 and Xbox One consoles, as well as ninth-gen PlayStation 5 and Xbox Series consoles, which will allow for higher resolution and frame-rates.
In addition, Codemasters has released a first gameplay trailer of the title, which you can see below — and we'll have more on the title in the coming days.
See more articles on GRID Legends.