There's quite the variety pack in the GT Sport Daily Races this week, with three very different combinations on offer.
For Race A, the action heads to Tokyo, and the fast East course — on the Inner Loop, with the pits to your right. Don't expect any high speeds though, because you'll be driving Daihatsu's two-door convertible kei car, the Copen. With 62hp on tap, it'll be a race all about momentum and one that's all done after two laps.
It's a more traditional feel in Race B, with a five-lap sprint around the Red Bull Ring in your choice of Gr.3 race cars. You'll get to use stickier rubber than usual, with Racing Medium tires on offer for the race.
Race C ups the pace somewhat, with a trip to Brands Hatch. Here you'll be driving the Gran Turismo F1500T-A and, as it's a garage car, this will be a great opportunity to show off your livery creation skills.
All three races will run through to Monday, April 29.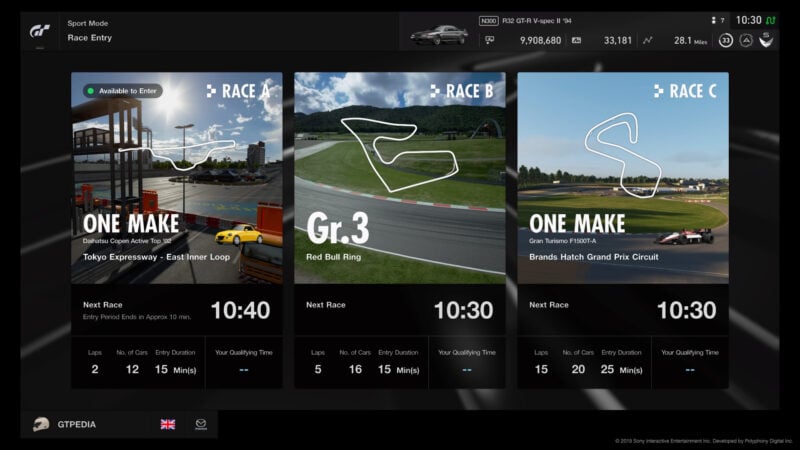 Race A
Track: Tokyo Expressway – East Inner Loop, 2 laps
Car: Daihatsu Copen Active Top '02 – Provided Car
Tires: Sports Hard
Fuel use: Off
Tire use: Off
Race B
Track: Red Bull Ring, 5 laps
Car: Gr.3 – Garage Car
Tires: Racing Medium
Fuel use: Off
Tire use: Off
Race C
Track: Brands Hatch Grand Prix Circuit, 15 laps
Car: Gran Turismo F1500T-A – Garage Car
Tires: Racing Hard, Racing Medium
Fuel use: 3x
Tire use: 13x
More Posts On...