For this week's Daily Races, we really hope you enjoy the Nurburgring… Two of the three options for the next seven days stake out a base camp at the German motoring Mecca, although they're quite different races.
Race C takes you to the famous Green Hell: the Nordschleife. There you'll take charge of the Suzuki Swift Sport — your very own garage car — for a two-lap, 26-mile sprint around the fearsome loop. Unusually, this race features a grid start with false start check, which may be interesting given the Nordschleife's "grid".
You'll also be going to the Eifel for Race A. This time it's race cars and the GP circuit, but it's not quite so simple. You'll have a choice from four specially provided race cars, all from the Gr.4 category. They're the Audi TT Cup, Peugeot RCZ, Renault Sport Megane, and the Volkswagen Scirocco. The eagle-eyed would notice that these are all the front-wheel drive Gr.4 cars, and a format we first saw back in May.
Sitting in the middle this week is Race B, an eight-lap thrash around the shortest of the new Sardegna road track variants. Despite the compact size of Sardegna Road Track C, you'll be driving your choice of Gr.3 race cars, so we expect quite a bit of paint-trading.
All three races will run through to Monday, July 29.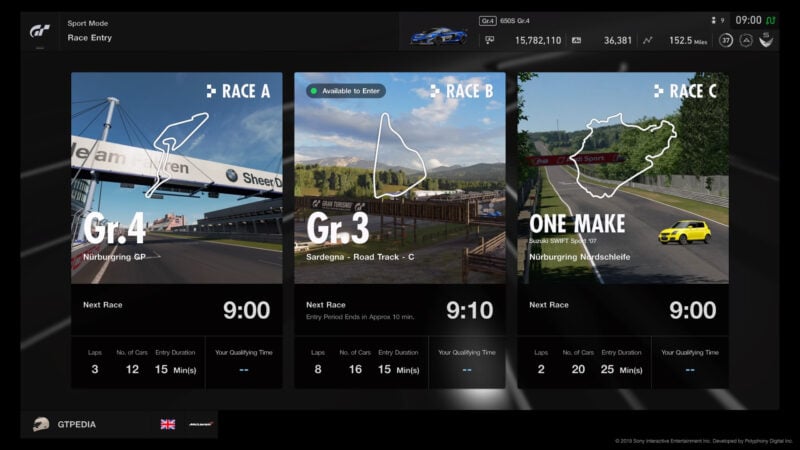 Race A
Track: Nurburgring – GP, 3 laps
Car: Gr.4 – Provided Car
Tires: Racing Hard
Fuel use: Off
Tire use: Off
Race B
Track: Sardegna – Road Track C, 8 laps
Car: Gr.3 – Garage Car
Tires: Racing Hard
Fuel use: Off
Tire use: Off
Race C
Track: Nurburgring – Nordschleife, 2 laps
Car: Suzuki Swift Sport '07 – Garage Car
Tires: Sports Hard
Fuel use: 3x
Tire use: 5x
Featured image courtesy of Stephan.
More Posts On...